Every architects wants to increase his/her professional culture and to proceed the development. We mentioned in our article Being a Successful Architect that there is more than one way to do this. One of these ways is to do a literature research. Feeding your knowledge archive about projects, materials and architects through these researches will make very positive contributions to your designs and stream of thinking throughout your professional life. At this point, the most important tools that will help you are the websites that are the encyclopedias and museums of the online world. We have listed the best websites on architecture in the world that we think will be extremely useful for you. Enjoy the list.
Top Architectural Websites in the World
1. Archdaily
Archdaily is among the most famous websites on architecture with the 17.9 millions of visitors. Unique architectural examples, which are categorized and shared on social media and on the website, are Archdaily's most popular feature. This categorization is based on typology as well as material, location, square meter, architect, year of construction, plan and color. It is beneficial for every architects and architecture students to read these articles, which include architectural informations and comments about buildings, as well as their plans, sections and visuals.
2. Architizer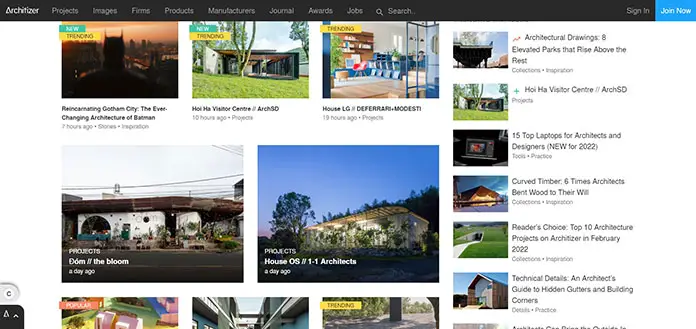 Architizer is at least as successful and useful as Archdaily, with the numerous architectural projects and articles it shares. It organizes award ceremonies as a result of the A+Awards architectural competitions it organizes in dozens of different categories every year. Additionally, there is a very large product introduction, manufacturer page and architectural office archive.
3. Architectural Record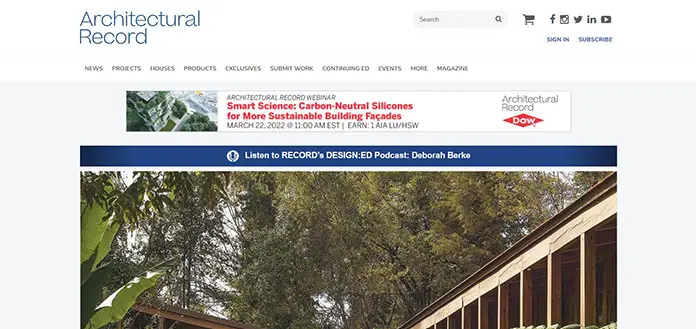 Architectural Record has been publishing informative news and contents in the field of architecture since 1891. It is a quite useful internet resource with its different categories. Especially, "Continuing Education" articles they publish makes the platform one of the most contributive websites for architecture students. Moreover, Architectural Record has various types of contents such as videos and podcasts about architecture, and this is why the website is so valuable. However, sadly there is a limit of free contents that a visitor can read daily. Luckily, you can get unlimited access to the contents for a small fee of 2-3 dollars per month depending on the subscription type.
4. Architectural Digest
Architectural Digest publishes blog posts about the architecture, interior architecture and landscape architecture. This architectural blog, which has a big audience, also has content in different fields such as fashion, art and travel. However, the fact that this platform does not make project-based categorization like Archdaily may be an important shortcoming for some readers. Nevertheless, for those who want to read an architectural blog, we should say that it is a rich one like the other websites on architecture in the list.
5. Architect's Journal
Architect's Journal, which is a so old architecture magazine, is a website with daily architectural sharings. It is a must-visit architecture platform with the news, opinions, podcasts and competitions it shares alongside the printed magazine. In the "Library" section of the site, it is possible to research the structures and architects in the each AJ issues of the last century.
6. The Architectural Review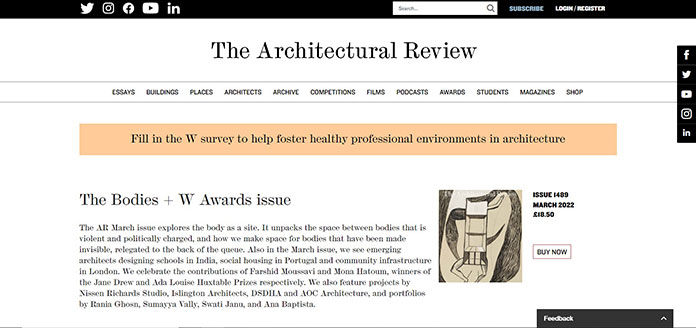 The Architectural Review is an unique online architectural source producing contents about architectural buildings since 1896. Its website has the identical quality of the printed Architectural Review, too. Unlike other architectural sites, AR produces great remarks by focusing on the story behind the architectural structures. By this way, it publishes intellectual research articles and offers them to its readers online.
7. Dezeen

A simple site design blended with visual intensive content. Making easier to access contents and increasing reading pleasure, Dezeen.com has done a great job with this minimal layout. Its video contents, interviews and job adverts category are very useful. The fact that it creates a category for student studies and courses on architecture makes this platform different from other websites for architecture. This London-based website has been serving design students, especially in the field of architecture and interior architecture, for over 20 years. In addition, it has 3 million monthly visitors.
8. Archello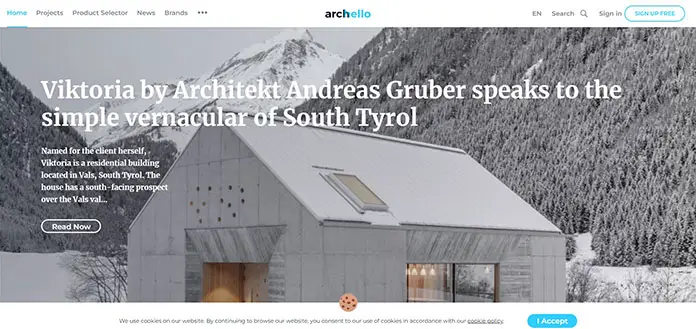 It is one of the most successful websites of architecture industry since 2009. With detailed categories, Archello.com has a design that simplifies user flow. Also, it's very useful that they share the special materials used in each buildings and the manufacturer's information. In addition, you can get instant price offers for more than 50 thousand materials from manufacturers. If you want, you can follow architectural offices, photographers or material companies here.
9. Architect's Newspaper
Architect's Newspaper is an architectural news website, as is evident from its name. It shares the latest news in the fields of architecture, art, design and urbanism. It enables the opportunity to search based on region or subject. We must say that they have a very up-to-date archive of news about various architectural events and conferences.
10. Architonic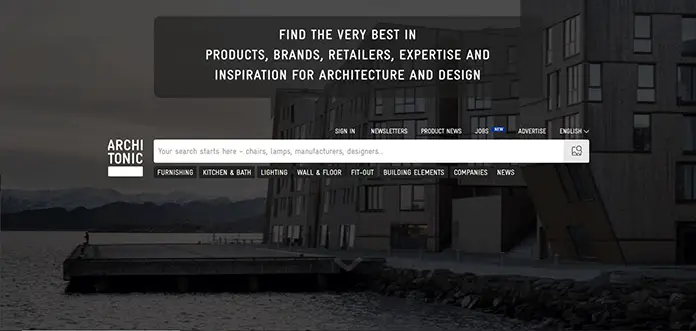 It has a wide range of products covering almost every materials and product categories in the architectural building design sector. Thanks to the search engine on the site, you can find the product or manufacturer you like. Architonic, which also provides an image-based product searching, is an architecture portal worth using.
11. Inhabitat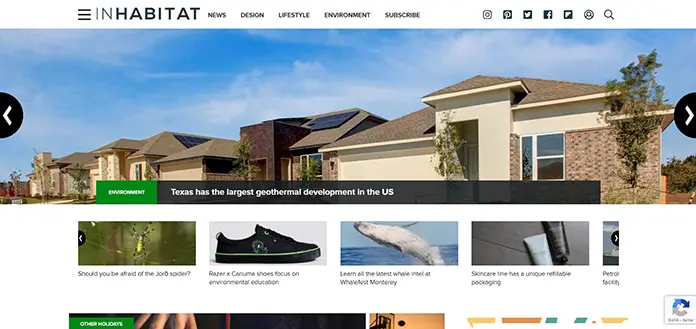 Founded in 2005, Inhabitat is a site dedicated to green and sustainable design, furthermore sharing environmental news. It has a very large blog archive such as architecture, interior architecture, art, fashion, furniture, technology and micro houses.
12. Designboom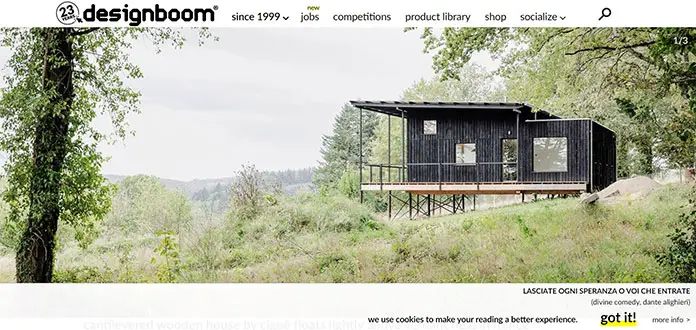 Putted in service in 1999, Designboom is not just an architecture-focused site. It shares contents in different fields, from art to almost every aspects of design. Claiming to be the world's first online magazine, Designboom also includes a store where its readers can sell their artistic creations. The platform was chosen one of the 100 most successful design influencers by TIME magazine in 2007. Designboom, which has a monthly readership of over 3.5 million, has a fluid web design.
13. Architect Magazine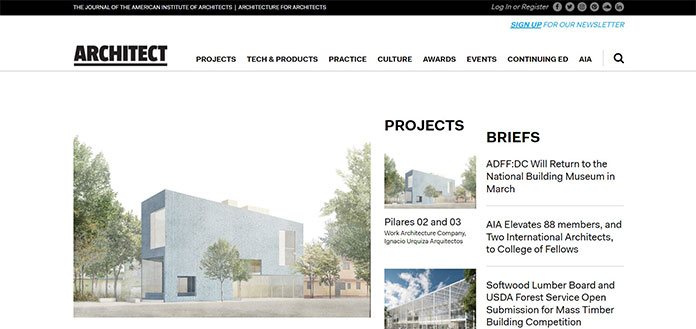 Architect Magazine has an architectural design archive containing thousands of projects. In addition to this, they come to the fore with their posts about architectural technology and architectural products. Moreover, they contribute to industry knowledge by sharing architectural views, videos and podcasts. Lastly, the site has an interesting and different feature that ranks the best architects of the year with a points system.
14. Study Architecture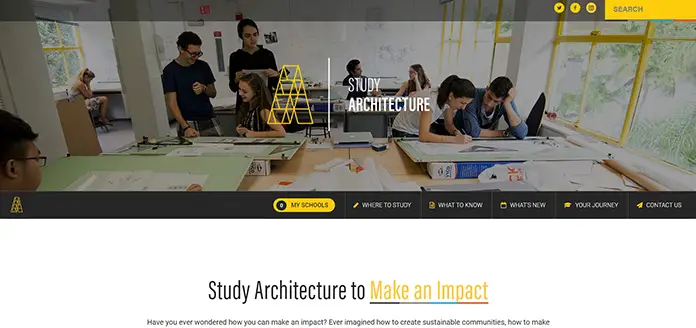 This American-based architectural page is a guide in the professional life of architecture students. Study Architecture publishes projects of architecture students, assorted articles, educational videos, and helpful resources for career planning. Apart from that, it includes a quiz that helps you understand which architecture schools in America are right for you. They even designed and shared an exemplary architectural career route. Don't you know where to start planning an architectural career? Then, you should definitely check out this site which is like an Architecture 101 resource.
15. Archilovers
Archilovers includes more than 200 thousand projects and as many architect profiles. In this large archive, you can filter and find the buildings and architects suitable for the features you want. There is also a blog category with short articles about architectural structures on the site.
16. Archinect
According to the information on its official website archinect.com, the mission of the platform is to strengthen the connection between the stakeholders in the architecture sector. Founded in 1997, Archinect is a website where job postings, architecture schools, companies, architects, news and events are shared. Here architects can share their blog posts and portfolios. Furthermore they can follow schools and architects. However, it is a negative feature that the site design is not user-friendly.
17. RIBA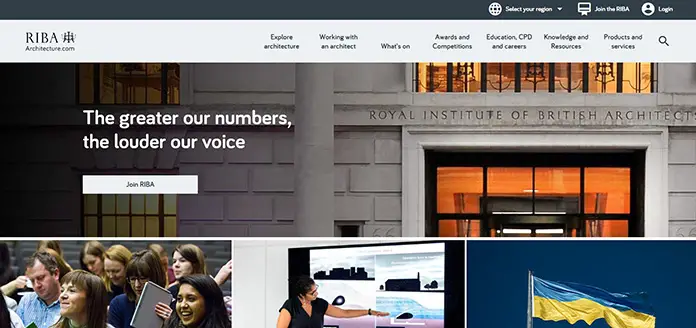 RIBA is a site established by The Royal Institute of British Architects. It, whose internet address is architecture.com, is a platform that works with a membership system. It organizes competitions in various categories, shares the information produced as a result of architectural researches, and brings architects and customers together. Currently, the RIBA has approximately 50,000 members around the world.
18. Life of an Architect
Finally, there is an individual architectural blog in our list. In fact, although there are countless amateur websites about architecture, some of them have very high quality and educational contents. Life of an Architect is one of these blogs. The owner of the blog, Bob Borson, shares many blog posts from his student life to his professional experiences. Judging by the number of comments, it has a very loyal audience. Bob's blog, which narrates every stages of the profession to its readers at first hand, is a treasure.
19. Archeetect
Archeetect.com is one of the newest but fast growing architectural websites. Together we will grow much faster. Please continue to follow us and make your contributions.
In this article we examined best websites for architects and made a list of top 19 website about architecture in the world. You can share your favorite websites of architects with us in the comment section below.