Today's rapidly evolving world has made technology integral to every field, and architecture is no exception. As an architecture student, your laptop is your best companion, your design powerhouse and your gateway to creating architectural wonders. Choosing the right laptop is crucial for architectural education, but there are tons of options. So, we've researched the best laptops for architecture students.
A suitable laptop ensures you can seamlessly run resource-intensive architectural software, including 3D modeling tools, CAD applications and rendering programs. To help you find the most appropriate laptop, we've prepared a list of the 10 best laptops for architecture students in 2023.
In this extensive laptop-buying guide, we will also talk about the essential factors to consider when selecting a laptop for architectural projects. By this means, you can prioritize a laptop's specs according to your needs and jobs.
Now, without further ado, let's start with the list of best architecture laptops for students.
List of Best Laptops for Architecture Students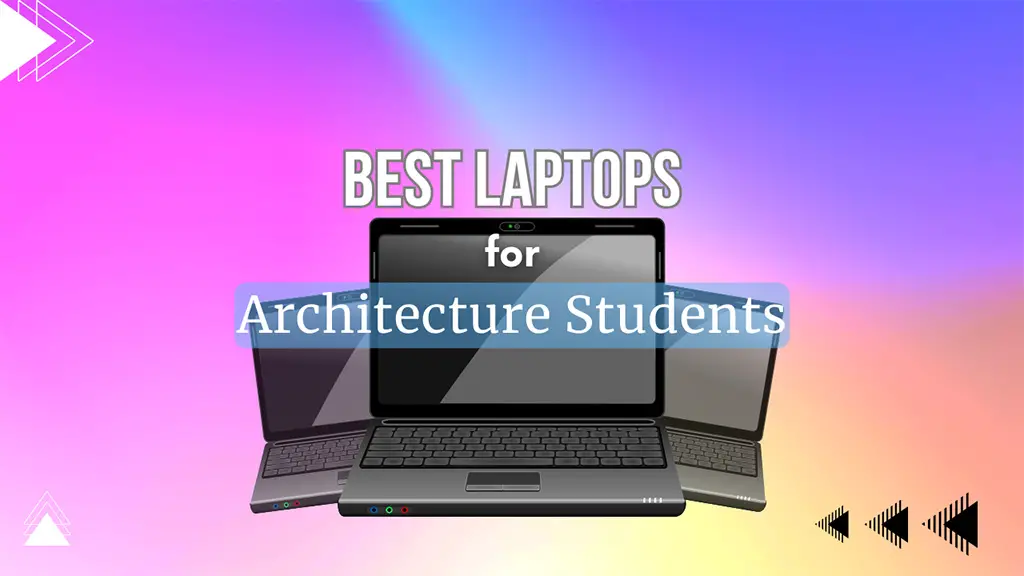 HP Envy is a premium laptop brand that offers fantastic features for a laptop under $2000. It can overcome all your complex tasks and overwhelming architectural projects.
First of all, no need to worry about lag while multitasking thanks to the sensational 64GB of premium DDR5 RAM. Say goodbye to slowdowns and hello to efficient and seamless multitasking like never before.
Speed is crucial in architecture, and the HP Envy 16 delivers ultra-high file opening, loading and transfer speeds with its 2TB SSD storage.
Alongside storage and memory, HP Envy offers a solid performance thanks to a 13th Gen Intel i9-13900H 14-core processor with an impressive 5.4 GHz clock speed. This amazing CPU is a computing powerhouse that can handle any complex task.
Furthermore, its NVIDIA GeForce RTX 4060 graphics provides lifelike visuals and accelerated workflows. This graphics card improves rendering speed and quality, which can be lifesaving for architectural projects.
Stunning visuals required both a good GPU and screen. The HP Envy's 16-inch Extended Graphics Array display, with a resolution of 2560 x 1600, provides a sleek look. This touchscreen display has a 400 nits brightness.
In summary, the HP Envy 16 combines powerful hardware, high SSD storage capacity and a stunning touchscreen display. Whether you're an architecture student or an individual professional, this product is one of the best laptops under $2000 for architects.
Apple products redefine excellence in technology and the latest edition of the 2023 MacBook Air with the revolutionary M2 chip is the best affordable Apple laptop for architecture students.
Of course, it's not a top-tier Apple laptop like the Apple 2023 MacBook Pro, but you probably won't need such a strong "monster" if you're a student. Therefore, MacBook Air will be a more suitable and cheaper alternative for you.
Supercharged by the superb M2 chip, the 2023 MacBook Air is equipped with an 8-core CPU, a 10-core Apple GPU and 16GB RAM. This hardware makes it a powerhouse allowing you to get more done, faster than ever before.
The MacBook Air has an immersive 15.3-inch Liquid Retina display. Delivering vibrant image quality and incredible details, this screen offers 500 nits brightness and P3 wide color, as well as supports one billion colors.
One of the most outstanding features of Apple computers is the unbelievable battery life. Thanks to the power-efficient performance of Apple's revolutionary M2 chip, this laptop has up to 18 hours of battery life.
The first thing you'll notice about the 15-inch MacBook Air is its sleek, thin and lightweight design. Crafted from 100 percent recycled aluminum, it's not only eco-friendly but also strikingly elegant.
Its sleek, thin, lightweight, fanless and silent design also deserves mention. Furthermore, crafted from 100 percent recycled aluminum, it's an eco-friendly and elegant product.
Best Laptop for Architectural Renders
Another high-end laptop for architecture students who want to have a robust product is the Dell G16 7630. Dell has always been an option for designers and the G16 is a perfect model offering premium visuals and performance.
The 165Hz 16-inch QHD+ display that boasts a 2560 x 1600 resolution ensures smooth and stunning visuals for your architectural projects.
Powered by a 13th Gen Intel Core i9-13900HX processor, it delivers incredible speed and performance. Also, it combines this CPU with the latest NVIDIA GeForce RTX 4070 8GB graphics card that can handle the most complex architectural renderings.
Furthermore, it delivers a breeze multitasking experience with the 16GB DDR5 RAM. The 1TB SSD storage is also enough for rapid file transfer and is sufficient for software and media storage.
Whether you're a professional architect, student or content creator, this aluminum-covered premium laptop exceeds expectations. Moreover, it provides an astonishing gaming experience with Alienware-inspired innovative thermal design.
Mid-End Architecture Laptop
Acer Predator has always been a great laptop for architecture students as it provides both a cool design and solid performance. The Acer Predator Helios 300 is here to ensure you everything you need for an exceptional architectural design journey.
Powered by the 12th Generation Intel Core i7-12700H 14-core processor, it ensures the speed and efficiency needed for rapid results in complex works.
The laptop is also equipped with the NVIDIA GeForce RTX 3060 GPU with 6GB GDDR6 VRAM. With this graphics card, you'll get top-notch visuals as well as faster and high-quality architectural renders.
Moreover, it features 16GB RAM and 512GB SSD. These are the lowest memory and storage capabilities that we recommend to architects for a laptop, so this RAM and SSD will be enough for you. However, you can consider improving storage capacity or RAM if you need it.
The Predator Helios 300 boasts a 15.6″ Full HD (1920 x 1080) Widescreen LED-backlit IPS display with a 144Hz refresh rate. Additionally, the 300 nits of brightness brings real-like vivid details into the screen.
Customizable 4-Zone RGB backlit keyboard, 4th Gen All-Metal AeroBlade 3D Fan and pre-installed Windows 11 Home are some of the other features that Acer Predator has.
Budget-Friendly Creator Laptop
The other Acer laptop that we recommend for architecture students is the model Swift X, which is one of the best laptops under $900. It's a laptop that focuses on improving your creativity.
It delivers a powerful performance with the 12th Gen Intel Core i7-1260P 12-core processor. Visuals, as well, matter for creators. Thanks to the NVIDIA GeForce RTX 3050 GPU, you'll experience breathtaking graphics.
Just like the Acer Predator Helios 300, the Acer Swift X has 16GB RAM and 512GB SSD storage. As above mentioned, 16GB of memory is enough for students who need seamless multitasking. Also, 512GB SSD storage will be sufficient for those who don't save too much media and program files.
As we said, Acer Swift X focuses on creativity, and creative persons need a true visual representation. The 14″ 2.2K IPS widescreen LED-backlit display with 100% sRGB coverage, 300 nits brightness and 16:10 aspect ratio ensures your creative content looks its best.
This product also has additional outstanding features like the fingerprint reader on the power button, USB Type-C and Thunderbolt 5 connectivity options as well as a 3.09 pounds (1.4 kg) lightweight metal design.
To sum up, the Acer Swift X Creator Laptop is one of the cheapest yet most powerful laptops that an architecture student can consider buying. It has powerful hardware, stunning visuals and a portable lightweight design.
We included two products from the Asus TUF brand on our list, one for low-budget and the other for medium-budget buyers. Priced below $1200, the ASUS 2023 TUF Gaming Laptop is a perfect performance product for architecture students.
The most outstanding feature of the Asus 2023 TUF is its NVIDIA GeForce RTX 4060 graphics card providing real-time ray tracing for unparalleled realism. It brings thrilling lifelike visuals and lets you create amazing architectural renders.
Speaking of visuals, it has a 15.6″ FHD 144Hz display offering a crisp 1920×1080 resolution, which is not as good as 4K but still a decent screen.
The brain of this laptop is a 4.7 GHz Intel Core i7-12700H 12-core processor, designed for delivering an outstanding performance both on multitasking and complex tasks. With 24MB of cache, 14 cores and 20 threads, this CPU will be a powerhouse for your architecture projects.
The laptop in the link has 16GB DDR4 RAM and 1TB SSD storage, yet you can customize it by ordering an enhanced version of the device. If you need to work on multiple complex projects simultaneously and use the computer for professional life as well, you can buy the version with 32GB RAM and 2TB SSD. However, 16GB RAM is well enough for students.
Alternative Laptop: ASUS 2023 Newest TUF Gaming Laptop with NVIDIA GeForce RTX 4070, 64GB RAM, 2TB SSD.
As an architecture student, you don't have to buy the best laptop for thousands of dollars. There are affordable yet powerful laptops that are suitable for you, just like Lenovo IdeaPad Gaming 3.
It boasts an AMD Ryzen 5 6600H processor, which offers an immersive performance with a CPU speed of 3.3 GHz. This amazing laptop also features an NVIDIA GeForce RTX 3050 GPU that delivers excellent graphics performance.
The IdeaPad Gaming 3 has a 15.6″ FHD display with a maximum resolution of 1920 x 1080 pixels.
Equipped with 16GB DDR5 RAM, it makes multitasking a breeze, meaning reduced lag while running multiple applications. Additionally, it comes with a 1TB SSD that ensures fast file loading and transfers.
Briefly, the Lenovo IdeaPad Gaming 3 is a cheap and performance laptop with sufficient RAM and SSD.
Just like ASUS, MSI is one of the most reliable laptop brands with Windows OS for architects. This high-performance product, with a 12th Gen Intel Core i7-12650H 4-core processor, is the best laptop under $1000. This CPU offers a fantastic experience in complex tasks for a student laptop.
It delivers seamless multitasking thanks to the 16GB RAM. The laptop also has NVIDIA GeForce RTX 4050 providing lifelike visuals and stunning render quality. Its 15.6″ Full HD 144Hz display also contributes to delivering captivating visuals as well as smooth and vibrant colors.
Furthermore, Thin GF63 features a 512GB SSD, which is perfect for lightning-fast data transfers and responsiveness. With cooler Boost 5 technology, the laptop stays cool during intense working sessions.
Overall, the MSI Thin GF63 stands out with a powerful i7-12650 CPU, RTX 4050 GPU and 16GB RAM. It will be an excellent choice for those seeking a performance laptop under $1000. Don't miss out on this affordable device that delivers exceptional value.
Alternative Laptop: MSI Katana 15 Gaming Laptop
Affordable Performance Laptop
Reasons to buy:
RAM: 16GB DDR4 RAM
CPU: 4.5 GHz Intel Core i5-12500H 12-Core
GPU: NVIDIA GeForce RTX 3050
Disk space: 512GB SSD
Operating system: Windows 11
Display: 15.6" FHD 144Hz Display
Weight: 7.87 pounds (3.57 kg)
Other specifications: Adaptive-Sync technology, Free 90-day Xbox Game Pass Ultimate
Asus' TUF provides a wide range of gaming laptops suitable for different budgets. Equipped with Windows 11, a 4.5 GHz 12th Gen Intel Core i5-12500H processor and NVIDIA GeForce 3050 GPU the TUF Gaming F15 is designed for those who demand high performance.
It also features 16GB DDR4 RAM and a 512GB SSD. Thus, having this laptop, you'll say goodbye to slow loading times and lag while multitasking.
With the F15's FHD 144Hz display and Adaptive-Sync technology, the display synchronizes with the GPU's output to reduce lag, shuttering and visual tearing. By this means, your gaming, modeling and rendering experience will be ultra-smooth and immersive.
Offering military-grade endurance, the TUF F15 is capable of withstanding accidental bumps and daily life knocks. Successfully survived in MIL-STD-810-H tests, it can also withstand heat, cold, humidity, shake and drop.
As a bonus, you'll receive a free 90-day pass for Xbox Game Pass Ultimate, which is great news for game enthusiast architects.
One downside is this laptop is heavy with 7.87 pounds (3.57 kg) weight. For this reason, it can make you tired in long-term carrying.
Alternative Laptop: ASUS TUF F17 Gaming Laptop, with 17.3″ display.
Cheapest Laptop for Architects
Acer Nitro 5 is a cheap and robust gaming laptop suitable for architectural jobs. This excellent gaming laptop comes with strong performance hardware, including 12th Gen Intel Core i5 processor with 12-core and 4.5 GHz core speed.
Besides a powerful processor, it also boasts the NVIDIA GeForce RTX 3050 Ti graphics card, which promises an ultimate rendering quality.
Its 16GB DDR4 RAM and 512GB SSD provide sufficient memory and storage to handle multitasking and rapid file transfers. Plus, it has multiple slots, enabling you to upgrade RAM and storage in the future. It means you can customize this laptop by adding more hardware.
You have to understand these are perfect performance hardware for a laptop under $800. However, although the 15.6″ Full HD IPS display is not the best, it is still sufficient as an industry standard.
The dual-fan cooling system and quad-exhaust port design will prevent overheating during intense working sessions. It also provides different connectivity options including USB Type-C port, HDMI 2.1, and more.
Its small screen size makes it somewhat portable, but its 5.51-pound weight is above average.
In summary, Acer Nitro 5 is an affordable performance laptop that is suitable for architecture students with a low budget. It delivers a powerful processor, top-notch graphics and an efficient cooling system.
Other Best Laptops for Architecture Students
Laptop Buying Guide for Architecture Students
Computers are among the most crucial tools in architecture education. This is why choosing the right laptop is quite important for students. As we want to help you make an informed decision, we've combined the key factors to consider when buying a laptop.
A. Software Requirements
1. Architectural Design Software: Architects frequently use several software like AutoCAD, Revit and SketchUp from the beginning of their university education. You should ensure your laptop meets the system requirements for these applications.
Read Also: Best Laptops for Revit
2. CAD (Computer-Aided Design) Software: CAD software is indispensable for architectural work. A laptop should have the processing power to handle intricate designs and complex drawings.
3. 3D Modeling and Rendering Applications: Architects also use some software like Rhino and Lumion for visualization, which require a powerful GPU for smooth 3D modeling and realistic rendering. Aim for a laptop with a qualified graphics card.
B. Hardware Requirements
1. Processor (CPU): A CPU is one of the most important hardware of a laptop. So, look for laptops with high-performance CPUs like Intel Core i7 or AMD Ryzen processors. A better CPU boosts smoother multitasking and faster rendering times.
2. Graphics Processing Unit (GPU): A dedicated GPU, such as NVIDIA GeForce or AMD Radeon, is vital for managing complex 3D graphics and architectural renderings. NVIDIA RTX series GPUs are better than the GTX series.
3. RAM (Random Access Memory): Architects generally need to work with different software simultaneously. For seamless and lag-free multitasking, you should be sure to have at least 16GB RAM in your laptop.
4. Storage (SSD vs. HDD): Providing faster data access and application loading, SSD (Solid State Drive) is a more advanced storage hardware than HDD. Opt for laptops with at least 512GB SSD. A large SSD or additional HDD is essential for storing software and design files.
C. Portability and Durability
Architecture students often move between design studios and classrooms. Therefore, some students may need to prioritize portability in a computer. Look for a laptop balancing performance with portability.
Durability is also so important as you're going to use your laptop almost every day for several years.
D. Budget Constraints
All of the above factors can impact your choice, yet the most important thing is the price and whether your budget can afford this price. Laptops come in various price ranges. While you have to buy the most powerful machine, you also have to consider your budget.
All the laptops on the list offer a good balance of performance and affordability. You can compare options within your price range. Furthermore, read our article Best Laptops for Architects.
Considering these factors carefully, you will easily narrow down these options and select a suitable laptop that perfectly meets your needs as an architecture student.
Conclusion
In conclusion, we've explored a range of powerful laptops that cater to various needs and preferences of architecture students. Then, we created a list of the best laptops to make finding the most suitable one easy for you.
Accordingly, there are various laptops in different budgets and specs on this list. While the cheapest laptop for architecture students is the Acer Nitro 5, our budget gaming laptop selection for game enthusiast architects is the Lenovo IdeaPad Gaming 3.
For those seeking a robust gaming experience, we recommend the mid-end gaming laptop Acer Predator Helios 300 with its powerful processors, top-notch graphics and advanced cooling systems.
If you're a student focusing on creativity instead of gaming, the Acer Swift X SFX14-51G-71Y1 Creator Laptop is just for you as a budget-friendly creator laptop.
We included two ASUS TUF laptops, the ASUS TUF Gaming F15 (2022) Gaming Laptop is an affordable performance laptop while the ASUS 2023 TUF Gaming Laptop is the best mid-end laptop on the list.
There are also top-tier laptops we offer you. Architecture students who need the best laptop for architectural renderings should look DellG16 7630 Gaming Laptop.
Lastly, HP Envy, as our best overall pick, impresses with its high-performance processor, stunning display and extraordinary graphics card.
Don't you want to buy a Windows laptop? Then, we selected the Apple 2023 MacBook Air with M2 chip as the best Apple laptop for architecture students.
No matter which laptop you choose, these options are designed to serve the best experience while you're working on your architectural project. With impressive displays, powerful processors and cutting-edge graphics, you'll be equipped to create the best projects.
Order your favorite laptop today and elevate your architectural design journey. Thanks for reading! Don't forget to share your thoughts about these laptops and your recommendations.
Related Articles:
FAQ
Q: Do architecture students need laptops?
A: Yes, architecture students need laptops for different stages in architectural design, including presentation, modeling, rendering, post-production, researching, analyzing, and more.
Q: Should I choose a Windows or Mac laptop for architecture studies?
A: It depends on your preference and the software you'll be using. Windows laptops are more common in the architecture field due to software compatibility.

However, MacBooks can also be used with software like AutoCAD and Adobe Creative Cloud through virtualization or dual-booting.
Q: Can I use a gaming laptop for architecture work?
A: Yes, gaming laptops often have powerful processors and dedicated GPUs suitable for architectural tasks. Just ensure it meets the software requirements.
Q: What's the ideal screen size for an architecture laptop?
A: A 15.6-inch display is a common choice as it balances portability and screen size. However, some prefer larger screens for detailed work. The most preferred large-screen sizes are 16″ and 17″.
Q: What specs to look for in a laptop for architecture students?
A: Architecture students should look for at least 16GB RAM, a decent CPU, a high-quality graphics card and sufficient storage, in a laptop.
Q: How much RAM does an architecture student need?
A: We highly recommend architects have laptops with at least 16GB RAM.
Disclosure: This blog post contains some affiliate links. It means, at no additional cost to you, we may earn a commission if you click through and make a purchase. Please note that we only recommend products and services that we believe will be beneficial to our readers.