Are you looking for the perfect gift to impress the civil engineer in your life? You've come to the right place! In this article, we've compiled a list of unique and thoughtful gifts for civil engineers.
As you know, civil engineers play a crucial role in shaping our built environment by designing and building the infrastructure we need in daily life. So they deserve the best gifts that show their passion for their profession.
Our comprehensive list contains various gifts from different categories, including essential gadgets, tools, books, Lego sets, outfits, artwork, personalized gifts, and more.
When choosing gifts for civil engineers, don't forget to consider their individual preferences and interests. Selecting a gift that aligns with their passion for civil engineering, you'll show your support for their job and celebrate their dedication to building a better world.
Let's dive into our list of best gift ideas for civil engineers without further ado!
List of Best Gifts for Civil Engineers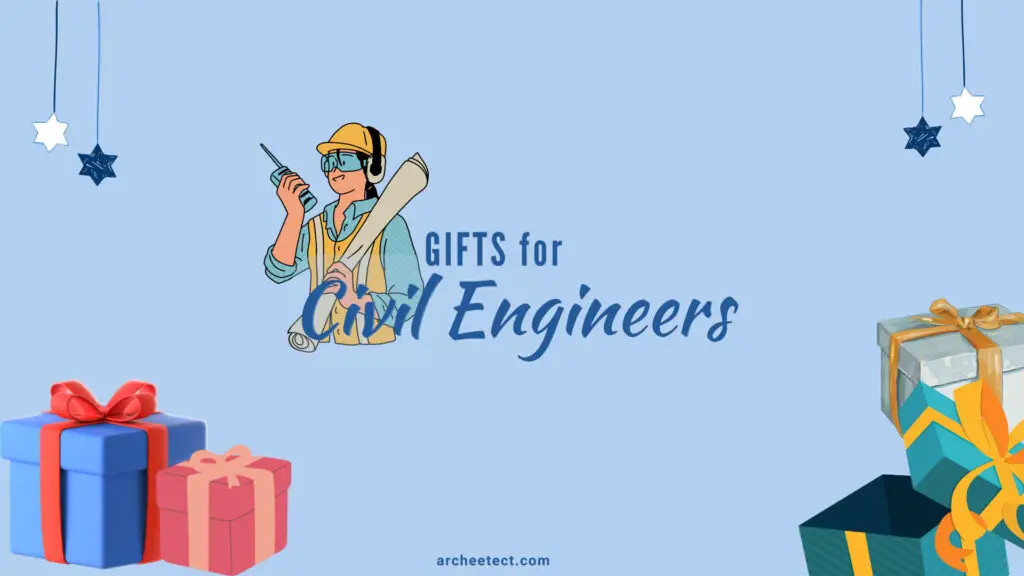 New York is one of the most dynamic cities in the world, hosting a multitude of famous skyscrapers, each of which is a civil engineering wonder.
You have a chance to gift a collection of these famous mega buildings. Lego Architecture Sets – New York City Skyline is among the best Lego sets for civil engineers.
This set includes high-rise buildings from the Empire State Building to Chrisler and Flatiron. It has 598 pieces and a base platform to place completed structures.
Whether they play with this Lego set or just use it as a super cool home/office decoration, the civil engineers in your life will love this gift. Also, there are hundreds of different Lego sets on Amazon, such as the San Fransisco skyline and Paris skyline.
Civil engineers generally work hard and may need coffee anytime. Whether they're office stuff or have a construction site trip, staying awake is crucial for them. Thus, the Klubi Engineer Travel Mug will be an excellent gift for the engineer in your life.
This 20oz (591ml) mug perfectly fits your needs, and is ideal for everyday use, indoor and outdoor events, parties, events, camping or nightshift. It is unbreakable and rust-resistant.
Furthermore, the mug can keep drinks cold for 24 hours and hot for 6 hours. Its high-grade 18/8 inch steel material is toxin and paraben-free. So, order this cool gift for a civil engineer today and make him/her happy.
A tape measure is one of the most essential tools for civil engineers working on construction sites. However, a standard tape measure may not be a great gift. So, we advise you to gift a laser tape measure to your civil engineer.
The PREXISO 2-in-1 Laser Tape Measure is the ultimate tool for site engineers. It combines a 135 Ft laser measure with a 16 Ft tape measure. It has a crazy accuracy within 1/8 inch.
The tool offers 6 different laser measurement modes, including distance, area, volume and two or three points Pythagorean methods. You can manage measurements with three easy-to-use buttons.
It is designed for ease of use and convenience. Its nylon-coated blade resists rust and maintains its accuracy over time. It also comes with a Type-C USB port to recharge its Li-ion battery that provides up to 5000 measurements on a full charge.
Whether used for a home, construction or construction site, this laser tape measure is a reliable companion and a wonderful gift for a civil engineer.
"Structures: Or Why Things Don't Fall Down" by J.E. Gordon is a must-read book about how the built environment remains standing. Gordon used simple language without overwhelming technical jargon. The book explains the fundamental engineering principles in an understandable and witty manner.
It has all the answers, from how suspension bridges can withstand heavy traffic to why dams can hold back massive amounts of water. Furthermore, it talks about the mechanics of skyscraper design, bias-cut dresses, kangaroos and even worms.
Thanks to its clear explanations of stress, shear, torsion and other essential concepts, architects and engineers will appreciate this book.
If the civil engineer in your life loves reading books, "Structures: Or Why Things Don't Fall Down" will be a good gift idea. When gifting this book, don't forget to mention that it is praised by Elon Musk as "It is really, really good if you want a primer on structural design."
You don't have to think of only practical engineering tools as a gift. You can impress your favorite engineer with the Decodyne Math Wall Clock as well!
This cool wall clock combines classic style with modern mathematics, making it an ideal present for anyone who likes clever designs and intellectual challenges.
Unlike classic wall clocks with regular numbers, this math clock features a creative design. Each math equation represents a demarcation on the clock. In order to tell the time, you have to solve these mathematical equations.
This functional and stylish clock can be a fun addition to any engineer's house or office wall. The black-and-white color scheme complements any color palette.
Make the civil engineer in your life happy with this math wall clock, an excellent way to keep track of time.
Civil engineers generally travel like architects and they may always need a laptop. But how to carry a laptop on travel? The SwissGear 1900 ScanSmart Laptop Backpack is a perfect product for carrying a laptop up to 17 inches.
Ensuring a smooth and hassle-free journey, this durable backpack is designed with functionality and convenience in mind.
You'll love its ScanSmart lay-flat technology. This feature allows you to keep your laptop securely in the backpack during TSA scans, saving time for you.
There is a dedicated TabletSafe pocket alongside the enhanced laptop compartment. It also includes an accordion file holder and an RFID-protected organizer with multiple pockets.
Furthermore, SwissGear 1900 offers various travel-friendly features like front and side quick-access pockets and mesh side pockets for water bottles and umbrellas.
With its ergonomic design, you can be sure that this is one of the most comfortable backpacks on the market. This 31L bag provides space for all your gear and belongings.
Alternatively, you can consider buying MATEIN Extra Large Backpack, a cheaper backpack option.
A pen is always a perfect gift idea. The rOtring 800 Retractable Mechanical Pencil is what a professional civil engineer needs. Offering precision, accuracy and durability, this top-notch tool is suitable for technical drawings, sketches and writing.
The "Twist and Click" mechanism retracts the entire lead and sleeve for durability and pocket safety.
rOtring 800 has a hexagonal-shaped metal body, ensuring a comfortable writing experience and preventing itself from sliding. It also features a non-slip metal knurled for ease of holding and controlling.
This premium drafting pencil with fixed lead guidance comes with a two-year limited hardware warranty. All these features make it a perfect gift for civil engineers.
If you want to see more options for mechanical pencils, navigate to our article Best Drafting Mechanical Pencils.
Looking for a unique and fun gift for the civil engineer in your life? T-shirts are meaningful and useful gifts, so this civil engineer t-shirt will be an awesome choice.
Made with high-quality materials, this t-shirt is not only comfortable but also a great way to show your friend's passion for engineering.
This 100% cotton t-shirt is classic fit and lightweight, ensuring maximum comfort throughout the day.
Thanks to its eye-catching graphic design, it will grab all the attention. Keep this between us, engineers love drawing attention. Place your order today and show your love to a civil engineer friend.
Safety is the first priority on construction sites and every construction worker, including civil engineers, must wear a hard hat for safety.
This hard hat produced by Malta Dynamics not only meets OSHA and ANSI requirements but also surpasses them. It ensures the best safety and protection on the construction site.
It is designed to keep builders safe in the most dangerous work environments. Alongside its durability, this helmet doesn't compromise on comfort in all-day use.
Its ratchet suspension mechanism allows for fast and easy size adjustments. Furthermore, it has cushion pillows and a nape cushion that ensures a snug and comfortable fit.
You can gift this hard hat to make sure your favorite civil engineer feels safe and comfortable while working. When ordering, don't forget that civil engineers generally wear white helmets as an international standard.
Newton's Cradle is a famous swinging kinetic ball mechanism. It's an elegant desktop accessory that combines both style and entertainment.
Newton's Pendulum will be a fantastic gift for civil engineers, as it's related with science and physics. This pendulum lets you experience Newton's Third Law besides being the perfect decorative element for both home and office.
It works by transferring force from one ball to the next ball, allowing you to witness fascinating physics in motion. The stainless steel bars and the lightweight plastic base material ensure durability and longevity for endless hours of use.
It's a cool addition to any desktop. The mesmerizing motion of the swinging balls will add a touch of calm and relaxation to your civil engineer friend's workspace.
Safety on construction sites concerns your whole body, especially your head, eyes and feet. While civil engineers and all other construction workers wear hard hats to protect their heads, they neglect to use safety glasses to protect their eyes.
The MAGID Gemstone Y50 Classic Black Frame Safety Glasses have both a stylish design and high-performance protection features. It's a perfect accessory for construction workers who prioritize both safety and style.
Thanks to its classic and cool style as well as ergonomic design, it encourages wearing it. Furthermore, its lightweight nylon frame makes wearing comfortable.
These safety glasses include permanently attached side shields, providing perfect protection against splashes, debris and other hazards without compromising peripheral vision. So, the giftee can focus on the task by ensuring eyes are safeguarded.
This product also delivers UV protection and comes with a wiper case to keep it clean. Don't you like the standard color option? Then you are lucky because there are many other options for this product, so you can find the best gift for your civil engineer friend.
Engineering is the art of problem-solving and the Desuccus 18-in-1 Snowflake Multi-Tool is an ultimate problem-solver tool.
It is designed to be a go-to solution for various tasks. With its 18 versatile functions, this all-in-one tool combines style and functionality in a compact design.
This stainless steel multi-tool includes a Phillips screwdriver, a slotted Screwdriver, a bottle opener a box cutter, six Allen wrenches and seven hex wrenches. Furthermore, the box contains a key ring, so it can be carried with ease in daily life.
It can do many tasks, including opening bottles, tightening screws, fixing your home equipment, etc. Thanks to its 2.3 ounces (65 g) weight and 2 inches (5 cm) diameter, the Desuccus Multi-Tool is a portable assistant.
Gift this multi-tool to your civil engineer friends today, and help them get through any situation, from rescue operations to fixing home equipment.
Almost every civil engineer has a calculator to make precise calculations for construction projects. However, the ROATEE 2-in-1 scientific calculator offers an innovative calculation experience with an erasable built-in writing tablet.
This LCD handwriting tablet with a stylus pen enhances efficiency and prevents wasting paper. You can erase writings with a button. Additionally, this product has 417 computing functions, which can calculate every engineering problem.
Besides a replaceable coin battery, it also uses solar energy to ensure it never runs out of power. Furthermore, its anti-drop body assures more durability against accidental falls.
From easy note-taking on the built-in tablet to its user-friendly design and multifunctionality, this calculator has everything to be a great gift for the civil engineer in your life.
The COSSINI Business Portfolio is a sophisticated and practical companion for professionals who aim for success in their business. Crafted with luxurious vegan leather, this portfolio helps to organize project files and notes.
It has a solar calculator, full PU leather interior, dual start zipper and abundant storage, ensuring easy access and protecting of essential documents.
Its custom pockets for pens, calculators, cards and tablets keep everything at your fingertips. It also offers more storage capacity than traditional leather planners.
Designed by top European designers, the portfolio ensures top-notch protection for your internal belongings, protecting them against rain, snow, dust and accidents.
Gifting this business portfolio to your civil engineer friend, you'll make a lasting impression with this premium, stylish and practical gift.
Every engineer and architect loves coffee but it's hard to find delicious coffee every time. With the Wacaco Minipresso GR, they can easily prepare espresso wherever they are, including construction sites or project visits.
The Wacaco Minipresso GR is a portable coffee maker designed to offer rich flavors of espresso to civil engineers on the go. It lets you brew exceptional espresso and a variety of coffee beverages with ease, no matter where you are.
This portable espresso machine stands out as an excellent choice to relish a wide range of ground coffee varieties and indulge in genuine espresso. The product has a lightweight, compact and durable design ensuring a comfortable drinking experience.
Whether it's for a quick espresso break during a project or a moment of relaxation, this portable coffee maker is among the ideal gifts for busy civil engineers.
Neoteck Aluminum Digital Angle Finder Protractor offers engineers both practical functionality and modern design. With its high accuracy and versatile features, this tool is a game-changer for site engineers and interior designers.
It has an angle range of 0-225° and a measuring precision of ±0.5°, ensuring to measure every angle with the utmost precision.
Another great feature it has is the solid data handling capability. Using a Data Gold function, this tool allows you to freeze the measured angle for easy reference.
Moreover, featuring a backlit LED display, it ensures clarity even in low-light conditions.
Besides its primary angle finder function, this tool is equipped with horizontal and vertical bubble levels that help you find whether a surface is horizontal or vertical.
Precision is crucial in the field of civil engineering. That's why the Neoteck Aluminum Digital Angle Finder Protractor is a perfect gift that combines sleek design, measurements and versatile functionality.
Conclusion
In conclusion, it's important to appreciate civil engineers, as they are the real heroes behind our well-planned cities, safe roads and sturdy bridges. You can express your gratitude to them with a gift that aligns with their passion for engineering.
However, finding the proper gift for the civil engineer in your life is a daunting task. So, we've explored a wide range of meaningful and practical gift ideas that can leave a lasting impression on your engineer friend. Then, we've compiled a list of those thoughtful gifts for civil engineers.
This list has everything from essential tools like a laser tape measure to t-shirts. There are plenty of gift options that are suitable for every budget and taste.
We recommend to consider their specific needs and interests before making your final choice. Now, you have a gift ideas guide, so you're ready to celebrate the civil engineer in your life.
We hope this guide has helped you find the best gift easily. Thanks for reading!
People Also Ask