Are you an artist looking to showcase your artwork with high-quality prints? If so, choosing the right art printer is quite important to ensure that your art prints look accurate and vibrant. In this article, we'll talk about the best printers for art prints.
When selecting an art printer, several factors must be considered. Print resolution, color accuracy, ink system, paper handling capabilities and budget are some of these critical considerations.
Providing a list of the best art printers, we will focus on their detailed specifications, including features like print quality, color accuracy, print speed, etc. We'll also discuss budget-friendly options for those seeking to invest in a cheap art printer without breaking the bank.
By the end of this article, you'll learn the key factors to consider when choosing a high-quality printer for artists. In this way, you'll make an informed decision.
Now, without further ado, let's dive in and find the perfect device to bring your artwork to life!
List of Best Printers for Art Prints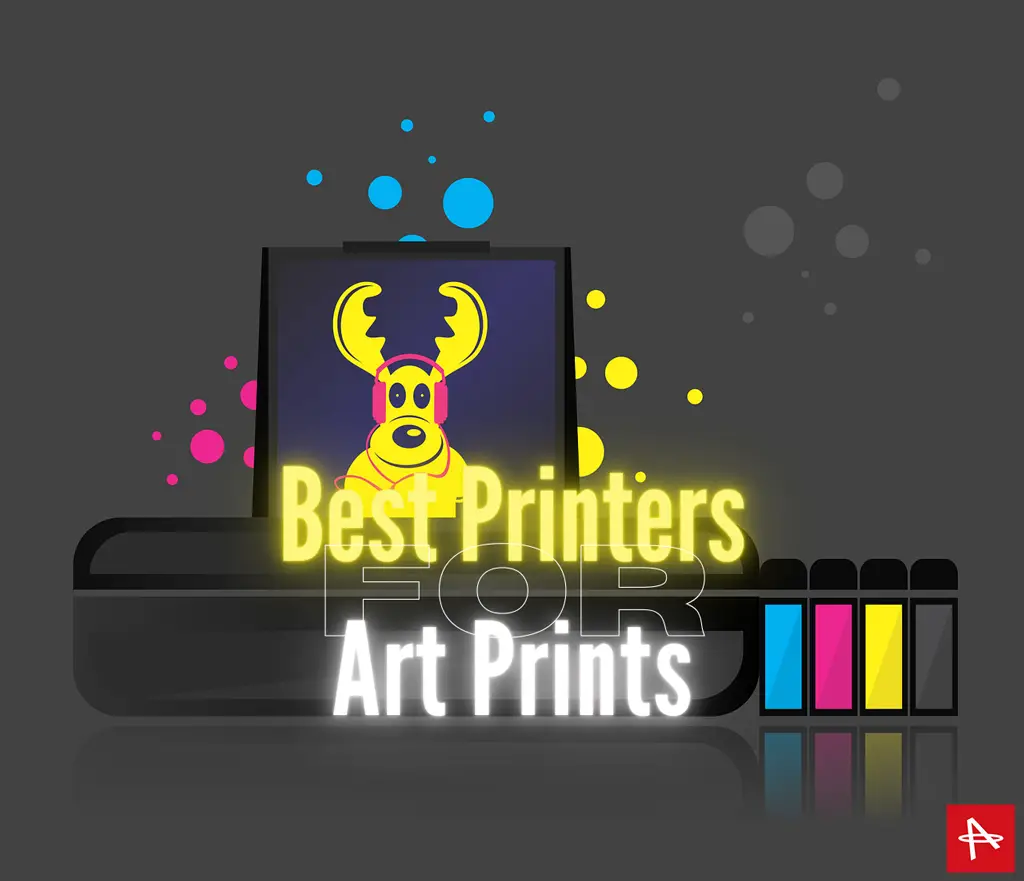 Firstly, we want to talk about the Canon PIXMA PRO-200 inkjet printer. It's one of the best options when it comes to bringing your photos and artwork to life with vivid colors.
The print speed of bordered A3+ prints in just 90 seconds is an outstanding feature of this product.
Its special 8-color dye-based ink system makes outputs have further vibrant and true colors. Additionally, it provides an impressive color range, deep blacks and improved dark color reproduction thanks to the enhanced color gamut and specially engineered CLI-65 ink.
This printer is designed to be efficient and easy to use. The compact design saves space and makes it more portable. The 3.0″ color LCD display allows you to check ink levels as well as the printing process.
Canon's in-built Professional Print & Layout (PPL) software is another prominent feature. It has an intuitive interface with straightforward settings that can help you reduce the time wasted with complicated print settings.
The PIXMA PRO-200 also supports a wide range of papers and sizes. It allows you to print borderless up to 13″ x 19″. You can even get panoramic prints up to 13″ x 39″. This printer can handle glossy, luster, matte or fine art papers without losing quality.
If you're ready to start printing your artwork with a professional fine art printer, the Canon PIXMA PRO-200 is a reliable product. So you should definitely consider it as an option.
Pros:
+ Borderless and panoramic printing
+ High print resolution
+ Compact design
+ Different media types
Cons:
– Buttons, instead of touchscreen
– Dye-based inkjet
The Epson Expression Photo HD XP-15000 is a more affordable printer for artists. Having the special 6-color Claria Photo HD ink system, it offers a wide color gamut and enhanced color prints.
Just like PIXMA PRO-200, this product can produce high-quality borderless prints up to 13″ x 19″. You can be sure that it will deliver exceptional detail and accuracy in both color and monochrome prints.
Designed with two different trays, it serves you the convenience you deserve. The 50-sheet rear tray is excellent for special media, including card stock. And there is a 200-sheet front tray for regular prints. You can feed these trays with media from 4″ x 6″ to 13″ x 19″.
It has a compact design and a body that is 30 percent smaller than its predecessor. Thus, it's possible to use the product even in small spaces conveniently.
Connectivity options are important for artists, and XP-15000 allows you to print from your iPhone, iPad, Android tablets and other smartphones. Ethernet is another seamless connectivity option of this printer for those who need wired connections.
Moreover, it has an easy-to-use 2.4″ color LCD screen so you can control print settings.
If you activate Amazon Dash Replenishment, it will automatically order new cartridges when ink levels are low. This feature is perfect for small businesses or artists that use the printer frequently.
With the Epson Expression Photo HD XP-15000, you'll have the opportunity to showcase remarkable art prints and photographs.
Pros:
+ 50-sheet rear tray and 200-sheet front tray
+ Compact and lightweight design
+ Up to 20 ppm print speed
Cons:
– Small LCD display
– Dye-based inkjet
Best for Small Businesses
Canon is undoubtedly among the best art printer brands, and imagePROGRAF PRO-1000 is an absolutely perfect product as a 17″ large-format art printer. This heavyweight but top-notch device will be the right choice, especially for professional photographers and graphic designers.
The PRO-1000 can print on sheets up to 17″ x 22″. You can also create panoramic prints up to 1.2 meters long with third-party unofficial software.
It features an anti-clogging technology that reduces the likelihood of clogging. This is perfect for a smooth print experience without any imperfection.
Another outstanding feature Air Feeding System prevents pages from skewing during printing, regardless of the paper type.
The best part of using this printer is getting accurate color reproduction. The Lucia Pro 11-color plus Chroma Optimizer ink system offers unbelievably accurate capturing and a wide color gamut. This ensures flawless dark shadow areas and deep blacks.
Furthermore, it also provides enhanced glossiness and anti-bronzing to make prints even more vibrant and sharp.
The imagePROGRAF PRO-1000 comes with the Print Studio Pro V 2.0 software, providing professional photographers with new functions for a better printing experience.
Whether you're a photographer, graphic designer, architect or artist, the Canon imagePROGRAF PRO-1000 allows you to bring your creative vision to life with breathtaking prints.
If you're looking for a high-quality art printer that combines reliability, performance and unparalleled print quality, you won't regret buying this one.
Pros:
+ Color accuracy
+ Panoramic prints up to 1.2 m
+ Pigment-based inkjet
Cons:
– Bulky and heavyweight
Reasons to buy:
Print speed: 10 ppm* (color), 15 ppm (monochrome)
Connectivity tech: Bluetooth, Wi-Fi, USB, Ethernet
Printer tech: HP thermal inkjet
Resolution: 4800 x 1200 dpi
Weight: 16.72 pounds (7.5 kg)
Features: Touchscreen, multifunction, borderless printing, memory card slot, auto document feeder
*ppm: pages per minute
This affordable photo printer HP ENVY Photo 7855 offers a plethora of handy features, including stunning print quality and versatile functionality. It can print up to 8.5″ x 14″, scan, copy and fax, making it a convenient all-in-one product.
Capture the excellent moment and print these memories for less than 5 cents per photo. It also supports borderless printing and different connectivity options.
Its SD card slot and USB support allow you to edit and print files directly from your memory card or USB drive.
You will also have full control over prints thanks to the HP Smart App. This app allows you to scan documents directly from your camera and print from social media platforms or popular cloud storage services.
Its dedicated paper tray automatically adjusts to print settings and paper type. It supports different media, including letters, legal, envelopes, labels, plain paper, glossy photo paper and high-resolution paper.
Additionally, it comes with a one-year limited hardware warranty and 24/7 web support.
In conclusion, the HP ENVY Photo 7855 is a budget-friendly and multifunctional photo printer that meets the needs of artists, photographers and creative people.
Pros:
+ All-in-one printer
+ Budget-friendly
Cons:
– Slow printing
Best All-in-One Photo Printer
Reasons to buy:
Print speed: 12 ppm* (color), 16 ppm (monochrome)
Connectivity tech: USB, Wireless, Ethernet
Printer tech: Pigment-based black and rest dye-based inkjet
Resolution: 5760 x 1440 dpi
Weight: 32.32 pounds (14.7 kg)
Features: Touchscreen, auto-duplex, borderless printing, double-sided scan
*ppm: pages per minute
The Epson EcoTank Photo ET-8550 is a top-notch all-in-one photo printer for artwork, paintings, posters, presentations, and more. Its seamless connectivity options, including Wi-Fi, USB and Ethernet, help you to print from anywhere within your creative space.
Furthermore, you can utilize Epson Connect Solutions to effortlessly print via email or remote printing. It also supports Apple AirPrint and Android printing by using your smartphone or tablet.
We should mention its advanced media handling capabilities as well. It offers convenient front-loading paper trays for both standard and photographic papers.
The impressive resolution of up to 5760 x 1440 dpi provides vibrant colors and sharp details. Enjoy borderless printing in different media sizes up to 13″ x 19″. It can also print on media up to 1.3 mm thick.
The intuitive 4.3″ full-color touchscreen provides more control and management for your prints. This high-quality display also lets you enjoy printing without a computer.
That's not all. You can initiate print jobs by using voice commands thanks to Voice-Activated Printing and Smart Assistant Integration, compatible with Siri, Amazon Alexa and Epson Connect.
Overall, its affordable running costs, high-quality prints with impressive resolution and other convenient features make it a great choice for both professional and beginner artists.
Pros:
+ 4.3″ color touchscreen
+ Voice-activated prints
+ Ultra-high resolution
+ Print on up to 1.3 mm thick
Cons:
– Doesn't have a perfect design
Best Large-Format Art Printer
Reasons to buy:
Print speed: 15 ppm* (color), 30 ppm (monochrome)
Connectivity tech: Wireless, USB
Printer tech: Pigment-based inkjet
Resolution: 2400 x 1200 dpi
Weight: 290 pounds (131.5 kg)
Features: Compact design, software included, ultra high-quality prints up to 2400 dpi, print stand included, 1-year warranty
*ppm: pages per minute
The Canon Pro 2100 is a cutting-edge 24-inch large-format fine art printer that delivers exceptional image quality and color consistency. It features a 12 x 160ml LUCIA PRO ink set with Chrome Optimizer and L-COA PRO high-speed image processing engine to deliver an outstanding result.
Read Also: Best A1 Printers
It provides increased security features, borderless printing and intelligent technology for advanced media handling. Furthermore, this printer offers innovative features like direct links to digital cameras and reformulated LUCIA PRO inks.
Built-in color calibration simplifies the profiling process, while the unique Multi-Function Roll Unit (optional) and software solutions set the PRO Series apart from the competition.
Its wireless and USB connection support and 4.3″ LCD color touchscreen will add extra convenience to your printing experience.
Including a one-year warranty card, this product is a top-of-the-line large-format fine art printer for artists. Furthermore, the Canon PRO 2100 is a perfect art printing solution for small graphic design studios, architecture firms or art studios.
Pros:
+ Prints up to 24″
+ 4.3″ color touchscreen
+ Pigment-based inkjet
Cons:
– Heavy and bulky body
If you're an artist, photographer or creative person, Epson Artisan 1430 will satisfy you with its exceptional performance and wireless capabilities. This device takes photo printing to a whole new level. It produces brilliant large-size photos and ultra Hi-Definition borderless prints up to 13″ x 19″.
Using the Claira 6-color ink system, it ensures unmatched photo quality and longevity. Your prints will last up to four times longer than traditional photo lab prints. Furthermore, it provides a remarkable image quality with a resolution of up to 5760 x 1440 dpi.
With Artisan 1430, anyone can create gallery-worthy prints, or even print professional-looking CDs/DVDs. You didn't hear wrong. It's possible to print digital images on CDs or DVDs.
The Artisan 1430 also includes advanced color and lighting correction features to ensure that your photos are visually stunning and true to life. It also offers smooth gradations, accurate skin tones, sharp and grain-free photos as well as crisp text.
Whether you're using Android, iPhone, Apple or other smartphones and tablets, it lets you print on the go, without a computer or cable connection.
Consequently, the Epson Artisan 1430 is one of the best art printers produced by the reliable photography brand Epson. Its extraordinary print quality, easy wireless connectivity and other advanced features like the 6-color Claira ink system and CD-DVD printing empower artists to unleash their talent.
Pros:
+ Impressive print quality
+ CD-DVD printing
Cons:
– No display panel
What Should You Consider When Buying an Art Printer?
There are several crucial considerations you should take into account when buying an art printer. Because, you are reading this guide to purchase the best art printer that suits your printing needs. Now, let's explore these factors to help you make an informed decision.
1. Print Size
As an artist, graphic designer or architect, the size of printouts is the most crucial consideration. So, you should first decide whether you require large-format or smaller-format printing.
But keep in mind that having a large-format printer doesn't mean you can't print on small pages, as most printers can print on different sheet sizes.
Ultimately, deciding on the print size that you'll need will help you narrow down your options.
2. Resolution
Resolution plays a significant role in the quality of your art prints. You should look for an art printer with a high resolution to ensure sharp and detailed outputs.
Depending on the print size, a resolution of 4800 x 2400 dpi or higher is recommended. It is important, especially for large media or detailed images.
3. Print Speed
Art printers often work slower than regular ones to provide better color quality and image density.
If image quality is more important than print speed, then you can sacrifice speed for superior prints. However, those requiring fast art prints and multiple copies may want to prioritize higher printing speeds.
4. Ink System and Printhead Tech
Printhead technology and ink systems are also crucial factors that affect print quality. Generally, more ink cartridges offer deeper, more vibrant and smoother color detail. The number of ink nozzles is also important for achieving greater detail in your prints.
There is one more thing about the inkjet system. Pigment-based inkjets result in better image quality and more longevity on paper than dye-based inkjets.
So, you can seek printers with a wide color palette, a range of ink cartridge options and a pigment-based inkjet system for more accurate color reproduction.
5. Media Capabilities
While some printers can only print on plain paper, others can handle fine art papers such as glossy paper, cardstock, textured paper, etc. For this reason, you have to ensure what specific media you wish to print on.
You have to think about the paper thickness you'll be printing on as well. Many photographic or fine art paper is thicker than the standard printer paper. For instance, Epson EcoTank Photo ET-8550 can print on up to 1.3 mm thick papers, and this is an awesome feature.
6. Printing Frequency
Another factor you should consider is your potential printing frequency, meaning how often you will be printing. Higher printing volume and commercial use may require you to look for high-end printers.
These top-notch printers offer faster printing speeds and larger ink cartridges that need less frequent replacement. They also last longer.
7. Your Budget
The last but maybe the most important thing that you have to consider is your budget. If you have a low budget, don't look for top-quality printers.
While more affordable printers may suit amateurs or personal use, investing in a higher-end printer with greater ink capacity can be more cost-effective in the long run, especially for commercial or professional use.
Printer prices can vary significantly, depending on their features and capabilities. So, set a budget for your printer purchase and choose the best option within your budget range.
By considering these factors, you can make an instructed decision and choose a better printer that meets your specific needs for art prints. Remember to prioritize resolution, media versatility, ink quality, and overall value for your artistic endeavor.
Conclusion
As a result, in this article, we've created a comprehensive list of the best printers for art. We've also researched the important factors to consider when purchasing an art printer.
Choosing the right printer suitable for your art prints is a crucial decision that can highly impact the quality and success of your work. Therefore, you should consider some factors like print speed, print size, ink quality, resolution, printing frequency, media capabilities and your budget.
By carefully reading this guide and evaluating important factors, you can select the best art printer that aligns with your artistic vision and requirements.
Lastly, to make the decision process easier, we have some picks for you. Do you need a large-format art printer that can print on up to 24″ paper? Then, consider buying CANON PRO 2100.
For those artists who want to have a high-end all-in-one art printer, we recommend the Epson EcoTank Photo ET-8550.
On the other hand, Epson Expression Photo HD XP-15000 is the best budget-friendly option while HP ENVY Photo 7855 is the cheapest on the list.
Choose your printer wisely, and let your creativity shine through your stunning art prints! Thanks for reading. Don't forget to read our related articles and make a comment.
Related Articles:
FAQ
Q: Can I use a regular printer for art prints?
A: While regular printers can produce decent-quality prints, they may not offer the same level of color accuracy, resolution, and ink durability as printers designed specifically for art prints.
Q: What is the difference between dye-based and pigment-based inks?
A: Dye-based inks may fade over time when exposed to sunlight. On the other hand, pigment-based inks provide better longevity and resistance to fading, making them suitable for archival prints.
Q: How important is resolution for art prints?
A: Resolution is crucial for achieving sharp and detailed art prints. Higher-resolution printers can produce more intricate details and smoother color transitions.
Q: Are art printers more expensive than regular printers?
A: Art printers are typically more specialized and offer higher-quality prints, which often come with a higher price tag compared to regular printers.
Q: Can I use third-party ink cartridges with printers for art?
A: While it is possible to use third-party ink cartridges with some art printers, it is recommended to use genuine ink cartridges from the printer manufacturer.
Q: Is inkjet or laser better for artists?
A: Inkjet printers are generally considered better for artists due to their ability to produce high-quality prints with vibrant colors and excellent color accuracy.

They are also more versatile in terms of paper handling and can handle a variety of paper types, including fine art papers and specialty media.

Laser printers, on the other hand, are better known for their speed and volume printing capabilities. This makes them more suitable for office and business use rather than artistic prints.
Disclosure: This blog post contains some affiliate links. It means, at no additional cost to you, we may earn a commission if you click through and make a purchase. Please note that we only recommend products and services that we believe will be beneficial to our readers.