Canada is a remarkable country that has a rich architectural history and a diverse cultural landscape. There are thousands of notable structures located here and many of them are iconic landmarks for their cities. This article covers the most famous buildings in Canada, including their architectural and historical significance making them so iconic.
From CN Tower in Toronto to the Notre Dame Basilica in Montreal, these structures are important not only for their architectural value but also for their cultural significance, as they often reflect the context and identity of their communities and regions.
All these buildings in the list are selected carefully and are must-visiting places for anyone who is in Canada. Whether you're an architecture enthusiast, or simply a tourist seeking a cultural tour in a Canadian city, there is something for everyone on the list.
Without further ado, let's take a closer look at the 20 most famous buildings in Canada and explore their architectural features and secrets that make them outstanding.
List of Most Famous Buildings in Canada
1. The CN Tower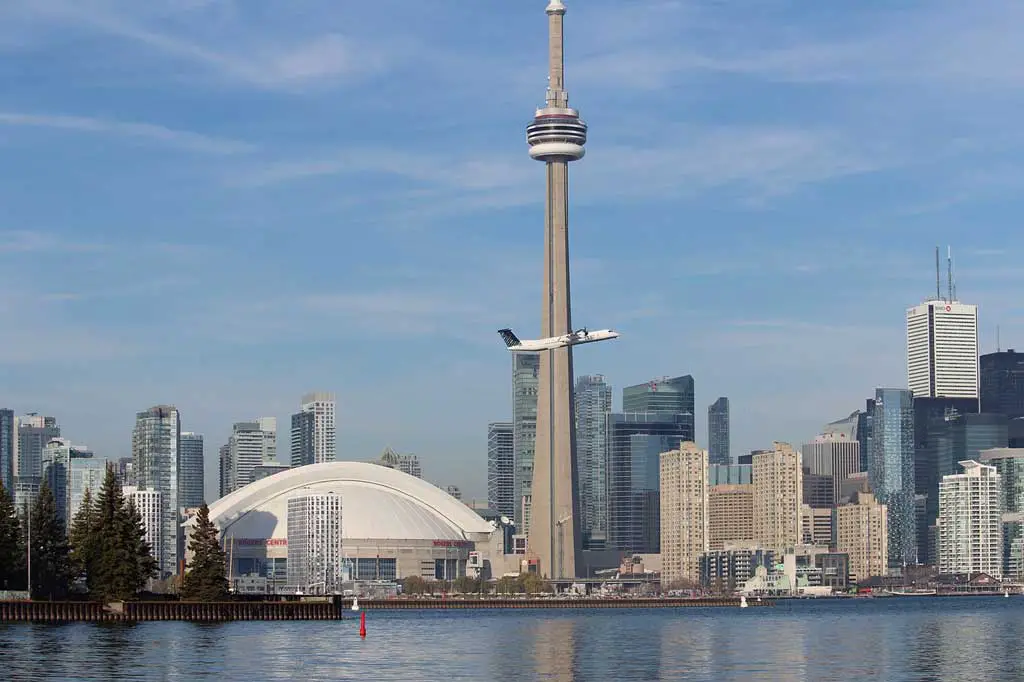 | | |
| --- | --- |
| Architect: | John Andrews, Webb Zerafa, Menkes Housden, E.R Baldwin |
| Type: | Infrastructure  |
| Construction period: | 1973-1976 |
| Location: | Toronto, Ontario |
CN Tower, located on the lakeside in Toronto, Ontario, is the tallest free-standing structure in the western world. Having 1,815 feet (553 meters) in height, the tower stands out among the tall skyscrapers in Canada.
Serving as a telecommunication and observation tower, it was constructed between 1973-1976. As the number of mega skyscrapers in the city was rapidly increasing, other telecommunication towers started to remain incapable. In this respect, CN Tower solves a crucial problem.
It's not only a technical structure but also one of Canada's most famous landmarks open to public visits and attracts more than 2 million tourists annually. It includes an elevator to the top and has a panoramic view of the city and Lake Ontario.
Alongside the panoramic view, the tower also offers various services like gift shops, restaurants, three observation levels, etc. Therefore, CN Tower is a golden opportunity for visitors who want to behold the city from above.
2. Canada Parliament Buildings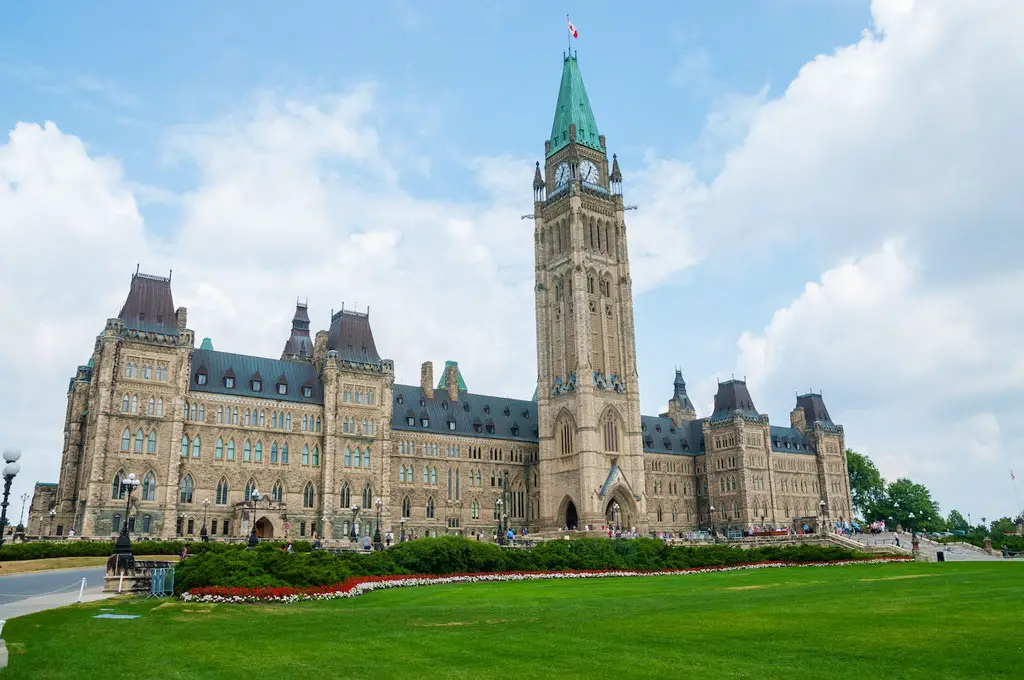 | | |
| --- | --- |
| Architect: | Jean-Omer Marchand, John Andrew Pearson |
| Type: | State building |
| Construction period: | 1859-1865 (Reconstruction in 1916-1927) |
| Location: | Ottawa, Ontario |
Located in Ottawa, Ontario, the Canada Parliament Building houses the official seat of Canada's government, the Senate and libraries. It's a historical landmark in the capital city of Canada. The building, opened in 1866, features Neo-Gothic characteristics and has a Gothic revival style.
The original building in Gothic style was highly damaged by fire in 1916 and required a rebuild. Thus, it has undergone various renovations and reconstructions over time and includes many add-ons. The most recognizable one of these additions is the clock tower named Peace Tower.
This edifice in Parliament Hill is a fine example of the Neo-Gothic style in Canada. You can visit this famous structure in Canada by planning your visit hours and days from the official website here.
3. Habitat 67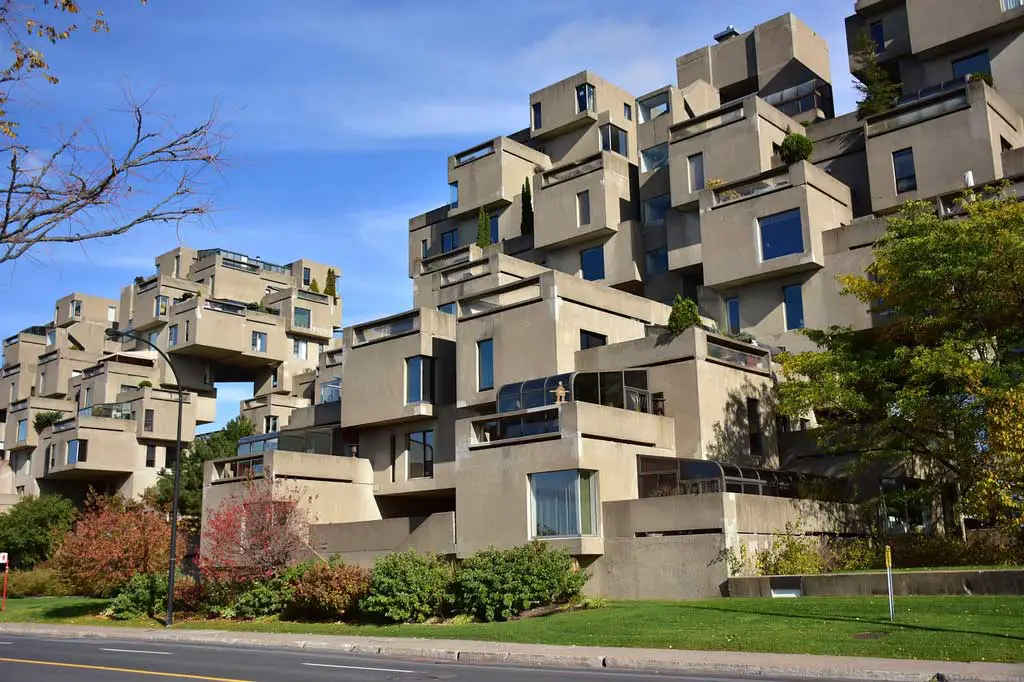 | | |
| --- | --- |
| Architect: | Moshe Safdie |
| Type: | Residential |
| Construction period: | 1967-1969 |
| Location: | Montreal, Quebec |
Habitat was designed by the Safdie Architects as a pavilion for the 1967 Montreal World Exposition. This residential building complex consists of different types of pre-fabricated house units.
It has 365 modules, in the same beige color, that are stacked on top of each other to create 158 residences, from 600-square-foot to 1800-square-foot.
Solving various problems of mass housing projects in dense cities, the main idea behind the concept is to create single-family houses, each with garden terraces, open spaces, fresh air, natural light, city views and other crucial necessities.
Habitat 67 is one of the most iconic buildings in Montreal and Canada with its extraordinary architecture. However, the design of the apartment complex is somewhat controversial due to the climatic conditions.
4. Chateau Frontenac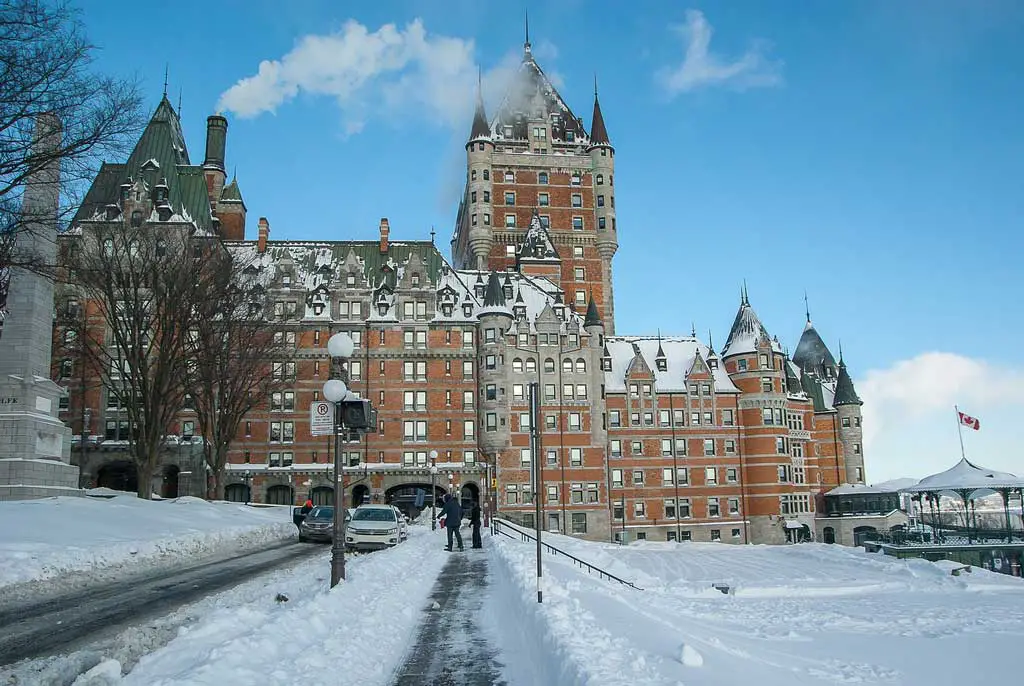 | | |
| --- | --- |
| Architect: | Bruce Price |
| Type: | Residential |
| Construction period: | 1892-1893 |
| Location: | Quebec City, Quebec |
In the 19th and 20th centuries, railway firms designed grand railway hotels like Chateau Frontenac. These hotels come to the for with their unique architectural styles and monumental scales.
Designed as a luxury grand railway hotel and built by the Canadian Pacific Railway, Chateau Frontenac is among these renowned railway hotels. It has steep and pitched roofs, circular towers, dormers and massive building blocks.
Thanks to its fabulous design, Fairmont Le Château Frontenac is the world's most photographed hotel. Furthermore, it is among the most famous buildings in Quebec.
This luxury hotel includes more than 600 rooms and suites, with elegant interior designs and premium furnishings. It accommodated thousands of renowned people and world leaders throughout its history.
5. Notre-Dame Basilica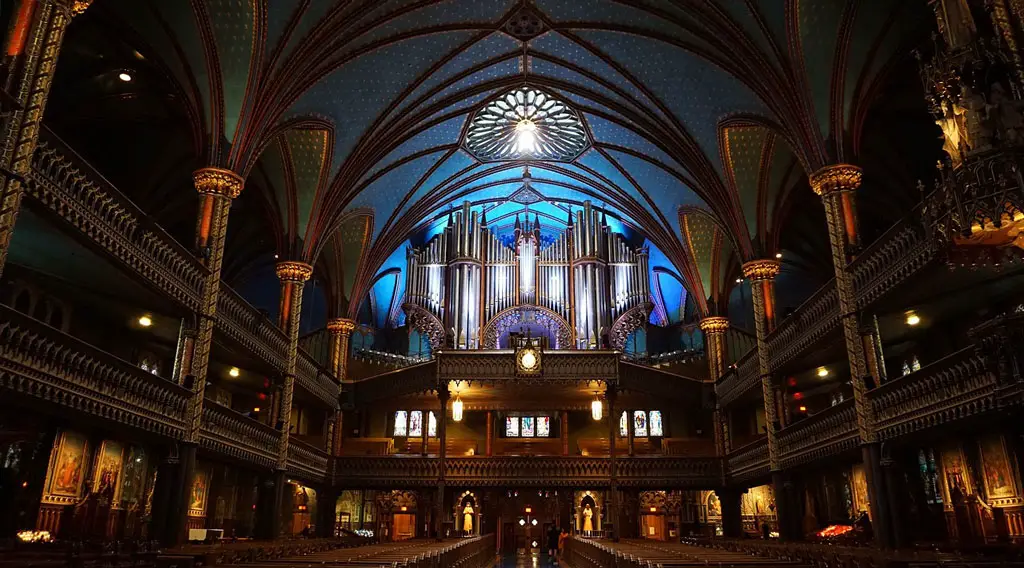 | | |
| --- | --- |
| Architect: | James O'Donnell |
| Type: | Religious |
| Construction period: | 1824-1829 |
| Location: | Montreal, Quebec |
As you know Canada is a country that was adorned with French traditions and culture. Quebec demonstrates this more. Many religious Canadian buildings have a French Catholic feel and Notre-Dame Basilica in Montreal is a perfect example of them.
It offers a thrilling experience with its colorful stained glass windows, mystery atmosphere, intricate vaults, elegant wood carvings, and more. The furnishments and structural elements inside have dark yellow and brown tones, creating a dignified ambiance.
It doesn't have frescoes or wall paintings that indicate biblical scenes. Instead, showcases the religious past of Montreal city. From interior ornaments to exterior facades, Notre-Dame Basilica is worth-visit from the ground up.
This structure with Gothic Revival architecture has been considered among the Canadian heritage buildings since 1989. Being the oldest Catholic church in Montreal, it is among the most visited buildings in Canada with over 10 million tourists annually.
6. Science World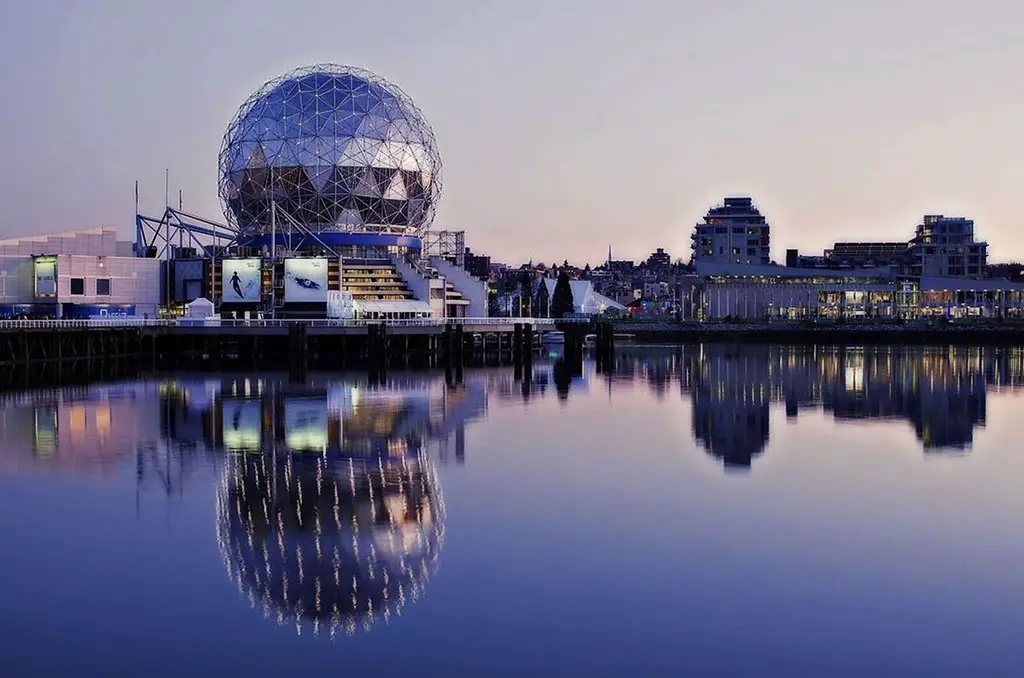 | | |
| --- | --- |
| Architect: | Bruno Freschi |
| Type: | Museum |
| Construction period: | 1984-1985 |
| Location: | Vancouver, British Columbia |
Another famous Canadian landmark inherited from a world fair is Science World in Vancouver, British Columbia. Built for Expo 86, it includes many interactive science exhibitions and offers experiments to visitors. Moreover, it holds many public events and activities like fairs and cinema days.
Its distinctive dome, made from 15.000 pounds (6803,9 kg) of aluminum, is an important part of the city's skyline. After the expo ended, it was turned into a science, technology and art center.
If you are a science lover, you should definitely visit this amazing place and behold its ball-shaped huge dome.
7. The Canadian Museum of Human Rights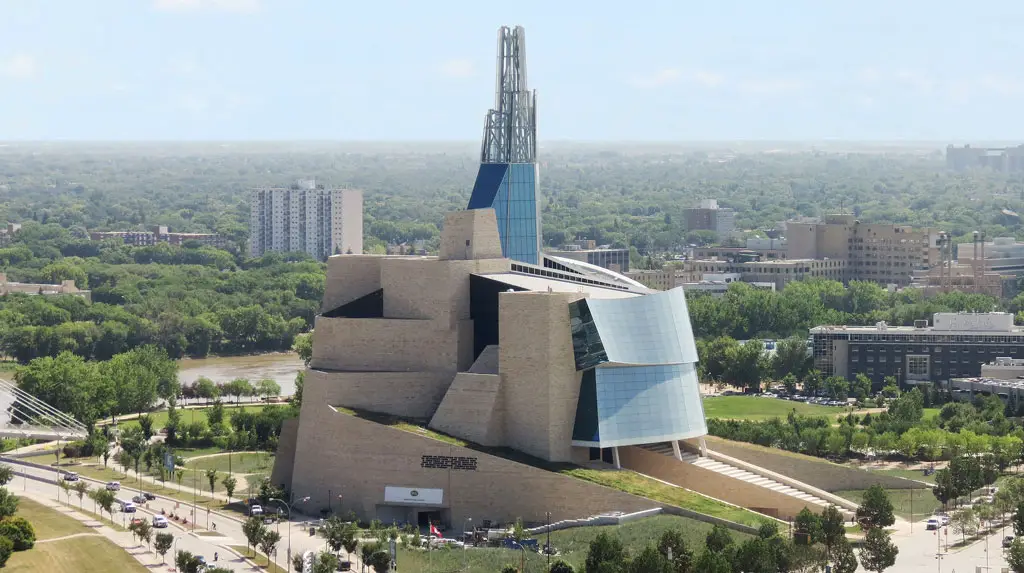 | | |
| --- | --- |
| Architect: | Antoine Predock |
| Type: | Institution |
| Construction period: | 2009-2014 |
| Location: | Winnipeg, Manitoba |
The Canadian Museum of Human Rights is a cultural institution located in Winnipeg, Manitoba. As the name suggests, the building is dedicated to human rights. It contributes to promoting understanding and respect for every people equally.
Besides its humanistic role, the architectural design of the structure is also considerable. The other key point is that it's the first and only national museum located outside of Ottawa.
Opened in 2014, CMHR is a striking example of contemporary architecture in Canada. It has intricate walls and curved facades with more than 1300 glass panels that demonstrate respect for the diversity of humans. There is also a symbolic tower like a torch located in the middle.
In fact, architect Antoine Predock blended human rights and architectural design in everywhere the structure. The museum building rises on stone roots, symbolizing the connection between humanism and Mother Earth.
8. Montreal Symphony House

| | |
| --- | --- |
| Architect: | Jack Diamond |
| Type: | Concert hall |
| Construction period: | 2009-2011 |
| Location: | Montreal, Quebec |
The fact that Montreal is a Canadian city that has plenty of famous buildings and landmarks shows us the cultural wealth of the city. As a result of this cultural heritage background, the city houses many cultural buildings like the Montreal Symphony House.
The Montreal Symphony Orchestra is a world-famous classical music ensemble. The structure has a capacity of 2100 spectators, 120 musicians and 200 singers. Furthermore, there are several seat levels that audits can experience the music show.
Moreover, the modern architecture of the building itself is worth seeing. Architect Jak Diamond preferred Quebec beech woods in all the interior claddings for both aesthetical and acoustic needs. Thus, he designed a LEED-certified ecological building.
Opened in 2011, it's an exciting route for classical music enthusiasts. If you plan a journey to Montreal city, include this spectacular music hall in your list.
9. Art Gallery of Ontario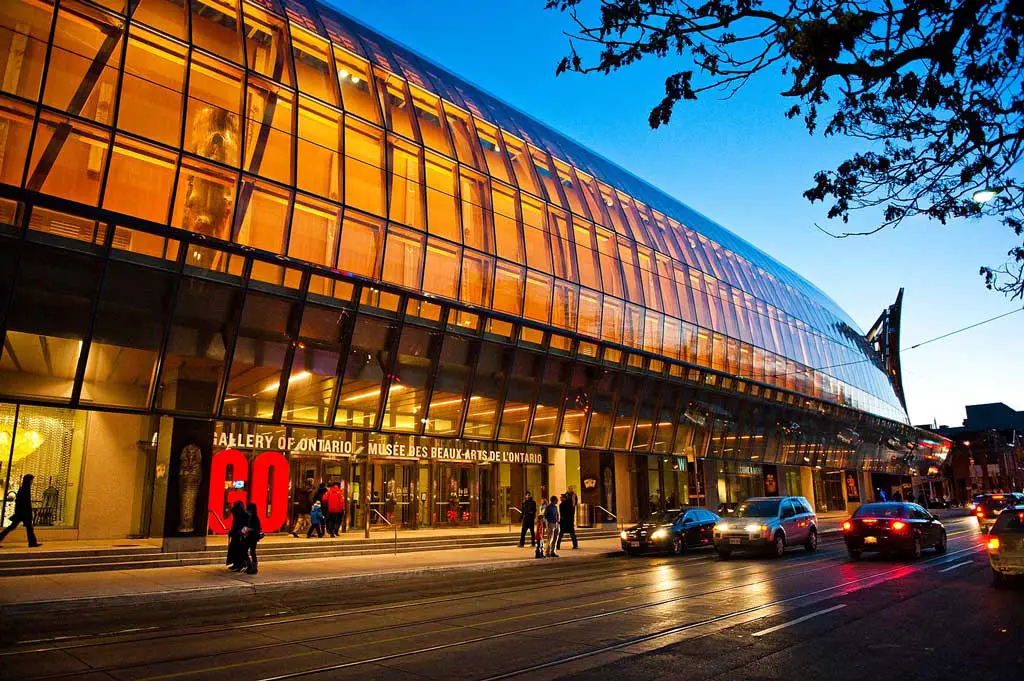 | | |
| --- | --- |
| Architect: | Frank Gehry (Renovation) |
| Type: | Museum |
| Construction period: | 2008 (Renovation) |
| Location: | Toronto, Ontario |
Art Gallery of Ontario, located in Toronto, has founded in 1900 and has undergone various renovations and expansions since 1911. The latest major expansion was managed by the renowned architect Frank Gehry and reopened in 2008. And it's one of the largest art museums in North America.
It exhibits over 95.000 artworks and over 40.000 photographs, most of which are by famous artists in Europe and Canada. Additionally, it includes shops, a cafe, a dining hall, an archive, libraries, lecture halls, event spaces and workshop areas. That means you can spend all day in this museum.
Actually, the new look of the building makes itself an exhibit worth seeing as well as the exhibitions inside. The transparent and reflective facades create a vibrant and bright attraction point. These facades reflect the whole beauty of Toronto city.
10. The Montreal Biosphère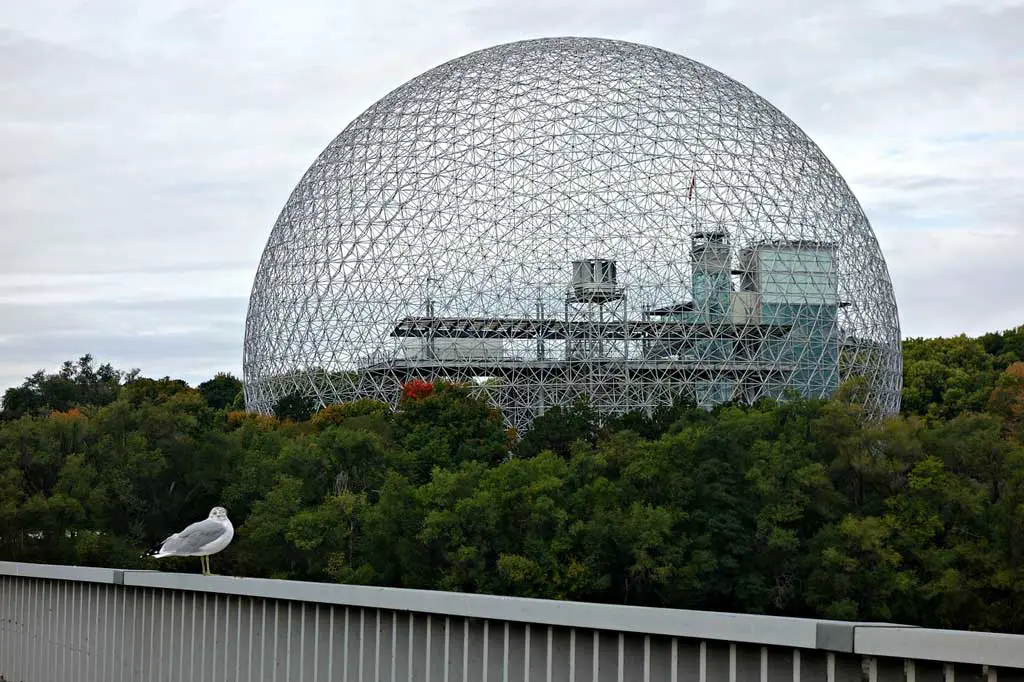 | | |
| --- | --- |
| Architect: | Richard Buckminster Fuller |
| Type: | Museum |
| Construction period: | 1967 |
| Location: | Montreal, Quebec |
The Montreal Biosphère, La Biosphère in French, is an environment museum located on Saint Helen's Island in Montreal, Quebec. Opened in 1995, the museum building has an iconic spherical dome just like the Science World. This iconic architecture makes the museum a tourist destination.
The geodesic dome of the museum is a work of Buckminster Fuller, an American architect, philosopher and futurist. Built for Expo 67, the original structure was damaged by fire in 1976 and re-inaugurated in 1990 after renovations.
The current owner of the Biosphère, Environment Canada holds numerous interactive activities on environmental issues in the museum.
11. Gooderham Building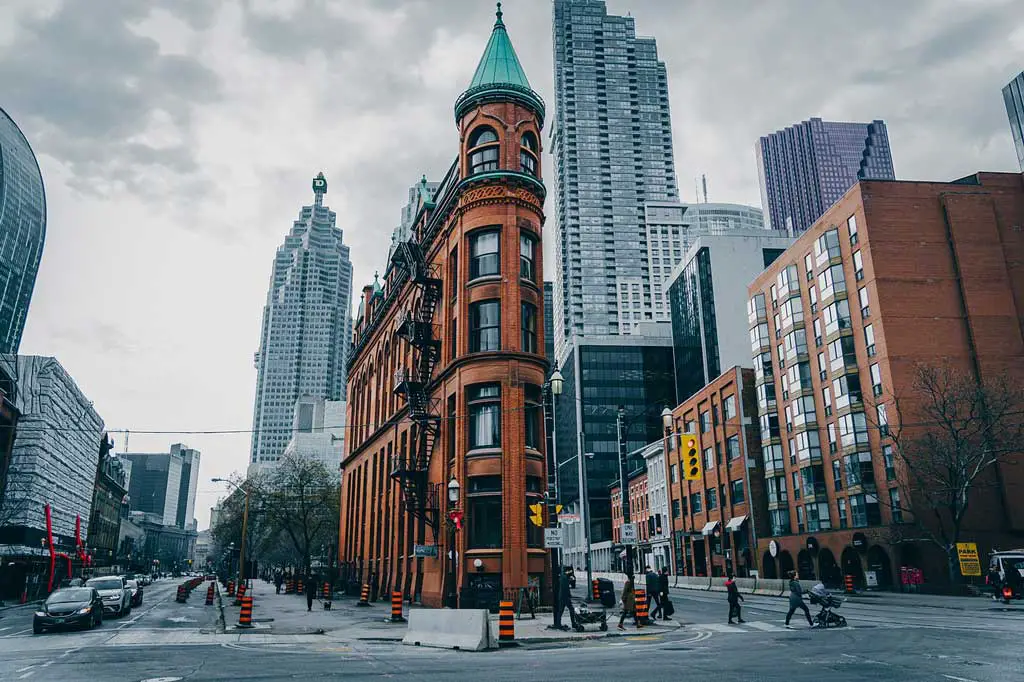 | | |
| --- | --- |
| Architect: | David Roberts Jr |
| Type: | Office |
| Construction period: | 1889-1892 |
| Location: | Toronto, Ontario |
Resembling the Flatiron building in NYC, the Gooderham building is both one of the historical landmarks and the most famous buildings in Toronto, Canada. Designed by the well-known Canadian architect David Roberts Jr., Gooderham Building was the office building of the Canadian Gooderham family.
It has a special triangular mass dividing two important downtown streets and is known for its red-brick color. The five-story building gives the impression of French Gothic architecture, with green pinnacles and dormers. Some parts are also in a style of Romanesque revival architecture.
The Canadian Flatiron establishes a coherence with the historical district where it is located. There are other historical buildings nearby, such as St. James Cathedral and St. Lawrence Market. You can visit those significant places cheerily after the sightseeing Gooderham Building as well.
12. Canada Place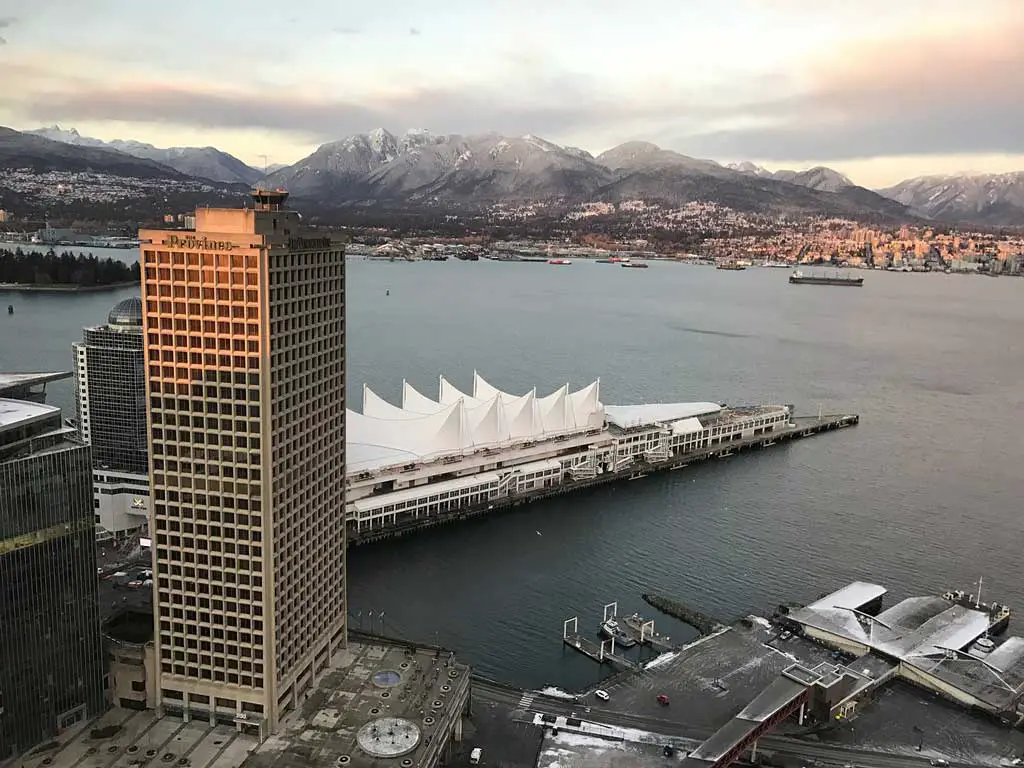 | | |
| --- | --- |
| Architect: | Zeidler-Roberts, Barry Downs, Musson Cattell Mackey |
| Type: | Mixed-use |
| Construction period: | 1983-1985 |
| Location: | Vancouver, British Columbia |
Vancouver is a celebrated city with its seaside hotels, entertainment spaces and nightlife. It features a multitude of famous buildings and Canada Place is a brief story of Vancouver.
Located in a Cruise ship dock, it's a building complex including a hotel, convention center, shops, cafe, ferry terminal and IMAX theater. Moreover, it holds events, celebrations and special day organizations.
As it also serves as a cruise ship's dock, over 1 million passengers came here using sea transportation every year. The architectural design evokes a passenger ship, with its sails and overall shape.
If you're near Canada Place at noon, you will most likely hear the first four notes of the Canadian national anthem from the building. It's a show of respect for the national spirit of the country.
13. Canadian Museum of History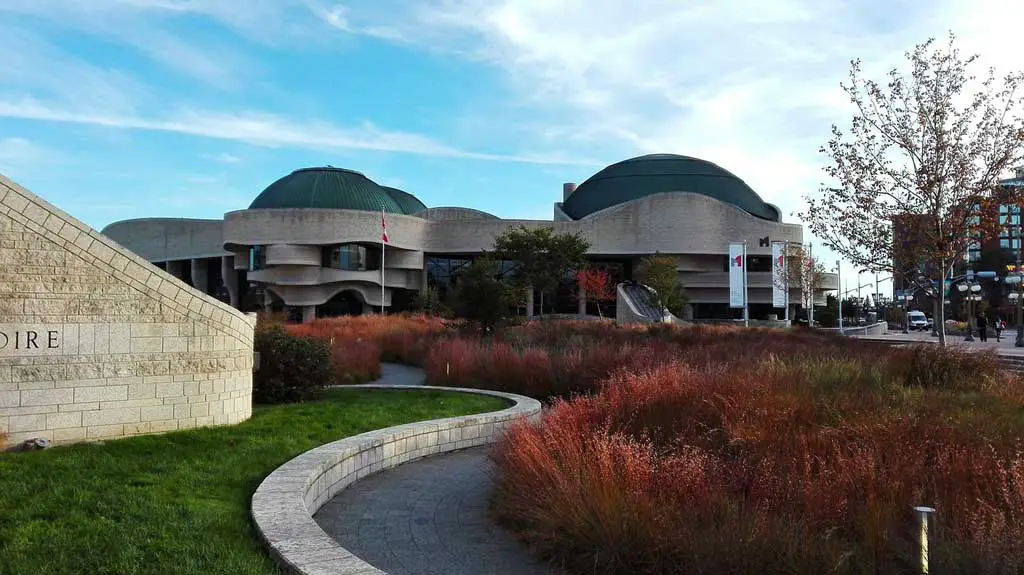 | | |
| --- | --- |
| Architect: | Douglas Cardinal |
| Type: | Museum |
| Construction period: | 1856 |
| Location: | Gatineau, Quebec |
Canadian Museum of History in Gatineau, Quebec, is located in one of the most impressive buildings in Canada. It contributes to illuminating the history of Canada, conducts research on anthropology and ethnology, as well as exhibits over three million artifacts and historical documents.
The history of the building, designed by Douglas Cardinal, dates back to 1856. Visiting here, you'll not only have a deep learning of 15.000 years of Canadian history but also be mesmerized by the beauty of this historical structure.
You'll not be alone here because this place is Canada's most visited museum with more than 1,2 million visitors yearly. According to a claim, the museum showcases the largest color photograph in the world.
14. Banff Springs Hotel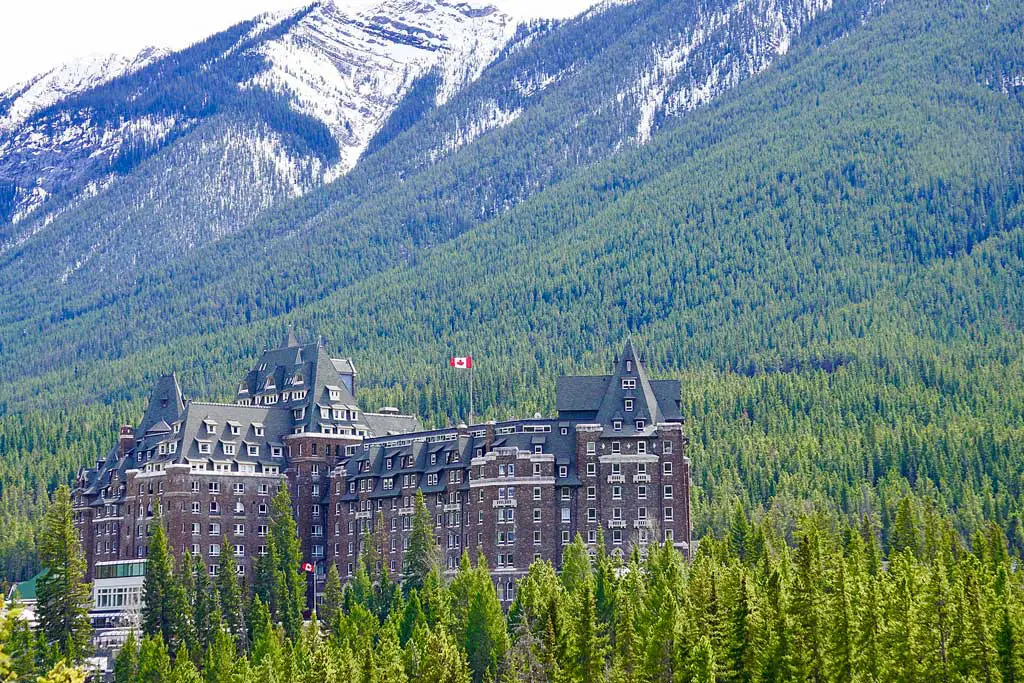 | | |
| --- | --- |
| Architect: | Bruce Price, John Orrock, Walter S. Painter |
| Type: | Residential |
| Construction period: | 1886-1888 |
| Location: | Banff, Alberta |
Canada has numerous world-class luxury hotels and resorts, many of which are operated by the well-known Canadian hotel brand Fairmont. The Fairmont Banff Springs Hotel is one of the most famous resorts among them.
Located in Banff National Park in Alberta province, it's an all-in-one top-notch hotel with a historical building, elegant interior design, luxury furnishments and an awe-inspiring view of Mount Rundle.
In fact, there are many grand railway hotels in Canada, however, the aforementioned Chateau Frontenac and Banff Springs Hotel stand out with their stunning Châteauesque style architectural designs.
Its castle-like architecture creates unique harmony with the natural surroundings and harsh climatic conditions. The exceptional beauty of exterior facades reflects in interior spaces as well.
Wood carvings, oak beams, terrazzo floors, marble claddings, stained glasswork and rough stone masonry adorn every part of the interior.
It has more than 750 guest rooms, event areas, sports facilities as well as conference and wedding halls. Banff Springs Hotel's among the first choices of celebrities and leaders thanks to its fame and high life offerings.
15. The Royal Ontario Museum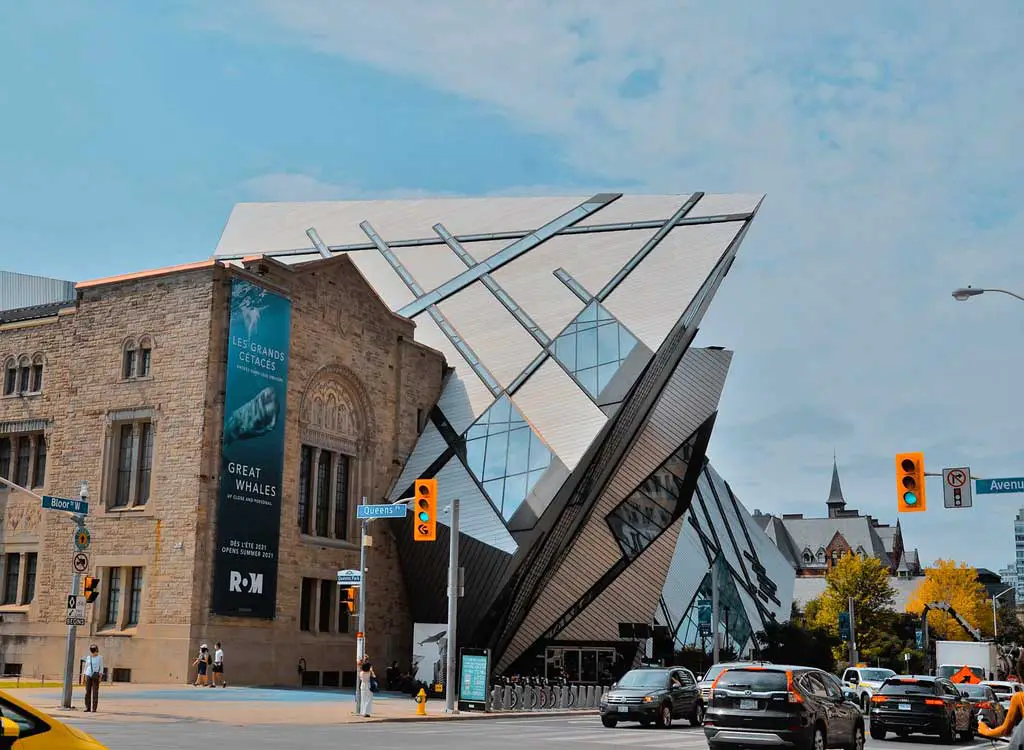 | | |
| --- | --- |
| Architect: | Daniel Libeskind |
| Type: | Museum |
| Construction period: | 1910-1914 |
| Location: | Toronto, Ontario |
The Royal Ontario Museum provides a thrilling museum experience with its extraordinary architectural design and exhibitions inside. It showcases art, culture, natural history and other segments.
Established in 1912, the museum's main part is an old structure, while Libeskind's modern glass addition looks so futuristic. This addition is a kind of parasite articulated to the main building. Thus, the museum complex forms a balanced architecture with the transition between its historical walls and "crystal" design.
Its Deconstructivist architecture was designed by the world-famous architect Daniel Libeskind. This interesting architecture, with inclined facades, intricate facade openings and odd mass, makes the museum building more attractive for both local people and tourists.
16. British Columbia Parliament Buildings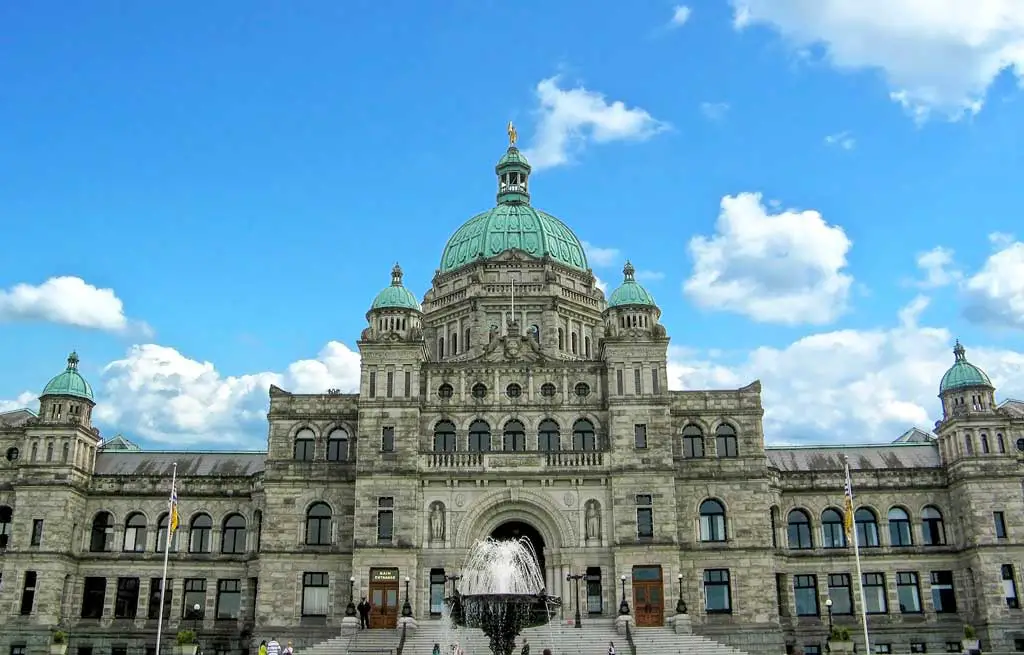 | | |
| --- | --- |
| Architect: | Francis Rattenbury |
| Type: | State building |
| Construction period: | 1893-1897 |
| Location: | Victoria, British Columbia |
Located in Victoria, British Columbia, it is the parliament complex of the province and houses the Legislative Assembly of British Columbia. There are fourteen parliament buildings in Canada as it's a federation. However, British Columbia's parliament buildings stand out with their splendid architecture.
The building complex has an eclectic style with a blend of Neo-baroque and Romanesque revival. The main block has Romanesque revival rustication with Baroque ornaments and details.
Buildings have Renaissance-style domes in various scales. Also, there are many sculptures of historical Canadian figures on the buildings' exteriors.
If you're interested to visit this beauty, there are some free tours to the parliament buildings of British Columbia. Check out the daily and seasonal tour schedules and book your tour from the official website of the Legislative Assembly.
17. Craigdarroch Castle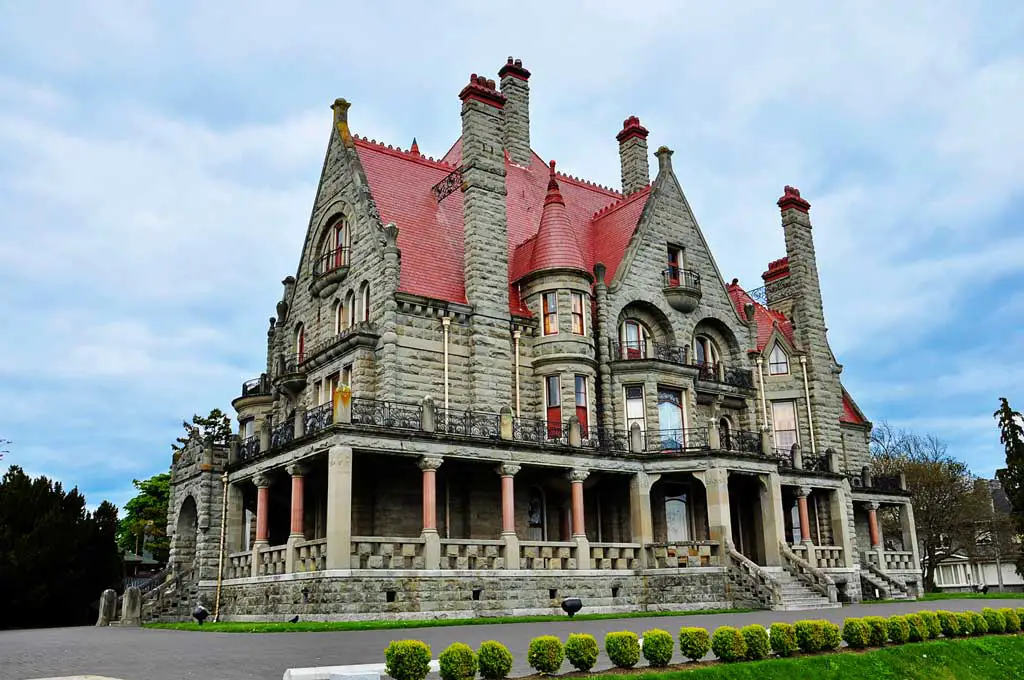 | | |
| --- | --- |
| Architect: | Warren Heywood Williams, Arthur Lorenzo Smith |
| Type: | Residential |
| Construction period: | 1887-1890 |
| Location: | Victoria, British Columbia |
Canada Houses plenty of Victorian-era houses and Craigdarroch Castle is among the most famous of them. It's a Scottish Baronial mansion that has an appearance of a castle. This is why it is called a "castle".
The interior design is embellished with wood carvings, Victorian artifacts and an art collection of stained glass. The architectural style and big size of the castle symbolize the success of the North American industrialists at the beginning of the 20th century, just like other bonanza castles.
It was built by the Scottish immigrant Robert Dunsmuir, the wealthiest man in British Columbia at the period. After his death, Craigdarroch has served under various functions and respectively housed to Military Hospital, Victoria College, the office of the Victoria School Board and the Victoria Conservatory of Music.
Today, it's open for tours and you can buy tickets from its website, as well as learn more information about the history and architecture of the castle.
18. Empress Hotel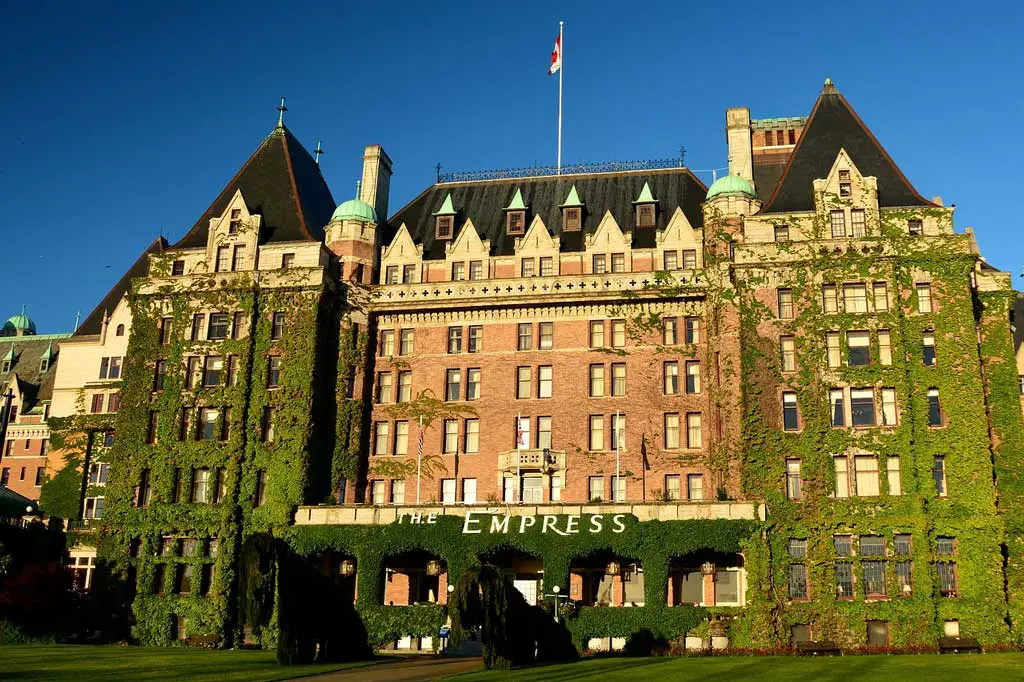 | | |
| --- | --- |
| Architect: | Francis Rattenbury |
| Type: | Residential |
| Construction period: | 1904-1908 |
| Location: | Victoria, British Columbia |
This is the third railway hotel on the list and is managed by Fairmont Hotels and Resorts. Located in Downtown Victoria, near British Columbia's Parliament Buildings, this Châteauesque-styled building was designed by Francis Rattenbury.
Just like other grand railway hotels, The Empress has brick and stone walls, steep roofs and Neo-gothic dormers. It includes over 430 guest rooms and suits, restaurants, bars, and other facilities.
Empress Hotel, also known as Castle on the Coast, has been selected as a National Historic Site of Canada in 1981 and has undergone several expansions and restorations.
Whether you are going to take a vacation or visit to see the shining design of the hotel, this is one of the most famous buildings in Canada to behold.
19. Saint Joseph's Oratory of Mount Royal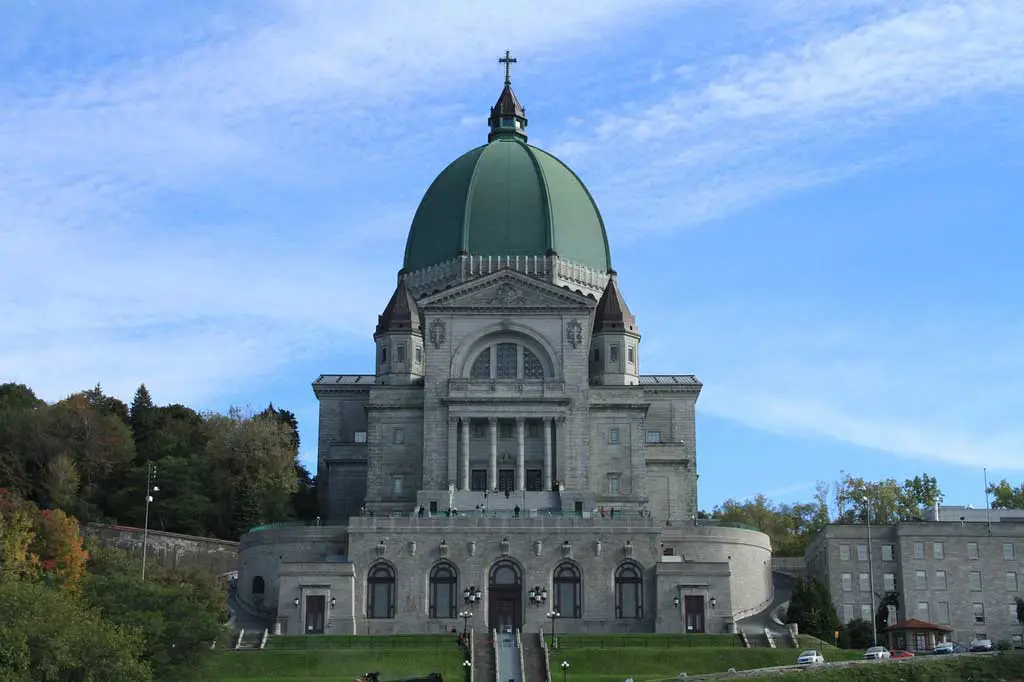 | | |
| --- | --- |
| Architect: | Paul Bellot, Alphonse Venne, Dalbé Viau, Lucien Parent |
| Type: | Religious |
| Construction period: | 1926-1967 |
| Location: | Montreal, Quebec |
Dedicated to Saint Joseph, it's a French Catholic shrine in Montreal. Demonstrating characteristics of Italian Renaissance architecture, St. Joseph's Oratory is the largest and tallest church in Canada. It also houses Saint Joseph's statue.
There are 233 steps in front of the building and some pilgrims are said to have climbed those steps with their knees for praying to St. Joseph.
Besides its architectural value, it provides an atmosphere that is full of peace with the surrounding natural landscape. There are many relaxing activities that you can do both inside and outside. St. Joseph Oratory holds concerts, exhibitions, publications and many more cultural events.
The edifice can accommodate over 10.000 people and has 2400 seatings. Entrances are free, but you can donate to the shrine optionally. According to the statistics, it attracts over 2 million visitors annually. Furthermore, thousands of pilgrims come here from all over the world.
20. Museum of Anthropology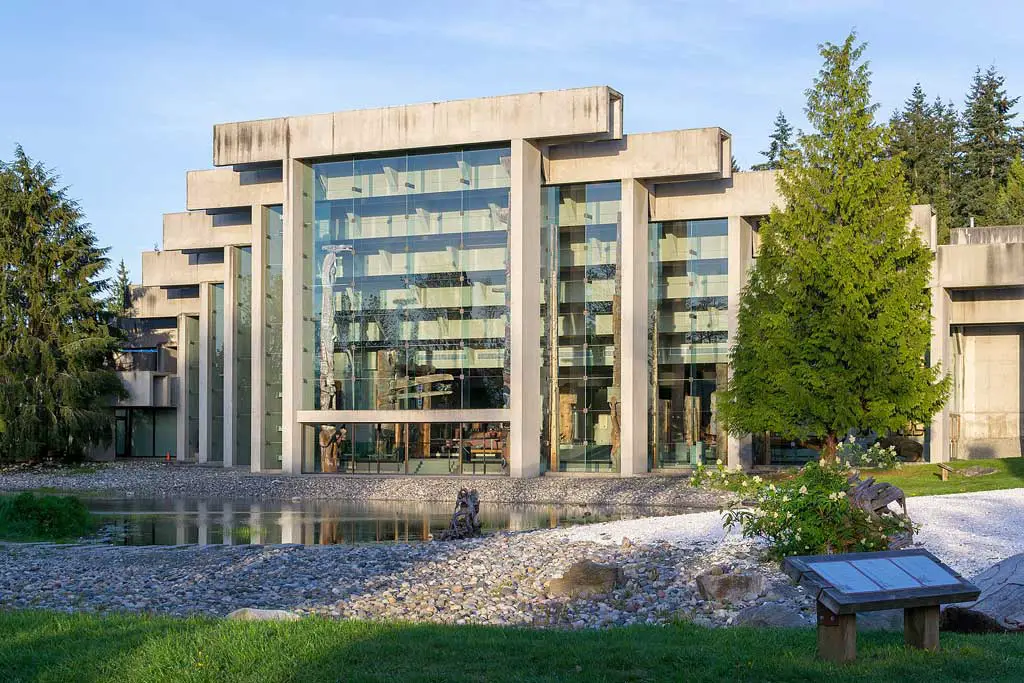 | | |
| --- | --- |
| Architect: | Arthur Erickson |
| Type: | Museum |
| Construction period: | 1976 |
| Location: | Vancouver, British Columbia |
Located in the University of British Columbia, the Museum of Anthropology is a concrete building that has a brutal appearance. The large glass facades balanced that rude view of raw concrete.
Its architectural concept carries inspiration from the building techniques of vernacular timber structures. Designed by the famous Canadian architect Arthur Erickson, it's one of the most iconic structures in Canada.
The building houses a museum and the Laboratory of Archeology. Its museum section includes over 50.000 works from all over the world, while the archeology laboratory exhibits 535.000 artifacts.
It has undergone some renovations and expansions since 1976. For example, the major expansion in 2010 increased the inner spaces by almost 50 percent, expanding its functions with additional public spaces, laboratories, archives, libraries and research areas.
MOA is also a comprehensive museum showcasing indigenous art and culture. By visiting this place, you'll experience the pleasure of discovering traditional and contemporary art.
Conclusion
In conclusion, each of these 20 most famous buildings in Canada, from iconic landmarks to historical buildings, is so significant with unique architectural designs, cultural significance and historical backgrounds. They shape the built environment of Canadian cities and contribute to the diverse cultural landscape of the country.
Whether you are here as a tourist or native, visiting these architectural marvels will help you experience the cultural and historical texture of Canada extensively.
If you liked this blog and want to discover more iconic structures, read our article Most Famous Buildings in the World and expand your architectural knowledge. And, feel free to share your list of favorite buildings in Canada with us!
FAQ on Famous Canadian Buildings
Q: What is the most famous building in Canada?
A: The most famous building in Canada is CN Tower.
Q: What is the most visited building in Canada?
A: CN Tower is the most visited building in Canada with over 2 million tourists annually.
Q: What is the tallest building in Canada?
A: The tallest building in Canada is the CN Tower with a height of 553 m (1,815 ft).
Q: What is the most popular place to visit in Canada?
A: There are many popular places to visit in Canada, but Niagara Falls is the number 1 tourist attraction.
Q: What is the first skyscraper in Canada?
A: The Union Bank Building, built in 1904, is Canada's first skyscraper.
Q: Who is Canada's most famous architect?
A: The most renowned architect in the country is Arthur Erickson.
Related Articles: