Rome has always been the focal point of the western world, with its architectural masterpieces and impressive landmarks built throughout history, from ancient Roman Empire to modern times. If one day you are going to be in the Eternal City, Rome, you are very lucky. However, you may be a little confused as there are so many places and buildings to explore. In this regard, we have compiled a list of the 25 most famous buildings in Rome for Archeetect.com readers.
1.
Pantheon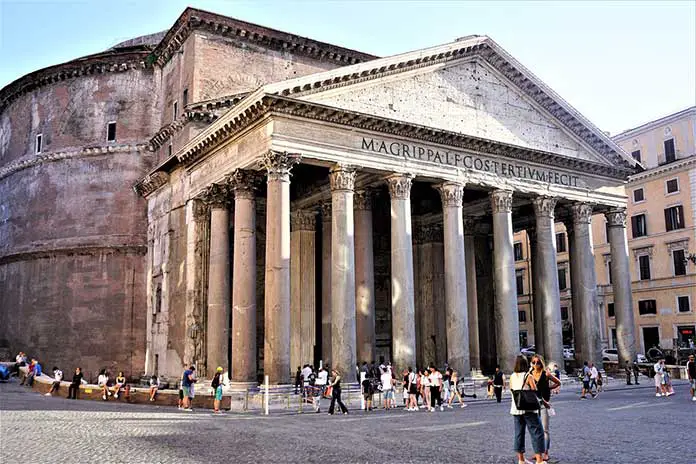 | | |
| --- | --- |
| Builder: | Emperor Hadrian |
| Type: | Roman temple |
| Construction Period: | 118-128 AD |
| Location: | Piazza della Rotonda |
The Roman Empire has improved itself in the field of engineering and discovered many structural elements as well as building materials. In this manner, Pantheon Temple, built in 118-128 AD by the order of Emperor Hadrian, is counted as one of the peak points of ancient Roman architecture as it shows the building technology of that period.
The name Pantheon comes from the combination of Pan-theon, two Greek words, so it means "Temple of All Gods" in Greek. The reason why it is still standing nearly 2,000 years after its construction is because the Pantheon has served under different functions until today.
This ancient building in Rome accommodates the tombs of some historical figures like Renaissance artist Raphael and King Victor Emmanuel II. Architects have been inspired by its construction techniques and magnificent design for hundreds of years.
Read Also: Pantheon: A Timeless Marvel of Roman Architecture
2. Colosseum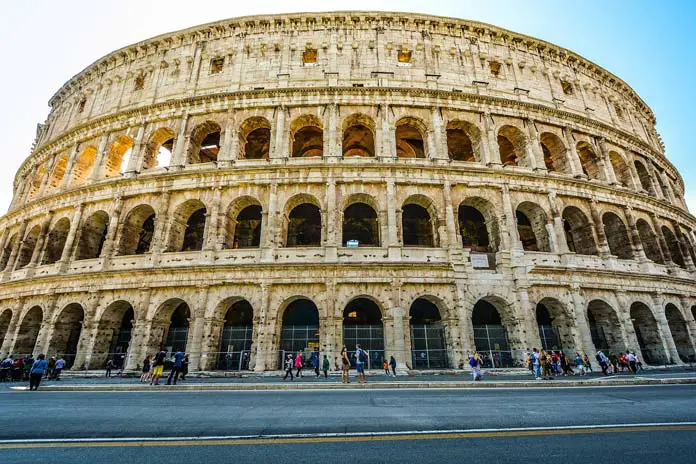 | | |
| --- | --- |
| Builder: | Emperor Vespasian |
| Type: | Circular Roman amphitheater |
| Construction Period: | 72-80 AD |
| Location: | Piazza del Colosseo |
Flavian Amphitheater, better known as Colosseum, is among the most famous buildings in Rome that remain until today. As you know, theatres in Rome were built in circle-shaped and this is the largest circular amphitheater in the world. It was built in between 72-80 AD for the public events such as gladiator fights, public announcements, theatres and executions.
Just like Pantheon, Colosseum was also a show of strength for Rome's engineering knowledge. It was ornamented with 3 of classical architecture orders, Doric, Ionian and Corinthian. Furthermore, it has an advanced structural system designed with arches and vaults.
Colosseum has hosted around 50,000 spectators in its glory days. Nowadays, it attracts nearly 7 millions visitors every year. It is also among the New 7 Wonders of the World.
3. Casino del bel Respiro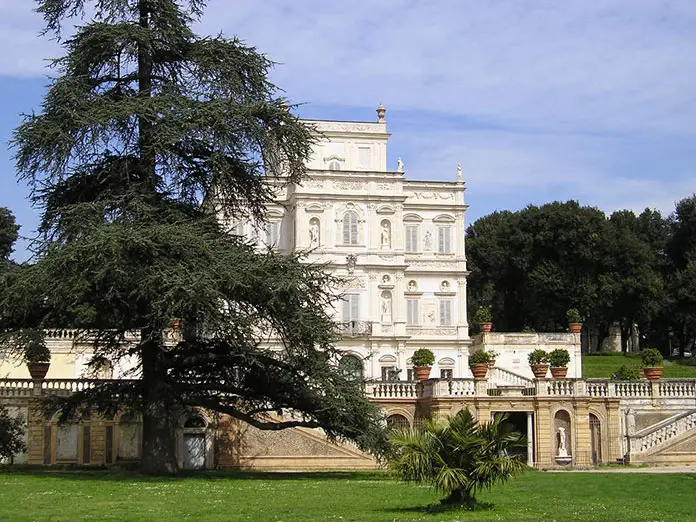 | | |
| --- | --- |
| Builder: | Pope Innocent X |
| Type: | Villa |
| Construction Period: | 1644-1647 |
| Location: | Viale Fontana di Venere |
Located in Villa Doria Pamphilj, the largest park of the Rome, Casino del bel Respiro is a relatively small but nifty villa. The building is closed-door, but it is quite pleasant to behold it and its harmony with the surrounding landscape from the outside.
Constructed in 1644-1647, bel Respiro refers a beautiful breath as it is located on a high and windward place. If you want to visit here, you should first walk a long-distance path to reach the house.
4. St. Peter's Basilica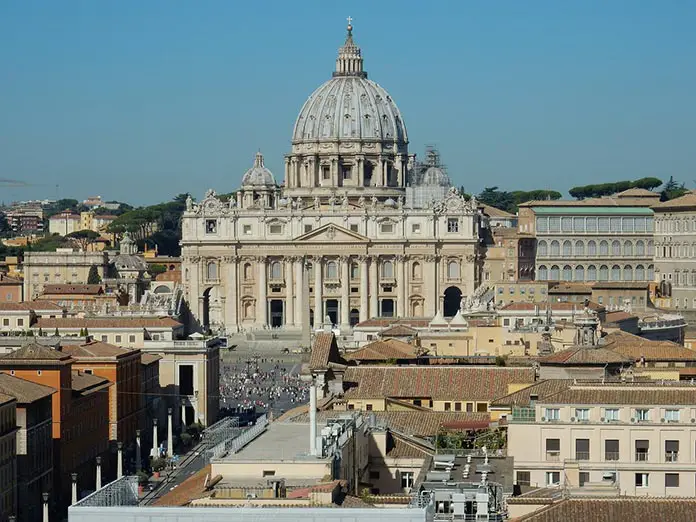 | | |
| --- | --- |
| Builder: | Pope Julius II |
| Type: | Catholic church |
| Construction Period: | 1506-1626 |
| Location: | Piazza San Pietro, Vatican City |
Located in Vatican City, St. Peter's Basilica is one of the most famous buildings in both Rome and the Christian world. Besides, St. Peter's Basilica, whose construction took more than 100 years and was completed in 1626, is the world's largest church.
Its tremendous size makes it even more important for the western architecture. So much so that, it can accomodate almost 20.000 people simultaneously.
Church's visitors can examine holy relics belong to Christianity and various art works by artists such as Bernini, Bramente and Michelangelo. But perhaps the most unique part of this structure is its awe-inspiring dome with a diemeter of 42 meters. So, if you're an art lover or architect in Rome, don't forget to visit St. Peter's Basilica.
5. Sistine Chapel
| | |
| --- | --- |
| Builder: | Pope Julius II |
| Type: | Catholic chapel |
| Construction Period: | 1473-1481 |
| Location: | Vatican Museums, Vatican City |
Vatican City features plenty of famous landmarks and Sistine Chapel, built by the Italian architect Giovanni dei Dolci in 1473-1481, is among those special places. Located inside the Vatican Museums in Rome, the structure serves as the papal chapel.
Sistine Chapel is an awe-inspiring art piece with many remarkable frescoes and paintings made by Perugino, Botticelli, Michelangelo and Luca.
6. Trajan's Market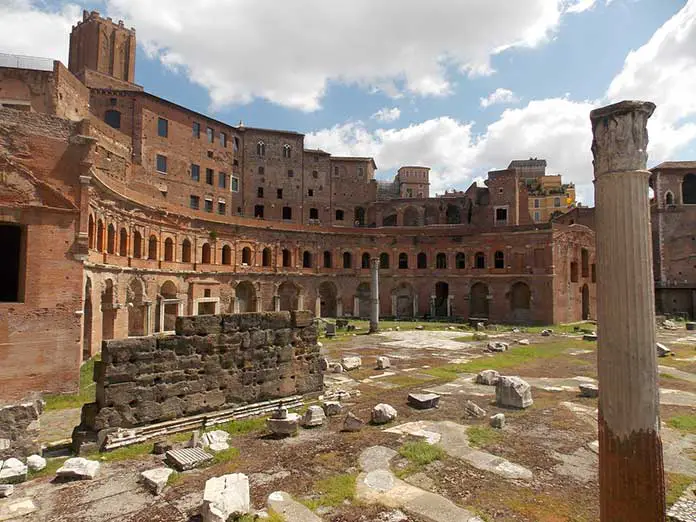 | | |
| --- | --- |
| Builder: | Emperor Trajan |
| Type: | Ancient Roman market place |
| Construction Period: | 100-110 AD |
| Location: | Via IV Novembre 94 |
This historical place, known as Trajan's Market or Imperial Forum Museum, has been used as a mall in ancient Rome. Trajan's Market, with more than 150 shops and apartments, is the first and most famous trade center in Roman Empire. Furthermore, it is said to be the first covered market place in the world.
Trajan's Market, built by Apollodorus of Damascus in 100-110 AD, had 6 floors, the lower floors were used as shops and the top floor was used for administration units.
Roman forums that were generally designed as huge complexes had many different functions in one place. Besides shops, there were also large halls held courts, meetings and concerts. Nowadays, it's used as a museum that features exhibitions.
7. Villa Farnesina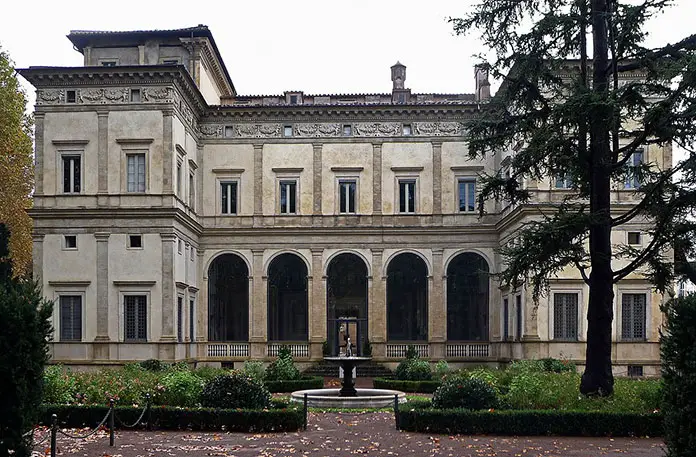 | | |
| --- | --- |
| Builder: | Farnese family |
| Type: | Villa |
| Construction Period: | 1506-1510 |
| Location: | Via della Lungara, 230 |
Renaissance architecture has given plenty of treasures to Italy and many of them are still standing. Built in the 16th century, Villa Farnesina, alias Villa Farnese, is among the examples of High Renaissance architecture. The structure was commissioned by the Renaissance family Farnese to architect Baldassarre Peruzzi in 1506 and was opened in 1510.
Many great artists in the Renaissance period, including Michelangelo, Peruzzi, Giacomo della Porta, Jacopo Barozzi da Vignola, Giuliano da Sangallo and Raphael, contributed to the design of Villa Farnesina by creating frescoes, paintings, furnishings and ornaments. You should visit here even if only to see Raphael's frescoes.
8. Quartiere Coppedè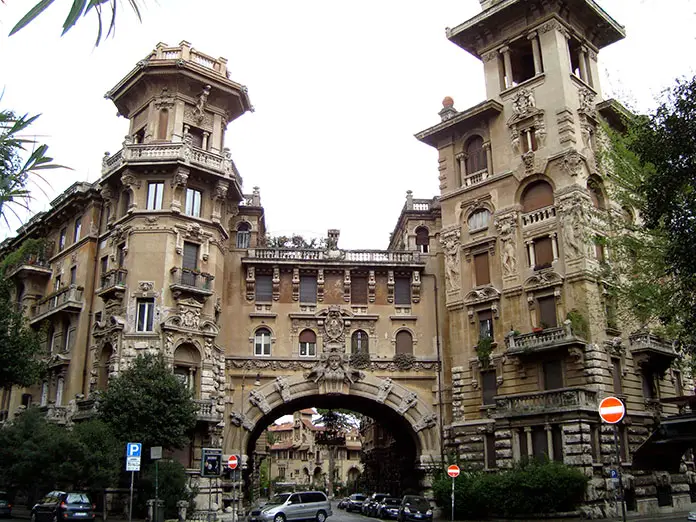 | | |
| --- | --- |
| Builder: | Cerruti and Becchi familes |
| Type: | Building complex |
| Construction Period: | 1913-1927 |
| Location: | Piazza Mincio |
This fascinating view shows us only a part of a unique building complex called Quartiere Coppedè, which was designed by the architect Gino Coppedè and constructed in 1913-1927. This odd but magnificent district of Rome blends different architectural styles such as Renaissance, Baroque, Art Nouveau, Art Deco and Gothic.
The building cluster creates an imposing architectural museum with about 40 buildings in total. Although it's not currently open to visitors, you can enjoy the beauty of facades that is beyond comparison.
9. Basilica of Santa Maria Maggiore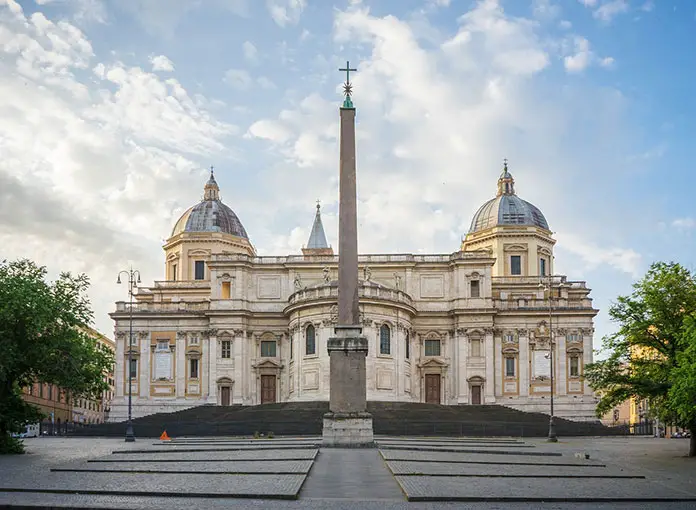 | | |
| --- | --- |
| Builder: | Pope Liberius |
| Type: | Catholic church |
| Construction Period: | 432-440 AD |
| Location: | Piazza di Santa Maria Maggiore |
Santa Maria Maggiore is among the Seven Pilgrim Churches in Rome. It has an eclectic design with Baroque, Renaissance and medieval touches that can be seen in columns, windows, domes, and adornments.
The original building commissioned by Pope Liberius was constructed in 432 AD, but the Santa Maria Church you see in the picture is a bit different version of the original one. Because, the church has undergone a renovation and restoration in the 18th century. However, some parts and elements of the structure, including marble floors, columns, bell tower and mosaics, have reached today.
If you want to see different periods of the Rome architecture in a single structure, you should definitely see Basilica of Santa Maria Maggiore, a flawless summary of Christian art history.
10. Auditorium Parco della Musica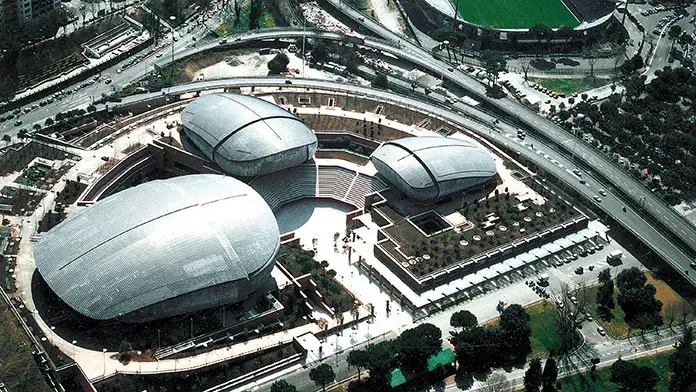 | | |
| --- | --- |
| Builder: | Municipality of Rome |
| Type: | Concert hall |
| Construction Period: | 1997-2002 |
| Location: | Via Pietro de Coubertin, 10 |
There are not only historical buildings in Rome but also impressive modern architecture examples such as Auditorium Parco della Musica designed by the famous Italian architect Renzo Piano in 2002.
Read Also: Best of Renzo Piano Buildings | 10 Works
This building cluster contains 3 auditorium buildings resembling beetle shape. These structures have been come together to create an open space in the center.
Renzo Piano used this open area to design a semicircular auditorium similar to its counterparts in ancient Rome. Since the complex was built on the ruins of an ancient Roman villa, Parco della Musica also has a museum that exhibits those ruins, some art works and historical documents.
11. Arch of Constantine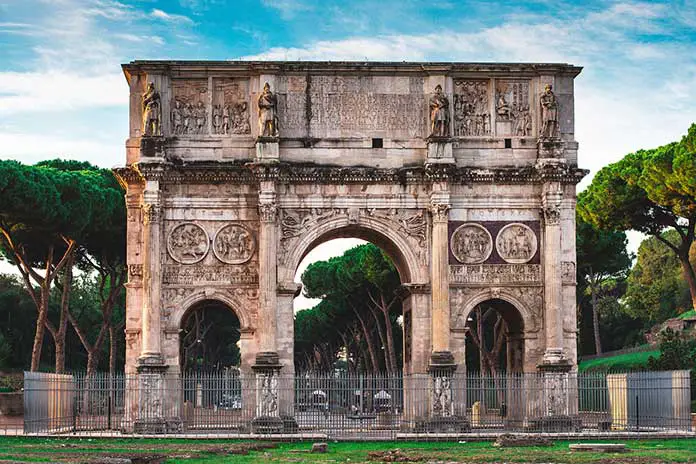 | | |
| --- | --- |
| Builder: | Emperor Constantine |
| Type: | Triumphal arch |
| Construction Period: | 312-315 AD |
| Location: | Via di S. Gregorio |
Roman Empire has erected triumphal arches in every region where it ruled and the Arch of Constantine in Rome is the most renowned of them. Built in 315 AD by the Emperor Constantine, the arch was dedicated to the victory of Romans at the Battle of Milvian Bridge in 312 AD.
Arch of Constantine, with imposing ornaments and reliefs, has a concrete core material and is faced with marbles. Some sculptures that adorn the arch were gathered from other famous Roman buildings. The other most prominent elements of the structure are its Corinthian style columns.
If you have a chance to visit Colosseum, don't forget to behold also Arch of Constantine as these two Roman architecture wonders are 2 minutes walking distance from each other.
12. Pyramid of Cestius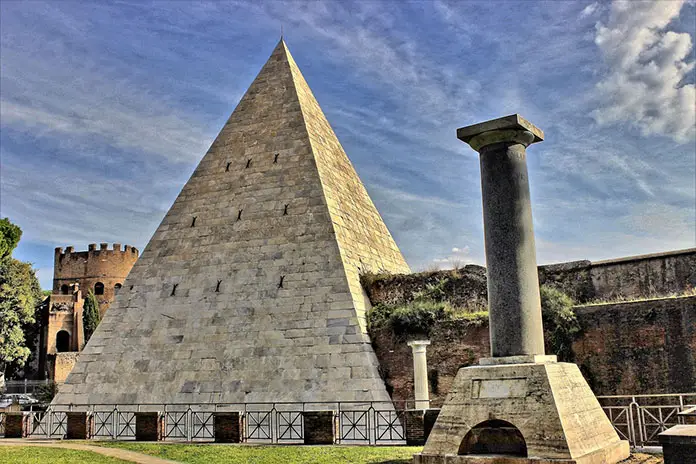 | | |
| --- | --- |
| Builder: | Gaius Cestius |
| Type: | Mausoleum |
| Construction Period: | 18-12 BC |
| Location: | Via Raffaele Persichetti |
This mausoleum structure was built in 18-12 BC by the order of Roman general and senator Gaius Cestius. The reason why it was designed in pyramid shape is because Romans have been obsessed with Egyptian culture and architecture after the conquering of Egypt in 30 BC.
Cestius Pyramid has a rectangular tomb chamber adorned with frescoes and ornaments. The structure has a height of 36 meters (120 feet). According to the inscription on the east facade of the pyramid, the construction took 330 days.
Its main difference from the Egyptian pyramids is its sharp slope towards the peak point. The structure rests on Aurelian walls, which makes it easy for Cestius to stand.
Actually, there were many pyramids in ancient Rome but only this one is still standing today. Therefore, if you happen to pass the Eternal City, do not leave without seeing this ancient Egyptian-style building in Rome.
13. Ara Pacis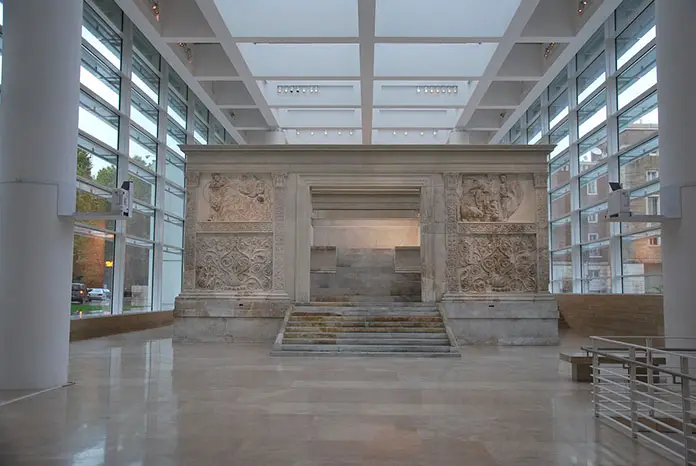 | | |
| --- | --- |
| Builder: | Roman Senate |
| Type: | Altar |
| Construction Period: | 13-9 BC |
| Location: | Lungotevere in Augusta |
The Museum of Ara Pacis was designed by the architect Richard Meier in 2006. This archeological museum in Rome was built to preserve and host the ancient structure Ara Pacis of Augustus, which is also known as Altar of Peace. Thus, the museum takes its name from this special structure.
In 13 BC, Roman Senate wanted an altar of peace to be built since the Emperor Augustus arised triumphant from the campaigns in the northern Alps. This altar was dedicated to Pax, the goddess of peace.
The fact that Ara Pacis Museum is the first building designed after WW2 in the historical center of the Rome city makes it even more important for us.
Ara Pacis Museum building has a modern look contrary to the ancient structure it exhibits inside. The architect used both modern materials such as steel and glass, and traditional materials such as limestone.
14. Altar of the Fatherland – Vittoriano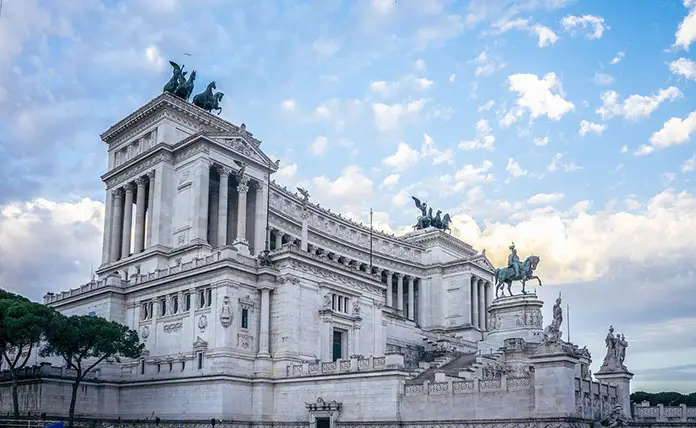 | | |
| --- | --- |
| Builder: | Italian government |
| Type: | Altar |
| Construction Period: | 1885-1925 |
| Location: | Piazza Venezia |
The Altar of the Fatherland, also known as the Vittoriano, is a famous monument in Rome dedicated to Vittorio Emanuele, the first king of the unified Italy. The construction of this striking Roman building with white marble has took between 1885 and 1925.
Altar of the Fatherland structure has Corinthian style columns and pediments ornamented with many reliefs. There are also many statues located on different parts of the building. You can easily distinguish the bronze horse-mounted statue of Victor Emmanuel II in front of the Vittoriano.
Located in Piazza Venezia, Altar of the Fatherland is one of the most famous places of Rome and is an attraction center of the city. The building nicknamed the "wedding cake" houses the Tomb of the Unknown Soldier and the Central Museum of Risorgimento.
15. Teatro Marcello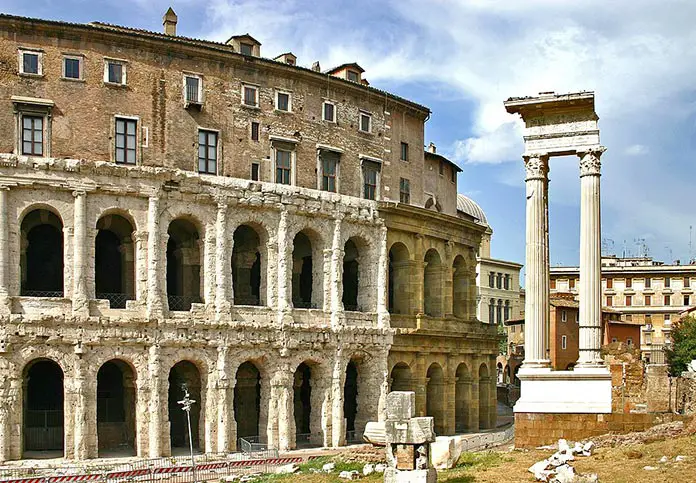 | | |
| --- | --- |
| Builder: | Marcus Marcellus |
| Type: | Semicircular Roman theater |
| Construction Period: | 13 BC – 14 AD |
| Location: | Via del Teatro di Marcello |
Built in 13 BC, the semicircular Teatro di Marcello had been a scene for many theatres, games, fights and public events. Being a gigantic theater just like Colosseum, Theater of Marcello had a capacity of 20.000 spectators.
Located near the Tiber River, Marcello Theater is literally an open air museum since it has many columns, pilasters, arches and barrel vaults left from the ancient architecture of Rome. This building should definitely be on everyone's list of places to visit in Rome.
16. Palazzo della Civiltà Italiana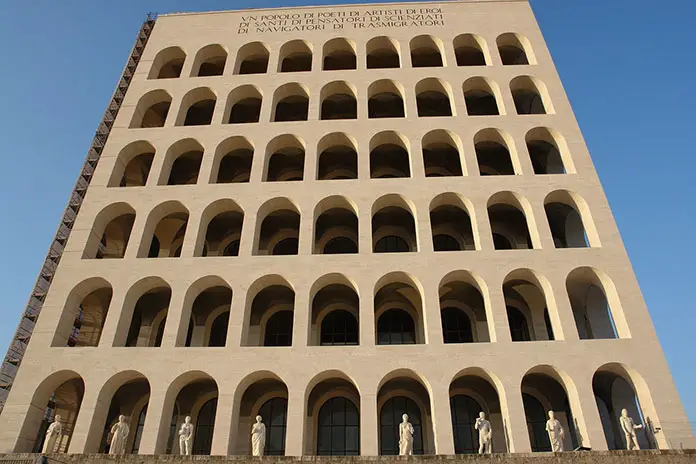 | | |
| --- | --- |
| Builder: | Benito Mussolini |
| Type: | National palace |
| Construction Period: | 1937-1943 |
| Location: | Quadrato della Concordia, 3 |
This modern monumental structure commissioned by the Italian dictator Benito Mussolini in 1937 is also known as the Square Colosseum or "Colosseo Quadrato" in a colloquial manner.
Mussolini's desire was to revive the golden age of the Roman Empire, and architecture was a handy tool for this ambition. Even though that fascist regime broke down, it left behind a unique example of Rational architecture.
Built for the 1942 World Fair, which was canceled due to World War II, the building is in Neoclassical style. The most remarkable elements of its architecture are the arches and vaults repeated on all four of the symmetrical facades, each with six rows of nine arches. It also features 28 marble statues located in the arches of the ground level.
Nowadays, the building functions as the headquarters of the world-famous fashion brand Fendi. Additionally, it contains exhibition areas, a theater, a cafe and a movie studio.
17. Castel Sant'Angelo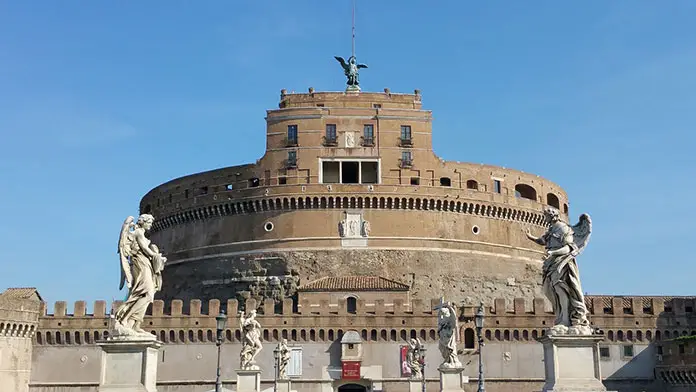 | | |
| --- | --- |
| Builder: | Emperor Hadrian |
| Type: | Mausoleum |
| Construction Period: | 135-139 AD |
| Location: | Lungotevere Castello, 50 |
One of the most famous ancient buildings of Rome, Castel Sant'Angelo is a cylindrical mausoleum built in 135-139 AD for the Emperor Hadrian. It has undergone many transformations since the 6th century when it was turned into Papall fortress.
Afterwards, a corridor reaching to Papacy was added to building for establishing a connection between the Vatican City and Castel Sant'Angelo. In that period, this connection has been serving as an escape route for the pontiffs.
Eventually, today the castle has a museum function and you can visit this monumental structure to see plenty of ancient artifacts, many statues, the Papal residence and artworks remained over the Renaissance.
The top floor of the castle offers thrilling panoramic views of Rome. Moreover, St. Angelo Bridge that is located in front of the castle and decorated with marvelous statues as well as ornaments offers you an awesome perspective to behold the building.
18. Trevi Fountain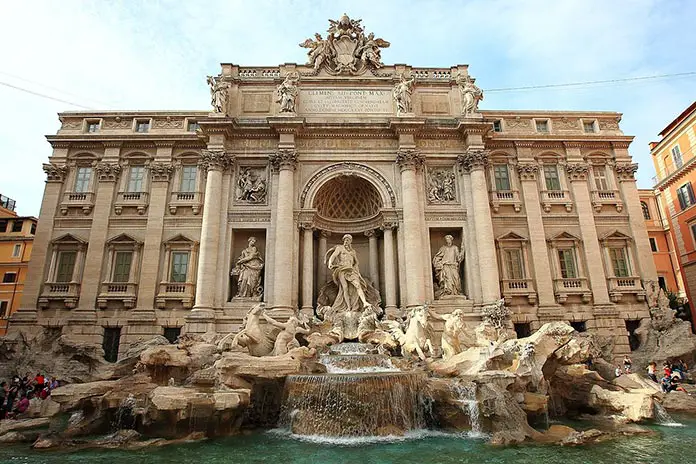 | | |
| --- | --- |
| Builder: | Pope Clement XIII |
| Type: | Fountain |
| Construction Period: | 1732-1762 |
| Location: | Piazza di Trevi |
Fontana di Trevi is one of the most famous tourist destinations in the center of Rome city. People visit here not only to see the beauty of the Palazzo Poli building but also throw a coin to its fountain as they believe their wishes will come true. This Baroque-style fountain forms an integrity with the Palazzo Poli.
The travertine stone used in Trevi is the same type used in the Colosseum. Built in 1732-1762, this magnificent work of Bernini and Salvi attracts 3.5 million tourists every year. The fountain located in Trevi Square, has many sculptures representing Roman god Neptune and some mythological characters.
19. Palazzo Barberini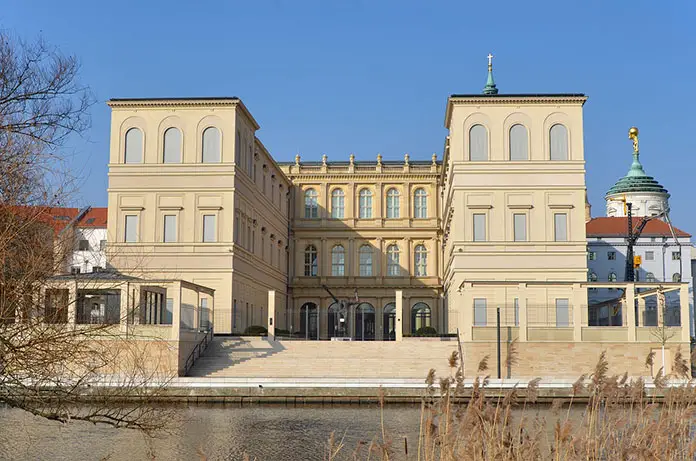 | | |
| --- | --- |
| Builder: | Barberini family |
| Type: | Palace |
| Construction Period: | 1625-1633 |
| Location: | Via delle Quattro Fontane, 13 |
Italian art history has been supported by some wealthy families like Medici, Pamphilj and Barberini. They commissioned many famous architects and artists to create art works and buildings.
Palazzo Barberini designed by Bernini and Carlo Moderno is one of these remarkable architecture works. Today, the building houses galleries like Gallerie Nazionali di Arte Antica and Galleria Orsini in Trastevere.
Palazzo Barberini exhibits many art pieces from renowned Italian artists such as Caravaggio, Raphael, Pietro da Cortona, Bernini, Borromini, Guido Reni and Canaletto. Both galleries inside and the building itself deserve to be beheld indeed.
20. Baths of Caracalla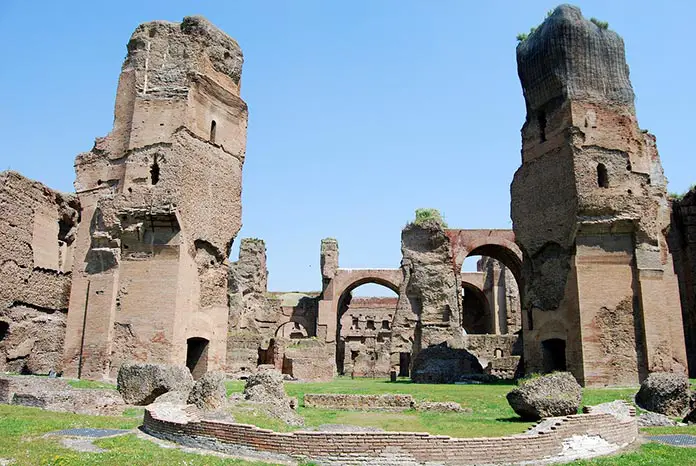 | | |
| --- | --- |
| Builder: | Emperor Septimius Severus, Emperor Caracalla |
| Type: | Bath |
| Construction Period: | 206-216 AD |
| Location: | Viale delle Terme di Caracalla |
There were many building types that ancient Roman architecture invented. For instance, forums, aqueducts, amphitheatres, triumphals and water cisterns were built all over the Roman Empire. In addition to these, baths had a critical importance in Roman territories as they provided socialization, public health and hygiene.
Baths of Caracalla is among the most famous baths were built in Rome. Its importance comes from the size and capability of the building. This enormous thermal bath includes a library, a temple, baths in different scales and fire-control spaces. Although only some parts of the Caracalla Baths remain today, you will enjoy visiting this place.
21. St. John in the Lateran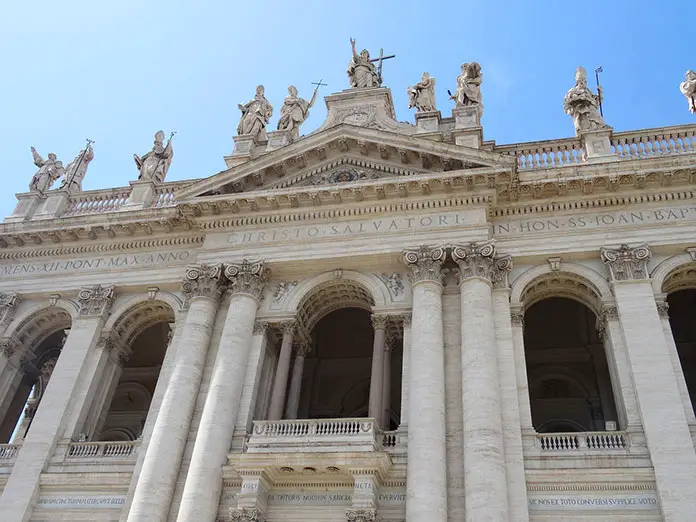 | | |
| --- | --- |
| Builder: | Pope Innocent X |
| Type: | Catholic church |
| Construction Period: | 312-324 AD |
| Location: | Piazza di S. Giovanni in Laterano, 4 |
Basilica di San Giovanni in Laterano is the official seat of Popes. It also houses the Scala Sancta, which is one of the Seven Pilgrim Churches in Rome.
Built in the 4th century, Basilica of Saint John Lateran is the oldest public church in Rome city and the oldest basilica structure of western architecture. The building features a flamboyant design with its statues, ornaments, mosaics and friezes.
22. MAXXI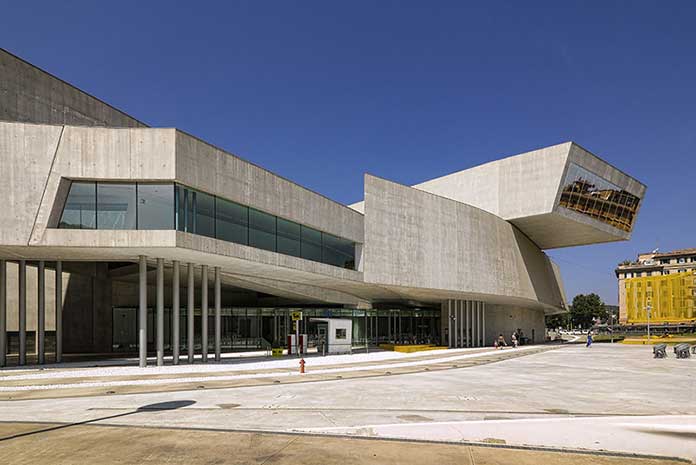 | | |
| --- | --- |
| Builder: | Italian government |
| Type: | Art museum |
| Construction Period: | 1998-2010 |
| Location: | Via Guido Reni, 4/a |
Museo Nazionale delle Arti del XXI Secolo or National Museum of 21st Century Art is an excellent example of contemporary architecture in Rome. MAXXI, designed by the famous British-Iraqi architect Zaha Hadid and opened in 2010, exhibits many artifacts and artworks.
Furthermore, this first contemporary art museum of Italy holds conferences, workshops and events in addition to exhibitions. The MAXXI building itself is a modern architectural masterpiece making a beautiful contrast with the ancient soul of this city.
It has a radical dynamism with brave cantilevers and sharp facades. Reinforced concrete surfaces that were left bare and integrated with ribbon windows and steel pipes present a magnificent harmony.
Read Also: MAXXI Museum by Zaha Hadid | Architectural Review
23. Palazzo Doria Pamphilj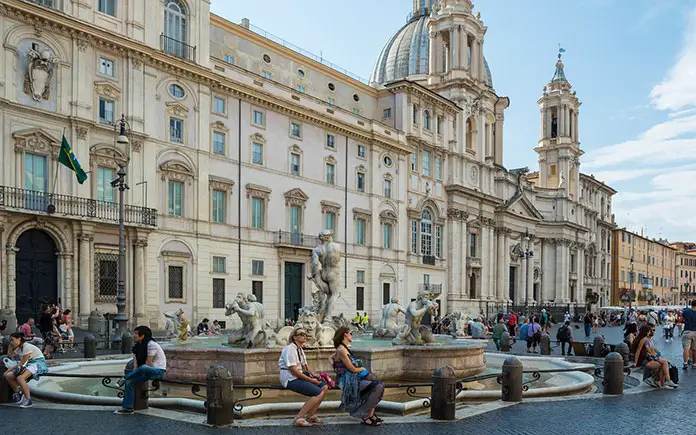 | | |
| --- | --- |
| Builder: | Pope Innocent X |
| Type: | Palace |
| Construction Period: | 1644-1650 |
| Location: | Via del Corso, 305 |
Dating back to the 15th century, the building was acquired in the 18th century by the Doria Pamphilj family, who gave the palace its name. The family turned the palace into a flamboyant art gallery by equipping it with more than 400 invaluable paintings, frescoes and sculptures from the famous artists such as Raphael, Caravaggio, Bernini and Velazques.
The palace consists of 4 wings, each has many rooms decorated with styles of different periods. When you visit this famous landmark in Rome, you will witness the beauty of palaces and exclusive villas dating back several centuries.
24. Corte Suprema di Cassazione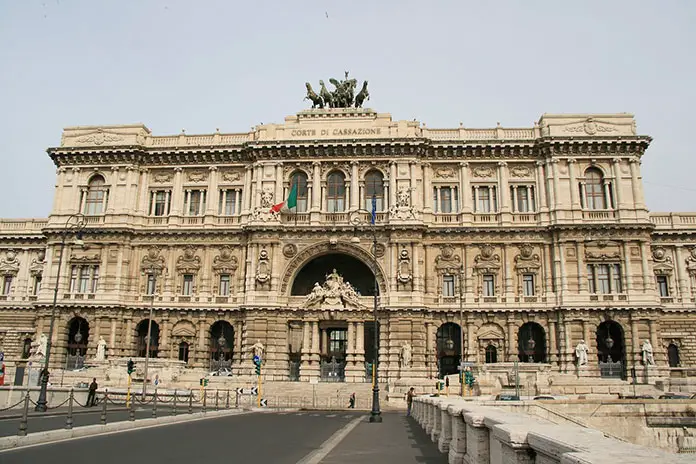 | | |
| --- | --- |
| Builder: | Italian government |
| Type: | Court house |
| Construction Period: | 1889-1911 |
| Address: | Piazza Cavour |
Palace of Justice, or colloquially Corte Suprema di Cassazione, is the center building of supreme court of appeal, the highest court in Italy. It also houses the Judicial Public Library. Italians call the building as Palazzaccio which means "bad palace".
Having a flashy design, the structure features some characteristics of Renaissance and Baroque styles. It is one of the must-visit places in Rome since its inauguration in 1911.
25. Church of Santa Costanza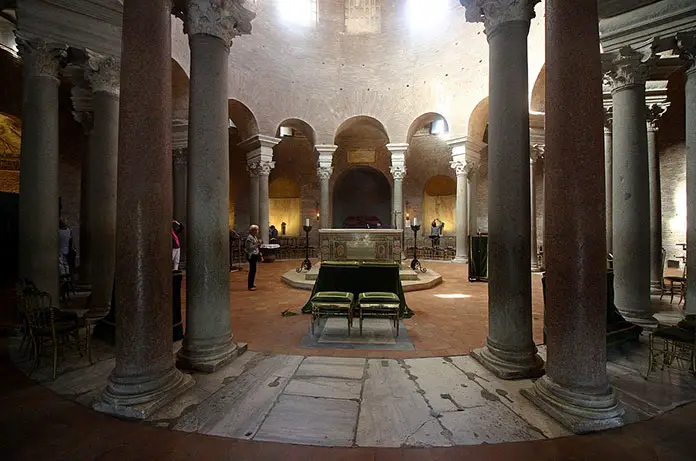 | | |
| --- | --- |
| Builder: | Emperor Constantine |
| Type: | Mausoleum – Church |
| Construction Period: | 337-350 AD |
| Location: | Via Nomentana, 349 |
Originally built in the 4th century as the mausoleum of Emperor Constantine's daughter, Church of Costanza is located on Via Nomentana. The tombs inside were transferred to the Vatican Museum after a while. Featuring many well-preserved Corinthian columns, ornaments and mosaics, this small church is a good example of early Christian architecture.
Related Articles: