If you work in some industries like architecture, engineering and graphic design, you probably need big printers for larger format prints. The most common product to meet large format printing needs is generally an A1 printer that can print papers in size A1, which has a dimension of 23.4 inches by 33.1 inches.
A1 size printers can produce high-quality outputs of blueprints, plans, posters, presentation boards and other large-format documents. Today, we will talk about the best A1 printers you can instantly buy on Amazon. Moreover, we'll check the outstanding features of each one and discuss factors to consider when buying an A1 printer.
The Advantages of A1 Printers for Architects and Engineers
A1 printers are a useful tool, especially if you are an architect, artist, photographer, graphic designer, or engineer. Because these professions need wide format, high-quality and detailed printings for blueprints, photographs and plans, etc.
Wide format A1 printers are able to print on large papers, up to 24 inches wide. This is definitely useful for big drawings. These printers are also built to last, can handle frequent use, and print on various types of paper.
Besides, a printer helps you print in-house instead of using an external printing service, which is expensive in the long term. In conclusion, an A1 printer is a valuable investment for any architecture studio or engineering firm.
If you decide to purchase a large format printer for whatever purpose, you should consider your needs and read this guide carefully to buy the right product. Let's take a glance at our list of the best 24″ A1 printers.
List of Best 24″ A1 Printers
HP DesignJet T210 is a popular and cheap large-format printer for technical drawings, high-quality renderings, and posters. It can print papers up to 24 inches wide on rolls. It also allows you to print sheets in size 13 by 19 inches with the optional feeder. Furthermore, you can use it to print multiple-size projects automatically.
This printer comes with built-in software to let you create presentation posters, preview prints, and manage your printer remotely. It also has connection options like Gigabit Ethernet, USB, and Wi-Fi.
These options help you connect your device to the printer easily and use the machine more comfortably. It is compatible with Windows, macOS, iOS and Android smart devices.
The T210 can handle multiple printings with one click thanks to its HP Smart app. Another great feature is that DesignJet T210 offers a print speed of 45 seconds per page.
Providing plenty of media handling options, the T210 is a cost-effective wide-format printer with efficient ink usage. Alongside, the T210 has 500MB of memory and uses HP 712 ink cartridges. It also comes with a two-year warranty care pack.
If you're looking for an easy-to-use, cost-effective and sustainable 24″ A1 printer, you should really consider buying HP DesignJet T210.
HP DesignJet T210 at a glance:
Prints media up to 24 inches wide
Print speed is 45 sec/page
Print languages: JPEG, URF
Provides in-built software
Compatible with Windows, macOS, iOS & Android
Sustainable design
Suitable for small office and home use
Although HP DesignJet T210 is sufficient for small offices and projects, you may need a faster printer if print speed is important for you. In such a case, Canon imagePROGRAF TA-20 is ready to meet your bulk printing needs as a mid-range A1 printer option.
It is able to print 104 24″x36″ (610×914 mm) posters per hour, which means a print speed of just 27 seconds for a poster. The speed for printing A1 size prints is 31 sec/page.
You can easily manage prints from any device without the need for cables thanks to its wireless connection technology. imagePROGRAF TA-20 is perfect for offices and small businesses in many different fields such as architecture, engineering, marketing and design.
This printer also comes with over $250 worth of ink included. Thus, you won't have to worry about buying additional ink cartridges soon. The paper roll size is also versatile.
imagePROGRAF TA-20 can accommodate rolls between 8″-24″ with a 2″ core. And as a bonus, it provides free software to help you design professional-looking posters with just a few clicks.
Although it doesn't come with a print stand, you may want to purchase the Canon imagePROGRAF TA-20 Printer Stand on Amazon separately. All these features make this machine one of the best large format Inkjet printers.
Canon imagePROGRAF TA-20 at a glance:
Prints media up to 24″ wide
Print speed is up to 27 sec/page
Comes with in-built software
USB and Ethernet connections
$250 ink included
Allows you to use paper rolls between 8″-24″
There are a great number of options for wide-format A1 printers on the market. However, this product is one of the most reliable 24″ plotters for professional projects. HP DesignJet T650 plotter printer is really perfect for various media files such as technical drawings, crisp text, renders, posters, maps and presentation boards.
This printer is an easy-to-use and cost-effective product, with its built-in software to design projects easier. DesignJet T650 has Ethernet, USB and Wi-Fi connectivity. Furthermore, you can print multiple files with one click and manage your large-format printing process remotely thanks to the HP Smart app.
This A1 size printer can print media files up to 24 inches wide on rolls and up to 13 by 19 inches on sheets. It has a fast print speed of up to 26 seconds/page on A1/D size papers. Moreover, this machine can print 82 A1/D size prints every single hour.
The printer uses HP 712 ink cartridges and an HP 713 printhead to produce high-quality prints. Lastly, the HP DesignJet T650 large format digital printer comes with a 2-year warranty and fast service. If you want a professional A1-size plotter printer, HP DesignJet T650 will be the right choice for you.
HP DesignJet T650 at a glance:
Prints 24″ wide on rolls and 19″ wide on sheets
Avg. print speed is 26 sec/page
In-built software
Compatible with PC, smartphones and tablets
Automatic cutter and sheet/roll switch
Ethernet, USB 2.0 and Wi-Fi connectivity
Comes with a print stand
Sustainable design
Another one of the best low-budget A1 size printers is the Epson SureColor T2170, with a fast print speed of up to 43 sec/page for A1/D size media files. It is an easy-to-operate product thanks to its 4.3″ LCD color touchscreen. Additionally, it features different connection types like wireless and ethernet connectivity that allow you to manage prints by using tablets, smartphones and computers.
You can use rolls up to 24 inches wide and sheets up to 11″ x 17″ through the Auto Sheet Feeder technology. The printer also has high-capacity ink cartridges, 80 mL for black and up to 50 mL for other colors. SureColor T2170 can print your high-quality images with sharp details up to 2400 dpi.
The prints are so durable and instant-dry. Thus, you can let it handle your blueprints, posters, and line drawings without hesitation. Moreover, it has a compact design with an ultra-small footprint. Having dimensions of 25x44x15 inches, it easily fits on a desktop. Still, you can purchase a print stand optionally.
Epson SureColor T2170 at a glance:
Handles files up to 24″ wide on rolls and 11″x17″ on sheets
Print speed is 43 sec/page
Compatible with smartphones, PC and tablets
High-quality prints up to 2400 dpi
Compact design, small footprint
Low price
The Canon PRO 2100, with a small footprint, is a 24-inch large format fine art printer perfect for small graphic design studios, architecture firms or art studios. Having a compact design, it provides a variety of new technologies and includes software solutions to take the printing process to another level.
The package contains a main print machine with a stand, a catching basket, 2″ & 3″ paper core attachments, a PF-10 print head as well as an MC-30 maintenance cartridge (installed). It also comes with 12 x 160ml ink starter tanks and a one-year warranty card.
Canon PRO 2100 is designed to print ultra-high-quality media files, with vivid colors and borderless images. Its LCD touchscreen and wireless capabilities make it user-friendly and easy to use. PRO 2100 is a top-notch product for any professional printing needs.
CANON PRO 2100 at a glance:
Prints media up to 24″ wide
Print speed is 15 ppm in colored printings
Wireless and USB connections
The best option for ultra HD art prints
Professional software and ink cartridges included
Comes with 1-year warranty card
Additional Tools You May Need
When you purchase an A1 printer, you may also need to consider having additional tools or supplies. Below, there are some potential items you may need:
Ink or toner: You may need to purchase ink or toner cartridges to use with your printer. Note that, you should buy these products depending on the type of printer you have.
Media or paper: You will always need sheets to print on. While some printers use simple quality sheets and papers, some of them can accommodate rolls and sheets of different qualities.
Printer stand: A printer stand is not among the must-have supplies for large format printers. However, it will be quite beneficial in some cases.
Maintenance supplies: Each technological device and machine needs regular maintenance. Therefore, you may need to purchase additional supplies, such as cleaning kits or spare parts, to maintain your printer.
Software: You may need to purchase additional software licenses to use with your printer.
Read Also: Best Architectural Programs – Architectural Drawing Softwares
Keep in mind that these are just a few examples of additional tools or supplies you might need to consider buying apart from a printer. The exact tools that you may need vary depending on your specific needs, the printer type and business model. You can buy these products from Amazon or local suppliers.
How to choose an A1 printer?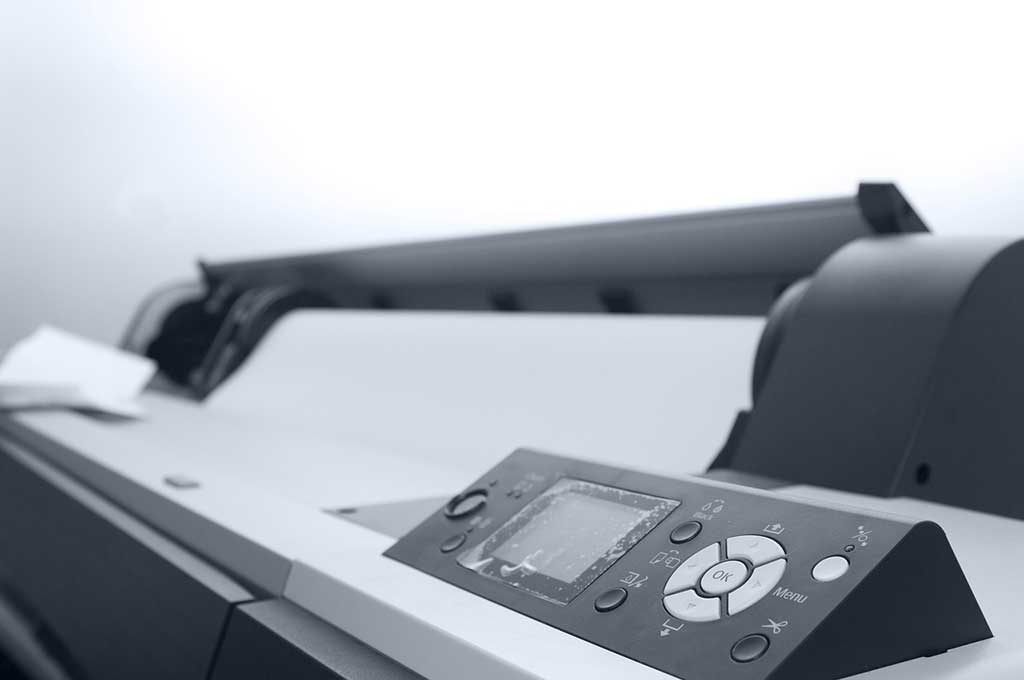 There are several key factors you should consider when buying an A1 printer. This large format printer has to print your media as fast as possible, without making concessions on print quality. You may also need to manage the machine without too much effort, so it should be easy to use and offer a variety of connection options.
The price, operating costs and maintenance expenses are also important points to consider. The aforementioned factors are just a few examples. Searching for an ideal A1 printer will probably need deeper analysis and planning. Below, there are detailed important factors that can help you choose the right product:
Print speed: Refers to how long it takes to print one unit page.
Print quality: More print quality means higher resolution and color accuracy.
Connectivity and compatibility: Which devices and operating systems can you connect to the machine?
Cost of ownership: It means ongoing expenses for ink/toner and maintenance, which are operating costs of the printer.
Purpose: Why and for what purpose do you need a large format color printer?
Price: Before buying an expensive product, you should determine your budget and expectations.
Features: Just like the budget, you should determine your necessary features and limitations to make it more comfortable to choose the right printer that meets your needs.
Brand reputation: Each A1 printer brand has an impact in this sector, but some of them have higher reliability.
A1 Printer Maintenance Tips: How to Keep Your Printer Running Smoothly
The key to having a product running smoothly for a long time is regular maintenance. This rule goes for A1 printers as well. Here are some tips to help you extend the lifetime of your printer and prevent unexpected costs of repair.
Keep the printer clean: You should regularly dust the printer out, as well as clean the rollers and ink cartridges to prevent lags and ensure smooth running.
High-quality ink/toner: Always use high-quality supplies for your printer instead of low-quality ones.
Avoid overloading the paper tray: Stay loyal to the manufacturer's guidelines and do not exceed the maximum paper capacity.
Regular use: Do not leave the printer out of the work for a long time as it can cause the ink to dry and clog to nozzles. The solution is to use the printer regularly.
To sum up, there are many tips to keep your printer clean and healthy for years. Following them, you will ensure as low as possible repair and maintenance costs.
Conclusion
Consequently, A1 printers are must-have products for a variety of industries like architecture, graphic design, engineering, photography and advertisement that require large-format color printing. However, bear in mind that there are crucial factors to consider when buying a printer, such as print speed, ink costs, print quality and connectivity.
The best 5 A1 printers we mentioned above are selected based on various criteria like different budget ranges, reviews, ratings, outstanding features and other factors. All of them are top-notch products in their own budget range and offer handy features to meet industrial needs. You can get more information about the products and purchase them on Amazon.com.
Related Articles:
FAQ About A1 Printers
Q: What is an A1 printer?
A: A1 printer is a large format printer type that is able to produce large prints, typically on a paper that is 841×594 millimeters in size (equivalent to 33.1 by 23.4 inches). These printers are mainly used in many industries such as architecture, engineering, and graphic design.
Q: Are there different types of A1 printers?
A: Yes, there are several different types of A1 printers, including large-format inkjet printers, toner printers, laser printers, and LED printers. Each type offers different features and is suitable for different purposes and needs. However, most people generally need an inkjet printer.
Q: How much does an A1 printer cost?
A: As you can guess, large-format color printers are more expensive than small ones. Be prepared to pay at least a few hundred dollars for low-range products. The prices depend on print quality, brand reputation, print speed and other features a printer offer. Therefore, the higher the quality of a printer, the higher the price you should pay.
Q: What are the best brands of A1 printers?
A: Although many brands provide wide-format printers, you should first consider looking for top A1 printer brands such as HP, Canon and Epson.
Q: Can I print on different paper sizes with an A1 printer?
A: Yes, some A1 printers can print not only on A1 sheets but also on pages less than 24″ wide. However, you should check the specifications of products to make sure that they have this capability.
Disclosure: This blog post contains some affiliate links. It means, at no additional cost to you, we may earn a commission if you click through and make a purchase. Please note that we only recommend products and services that we believe will be beneficial to our readers.