Welcome to our comprehensive guide on the best 11×17 printers! If you're looking for an inkjet or laser printer that prints 11×17, you've come to the right place. Whether you're an architect, graphic designer, engineer, photographer, or simply someone who frequently needs 11×17 documents, choosing the right product is crucial for high-quality printings.
Also known as tabloid printers, these products are specifically produced to handle large paper sizes, the most common being 11×17 inches. They offer advantages over a standard letter-sized printer by allowing you to print larger docs, such as posters, technical drawings, etc.
As we said, it's important to make a good choice when buying a printer. However, there are plenty of these devices on the market, so this process is like looking for a needle in a haystack.
No need to worry, Archeetect here. We've done deep research on Amazon and compiled a list of the best 11×17 color inkjet and laser printers. And we'll continue further enhance the scope of the list.
In this article, we will explore the top 11×17 printers, highlight their key features and talk about the factors to consider when purchasing an 11×17 printer. Without further ado, let's start with the list.
List of Best 11X17 Printers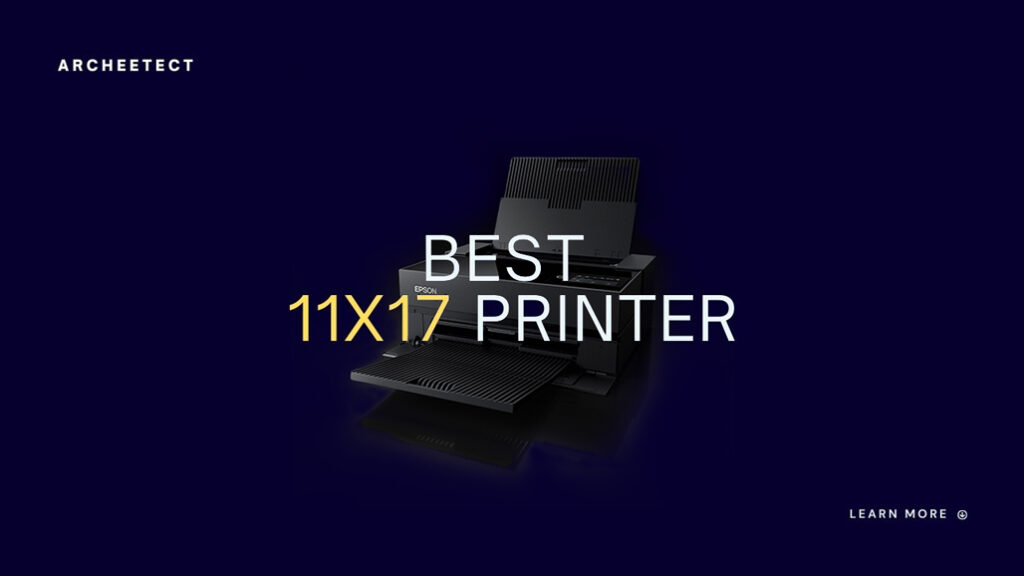 The HP OfficeJet Pro 7740 11×17 all-in-one inkjet printer is a great product to use in the home office.
It offers a variety of functions to make your office work easier, including the ability to copy, scan, fax, and print in wide formats up to 11×17 inches. This multifunction printer is perfect for small businesses that need to produce high-quality documents and marketing materials.
The HP Smart App allows you to quickly set up your printer, scan from your smartphone, order toner, and print from cloud services such as iCloud, Dropbox and Google Drive.
The machine also comes with a color touchscreen that allows you to manage prints, scan, copy and fax jobs directly from the printer.
Additionally, it supports different paper sizes, from 3×5 inches to 11×17 inches. This can really be useful in offices that work with varying sizes of documents.
The HP OfficeJet Pro 7740 can save your printing costs up to 50% per page compared to other color laser printers. Having a fast print speed of up to 22 pages per minute in black, it supports high-volume mass printing capacity with up to 500 sheets.
If you want to get the best results from the printer, you should use original HP cartridges like HP 952XL ink cartridges.
HP OfficeJet Pro 7740 at a glance:
Supports sheet sizes up to 11×17 inches
Print speed is 18 pages per minute in color
Wi-Fi, USB and Ethernet connectivity
Compatible with Alexa
In-built HP software
Color touch screen
Double-sided scanning
This all-in-one 11×17 inkjet printer is the cheapest option on the list. By purchasing this easy to setup device, you can quickly start printing with a print speed of 25 pages per minute (ppm) monochrome and 12 ppm color.
Epson Workforce allows you to print in different paper sizes up to 13×19 inches. It is also suitable for heavy workloads with heat-free technology and 500-sheet paper capacity. Furthermore, the auto 2-sided print, scan, fax and copy multifunctionality offers great convenience.
It's not only easy to set up but also easy to use thanks to its 4.3″ color touch screen and hassle-free connectivity technologies like Wi-Fi, Bluetooth and Ethernet.
Besides connectivity options, the in-built Epson Smart Panel App allows you to navigate all your printing jobs from your smartphone. This further enhances its connectivity and productivity.
Epson Workforce also includes a Secure Data Erase that protects your confidential data. Thus, you can trust this printer when printing private files.
With all these features it provides, the Epson Workforce Pro WF 7310 is a perfect product for those who need a cheap but high-quality 11×17 printer.
Epson Workforce Pro WF-7310 at a glance:
Print on sheets up to 13×19 inches
25 ppm (monochrome) and 12 ppm (color) print speeds
Bluetooth, Wi-Fi and Ethernet connectivity
In-built Epson Smart Panell App
4.3″ color touchscreen
Data protection software
Canon imagePROGRAF PRO-300 is the best 11×17 photo printer for architects, professional photographers and graphic designers. Its pigment-based 9-Color Plus Chroma Optimizer Ink System ensures ultra-HD image quality for your creative artwork.
Canon's undeniable experience in the photography field assures precise detail, vibrant colors and accurate color reproduction as in this special product.
The newly formulated matte black ink provides vivid and deeper blacks on fine art paper. It also offers wider reproduction areas in darker tones. This will definitely improve color graduation in your prints.
The Canon imagePROGRAF supports various media types to let you show your creativity. Furthermore, it allows a wide range of sheet sizes, from 3.5″ x 3.5″ to 13″ x 19″.
It lets you print up to 39 inches long. This is one of the most exceptional features of the Canon imagePROGRAF and it's quite useful if you need panoramic photographs.
This compact and sleek printer has an intuitive interface including a color LCD 3.0″ display where you can adjust printer settings and check ink levels.
Additionally, Canon Professional Print and Layout (PPL) software provides complete control over color and printing settings.
Lastly, the Nozzle Recovery System ensures consistent print quality and reduces print waste while Skew Correction minimizes printing errors caused by paper misalignment.
Canon imagePROGRAF PRO-300 at a glance:
Supports sheet sizes up to 13″ x 19″
Prints up to 39 inches long
Compatible with Wi-Fi connectivity
Versatile media handling
LCD 3.0″ display
Nozzle Recovery System and Skew Correction
If we had a chance to choose only one 11×17 all-in-one printer, it would be Brother MFC-J6945DW undoubtedly. Designed for small businesses and home offices, this printer delivers reliable performance, enhanced productivity and professional results.
The first standout feature that we must mention is its INKvestment Tank system which let the machine hold more ink and creates an internal storage tank, resulting in a reduction in the frequency of ink replacement.
It has two paper trays with a total capacity of 500 sheets in addition to a convenient 100-sheet multipurpose tray. This is good for businesses that require varied printing needs.
Additionally, this printer is integrated with Amazon Dash Replenishment, enabling auto toner reordering. It enables the machine to measure the toner level and order additional toner when it's running low.
Its innovative Page Gauge feature monitors ink usage and estimates the number of pages remaining. This will let you know exactly when you'll need to refill your ink supply.
The Brother MFC-J6945DW is a comprehensive all-in-one solution that supports print, copy and fax functions. Furthermore, it offers duplex copying and scanning to save you time and effort.
While the color printing is excellent, it may not meet the expectations of those specifically seeking a top-notch photo printer. For those folks, We can recommend Canon imagePROGRAF PRO-300, which we've selected for our list as well.
Brother MFC-J6945DW at a glance:
Maximum media size is 11×17 inches
Wi-Fi connectivity
Multiple paper trays
22 ppm (monochrome) and 20 ppm (color) print speeds
Duplex copying and scanning
Monitors remaining ink and papers with Page Gauge
The HP Color LaserJet Pro Multifunction M479fdw is a wireless 11×17 color laser printer produced for office and home use. Its versatile functionality provides printing, scanning, copying and faxing.
The HP Wolf Pro Security feature protects your company's data so you can safeguard against cyberattacks. Furthermore, the hardware, firmware and operating system of the printer all have built-in protection.
Using the 4.3″ color touchscreen panel, you can automate complex workflows, access your saved settings and manage automation capabilities.
Thanks to its Wi-Fi Direct feature, you can connect your smartphone to the printer for easy mobile printing. This removes the need for a local network connection.
It helps you to fasten your printing jobs with duplex printing and scanning, with a maximum speed of 28 pages per minute. Additionally, its 50-sheet auto document feeder and the 250-sheet input tray will further enhance your printing experience.
By using advanced technologies, this printer saves up to 18% energy compared to previous models. It also helps reduce paper waste, further promoting sustainability.
Lastly, this printer comes with a one-year onsite warranty. And please note that it's compatible only with cartridges having original HP chips and circuitry. Non-HP cartridges will be blocked by the firmware.
HP Color LaserJet Pro MFP M479fdw at a glance:
From 3″ x 5″ to 8.5″ x 14″ paper sizes
Print speeds up to 28 ppm
Ethernet, Wi-Fi and Wi-Fi Direct connectivities
In-built protection systems
Intuitive interface and compact design
4.3″ color touchscreen
Duplex printing and scanning
11×17 Printer Buying Guide
11X17 printers are great devices for printing jobs, but it will be really hard to choose the right one. For this reason, we've put together a buying guide so that you know what factors to consider when looking for a good product.
1. Print Quality
One of the essential factors to evaluate is the print quality. Printers with high resolution and DPI capabilities ensure that your prints will be sharp, detailed and of excellent quality.
Additionally, consider color accuracy and vibrancy to ensure your files truly represent the original image or design.
2. Printing Speed
Another important consideration is definitely print speed. It's crucial, especially if you have tight deadlines or large printing jobs. You must check the pages per minute (ppm) specification to determine how fast it can produce prints.
Moreover, you should know that those ppm times indicate the maximum print speeds. This means that 11×17 papers take more time to be printed, as larger prints take longer.
Besides ppm, you can also check other speed-related features such as duplex printing and auto document feeding.
3. Connectivity Options
You have a printer but how to control it? Of course, you first need to connect it using its connectivity options. Generally, printers have different connectivities such as USB, Wi-Fi, Ethernet, Wi-Fi Direct, wireless, etc.
We recommend you look for printers that offer both wired and wireless connectivity. This allows you to connect your printer to a computer, laptop or smartphone. Also, you should ensure that the printer is compatible with the operating systems you use.
4. Paper Size and Type
Paper type and size are also important subjects to check when you buy a printer. All these printers in our list can print on 11″ x 17″ papers but you may need to use additional paper sizes in the same machine.
In such a case, you should buy a more comprehensive printer so that you can print on a diversity of papers. For example, some devices support a great diversity of paper sizes, in size from 3″ x 3″ to 13″ x 19″.
Moreover, you may want to look for other related specifications like tray capacity and supported paper types.
5. Cost of Ownership
Budget is absolutely one of the most important considerations when buying anything. If you have the wrong product it will cost you additional expenses in the long run.
So look for printers that offer cost-effective cartridges and those equipped with efficient ink-use technologies. This can reduce the frequency of replacements and save you money over time.
6. Brand Reputation
Although there are thousands of printers on the market, we've selected those products from reliable brands. And we think that the best 5 printer brands are HP, Canon, Brother, Epson and Xerox.
7. Functions
You may think that a printer only meets printing needs but it's totally wrong. Modern printers can be multifunctional, which means they can print, scan, copy or fax.
So you may want to buy an all-in-one printer featuring these functions that you may need in the future.
By carefully evaluating these factors, it will be easier to narrow down your options and find the best 11×17 color printer that suits your needs and budget.
Conclusion
In conclusion, you have to choose among the best 11×17 printers if you want high-quality prints for your specific printing tasks. You need to consider some factors to find the most suitable product. These factors are print quality, speed, paper size, ownership costs, connectivity options, functions and brand reputation.
Considering these factors can help you choose the right product by narrowing options. In this article, we've conducted market research for you and prepared a list of the top 11-inch to 17-inch color printers available on Amazon.
Having the right 11×17 printer can greatly improve your printing experience and allow you to produce professional-quality prints with ease.
This choice totally depends on your budget and requirements. For instance, if you're a student or work in a home office, then HP OfficeJet Pro 7740 would be a good option for you.
Those who want to spend less money but still wish to have a high-quality multifunction 11×17 printer should look for Epson Workforce Pro WF-7840. But keep in mind that it has a lower ppm, so it's not that suitable for heavy use.
If you want a printer with high ppm and multifunctions, we recommend having a laser printer like HP Color LaserJet Pro Multifunction M479fdw.
On the other hand, some people need to have ultra-HD outputs for their artwork. In this case, Canon imagePROGRAF PRO-300 is our pick for the best photo printer that prints 11×17.
Finally, Brother MFC-J6945DW is a great high-end option for those who expect all these features in one printer.
We hope this guide has provided the best information that will encourage you to buy a printer. Now, it's your turn. Please share this post with others as a thank you. Happy printing!
Related Articles:
FAQs About 11×17 Printers
Q: What are 11×17 printers?
A: 11×17 printers, also known as tabloid printers, are printers specifically designed to handle larger paper sizes, with 11×17 inches the most common. They are used for printing large-format documents, images, and designs.
Q: What is 11×17 size?
A: The 11×17 size is commonly known as "tabloid" or "ledger" size in the USA, roughly equal to the A3 size used in non-USA regions. It is frequently used for printing posters, brochures, newsletters, architectural drawings, etc.
Q: Can I print regular-sized documents on an 11×17 printer?
A: Yes, most 11×17 printers are capable of handling smaller paper sizes as well. They offer the versatility to print a wide range of document sizes, allowing you to switch between different paper sizes as needed.
Q: Can an 11×17 printer be used for faxing, scanning and copying documents?
A: Yes, many 11×17 printers come with additional scanning and copying capabilities. These multifunction printers allow you to print, scan, copy and fax documents.
Q: What is the difference between an inkjet printer and a laser printer?
A: The primary difference lies in the technology they use to print. Inkjet printers use liquid ink sprayed onto the paper through microscopic nozzles, while laser printers use a laser beam to transfer toner onto the paper.
Disclosure: This blog post contains some affiliate links. It means, at no additional cost to you, we may earn a commission if you click through and make a purchase. Please note that we only recommend products and services that we believe will be beneficial to our readers.