Wooden structure material, which can meet many needs in the building design, is one of the most preferred and useful materials for centuries. With its naturality, warmth and the uniqueness of the random textures on it, using timber in architecture deserves this interest too much. With the evolving of the industrial opportunities, using timber in architecture has diversified in 20th century. It has been starting to provide the area of use from furniture to facade cladding – from floor covering to structural elements thanks to timber panel types produced with the new techniques.
Advantages of Timber in Architecture
Wood is a sustainable material and its reduce the carbon emission.
Processing the timber material is easy.
Wood is a natural building material, so it makes us feel like in the nature.
One of the most important advantages of timber is that it's a lightweight material despite its well strength. So this provides a significantly advantages against the earthquake loads.
It's resistant to the chemical stimulus.
Timber is a warm material. For instance, if we touch, it will decrease our body temperature dramatically in contrast with the steel.
The installation of timber structure is easy and quick. The structure can be used instantly after the assembly. By means of this, the strength tests can be done immediately.
Changing floor plans in a wooden structure is easy than other systems like reinforced concrete. The timber structure elements can be easily remove and change.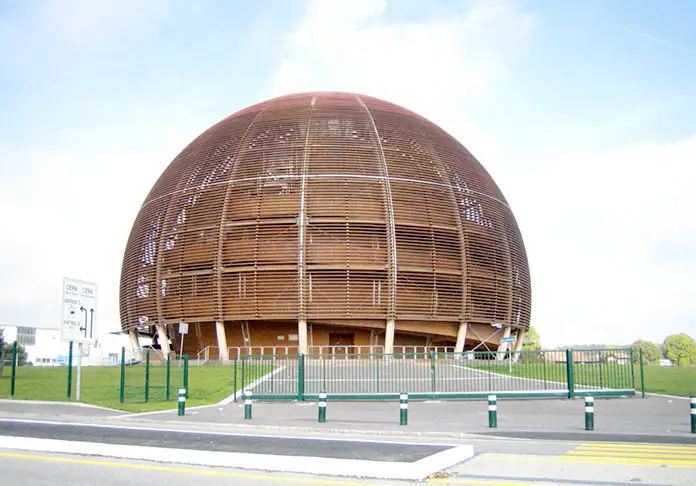 Disadvantages of the Wooden Structure Material
Although wood is a material that fire endurance is high, it catches fire easily.
It dilates and shrinks depending the temperature. When the damp level decrease, the timber structure material gives the water inside it to the outside, for this reason the form of the wood undergoes change as time goes on. Then, some cracks occur.
The type of tree to be used in the timber structure is so important. For this reason, wood is a endemic material and in some case, the timbers have to be import.
The biggest problem of a wooden structure is squalidness. Timber structures with no living inside start to decay and become deformed quickly.
Since it is a natural material, creatures such as bacterias, mushrooms and insects can survive inside it. Thence, the structure of wood will be harmed. To prevent this problem, wood materials should be impregnated. In other words, it should be protected with the chemical preservatives.
Using Timber in Architecture
The fact that wood is a natural material makes easier that the exterior factors affect it. For this reason, a timber structure should be designed in a way that building materials are least damaged and protective measures can be provided.
Framework or masonry construction can be preferred as the construction practice. There are pillars, beams, cross connection elements called buttress, in framework systems. In the masonry construction system, timber materials are superimposed each other like in masonry walls. In this way, we may provide benefit from the heat sealing and insulating features of wood thanks to the elements disposed of close each other.
Connection details of timber elements can be solved by different methods. Weather boarding, tongue-and-groove, fishscale lapped scarf etc. methods are among the most commonly used methods of wood connections.
Wooden Structure Examples
OMM – Odunpazari Modern Art Museum
Architect: Kengo Kuma & Associates
Location: Eskisehir, Turkey
Construction Year: 2019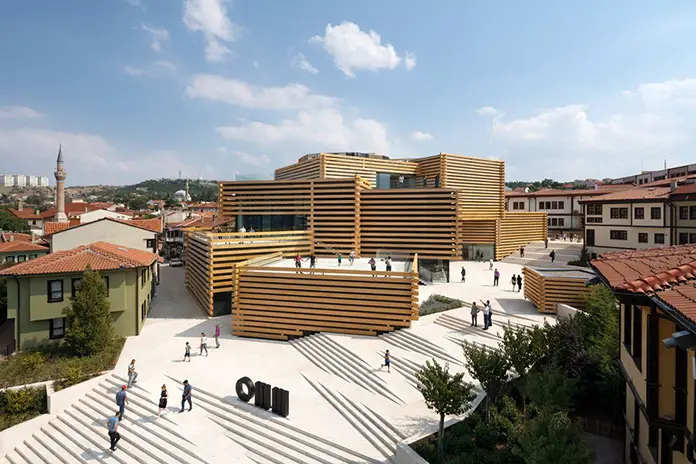 Odunpazari Modern Museum which is a new project, was designed by Kengo Kuma becoming prominent with wooden structure designs. It's one of the most popular projects of recent times with the design making refers to Ottoman wooden architecture and vernacular architectural texture. At the same time, It's an extremely good example to using of timber in modern architecture.
Mjøstårnet – An Example of CLT Architecture
Architect: Voll Arkitekter
Location: Brumunddal, Norway
Construction Year: 2019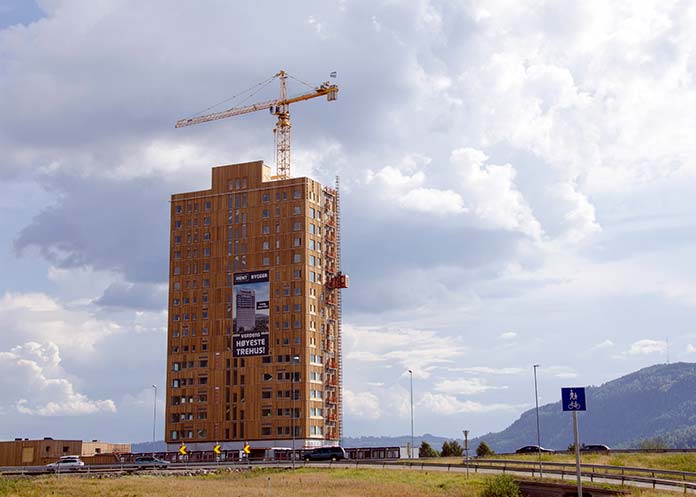 The most important feature of this building which was built in Norway in 2019 is that, it is the tallest wooden structure ever built in the world. This 18-storey building with a height of 85.4 has a mixed use. The thing that provide to ability of constructing tall buildings with wood elements is Cross Laminated Timber or CLT technology. As well as CLT is actually a very simple and innovative technology, it has made a breakthrough in the building industry. I recommend you to read our article about the CLT Cross Laminated Timber system which makes possible to build very tall timber buildings. By this way, you can learn the working principle of CLT architecture.