A high-performance laptop is one of the most crucial tools for architects to overcome difficult tasks like creating stunning 3D models or designing complex structures. Therefore, in today's digital age, having the right laptop is essential to unleash their creative genius. If you're an architect searching for the perfect laptop, look no further! We've created a list of the best laptops for architects in this guide.
We will also discuss the key factors to consider when buying a laptop for architecture. RAM capacity, processor, graphics card capabilities, display quality, battery life, portability and budget are some of these important considerations.
Whether you're a professional chief architect or an architecture student, this article has something for anyone, including premium options and budget-friendly alternatives.
Let's start by taking a look at our list of best laptops for architecture!
List of Best Laptops for Architects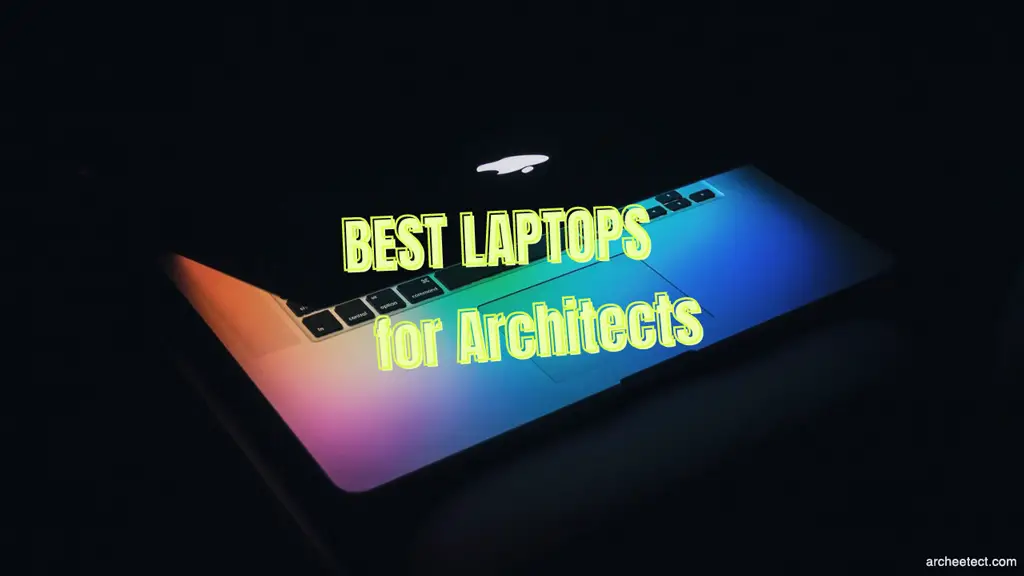 Apple 2023 MacBook Pro with the M2 Max chip is the latest and best version of the MacBook series. This laptop can handle the most demanding architectural projects, including both renders and 3D modeling software.
While you can customize the number of CPU cores, GPU cores and RAM, we picked the most upgraded version for the best performance.
Thanks to the high-technology M2 Max chip, the MacBook Pro delivers up to an impressive 22 hours of battery life. It also provides an incredibly stable performance whether it's running on battery or plugged in.
Alongside the studio-quality mic, the 1080p FaceTime HD camera ensures so clear video-meeting quality, which is cool for remote working architects.
Moreover, Touch ID, aluminum enclosure and seamless integration between all your Apple products are just a few of the other premium features that you'll have.
If you invest in the MacBook Pro today, you're investing in your creative future. It's not just a laptop; it's a gateway to endless possibilities.
PROS:
+ Lightweight aluminum body
+ Incredibly long battery life (up to 22 hours)
+ Impressive Retina display
CONS:
– Needs 3rd party solutions to run software like Revit or 3Ds Max
Alternative laptop: Apple 2023 MacBook Pro Laptop with M2 Pro chip
Another laptop that we think is suitable for architectural designers is Dell XPS 17. This premium laptop can overcome your most intensive and creative projects with ease.
Its 12th Gen Intel Core i9-12900HK 14-Core processor and NVIDIA GeForce RTX 3060 6GB GDDR6 Graphics ensure an extreme-level performance at record speeds.
Additionally, the 32GB DDR5 RAM provides seamless multitasking for your architectural projects without any hindrance.
With 1TB SSD, you have all the space you need for your large project files. It also offers swift file transfers. Whether you're creating intricate 3D models, rendering models, or working on architectural visualization software, this laptop won't disappoint you.
The XPS 17 also features a stunning 17-inch UHD+ Touch 500-Nit display. This Anti-Reflective 4k resolution display offers a vibrant visual experience and increased viewing space. Furthermore, you can enjoy its touchscreen when designing details.
You may think about how such a big and strong laptop remains cool. But don't worry. Its advanced thermal design with unique dual opposite fans keeps the laptop cool even during the most intensive tasks.
Overall, the Dell XPS 17 is a perfect laptop for architects who expect raw performance and top-notch display from a computer. But, we have to warn you about the only downside: there are no standard USB ports. So, you have to use USB-C ports for external hardware like a mouse.
Pros:
+ Touchscreen
+ 4k resolution
Cons:
– There are USB-C ports instead of standard USB type-A
Best Laptop for Designers
If you're an architectural designer seeking a laptop that combines power and elegance, look no further than the ASUS ZenBook Pro Duo 15 OLED UX582. Although its performance is not as good as the Dell XPS 17, this dual-screen laptop is still a powerhouse.
Powered by the 12th Gen Intel Core i7-12700H 14-Core processor, 16GB RAM, 1TB SSD and NVIDIA GeForce RTX 3060 graphics, this laptop will meet all your performance needs.
Alongside its power capabilities, the best part of this laptop is its fantastic display. The captivating 15″ 4K OLED HDR NanoEdge display on this touchscreen laptop provides unbelievable visuals with professional-grade vibrant colors.
Additionally, it has a secondary 14″ 4K touchscreen, named ScreenPad Plus, that automatically tilts up for comfortable viewing. This is an amazing feature, especially for creative designers, as it allows you to optimize your multitasking experience.
Thanks to this secondary screen, you can work efficiently on multiple tasks at once, and even possible to draw with a stylus in software like Photoshop.
As you know architects are often on the go, and ASUS ZenBook is quite suitable for this. It's such a durable laptop that meets ultra-demanding MIL-STD 810G military standards for reliability and durability. This means it can withstand harsh conditions, making it ideal for work on travel.
Pros:
+ Ultra durable
+ 4K UHD Touch Display
Cons:
– Low RAM for a mid-range performance laptop
– Scarcity of USB ports (1 USB-C, 1 USB-A)
Gaming laptops are amazing powerhouses, which is excellent for architects. The MSI GE76 Raider Gaming Laptop can handle the most complex architectural tasks, including both renders and 3D modeling.
Equipped with the latest 12th Gen Intel 14-Core i9-12900H processor and powered by NVIDIA GeForce RTX 3060 graphics, this laptop is a true performance laptop just like Dell XPS 17. However, the MSI has two upsides.
The first upside is that MSI GE76 features 64GB RAM, providing an extremely seamless multitasking convenience. Another upside is the blazing-fast 2TB SSD, which ensures large storage and effortless file transfers.
Also, its Titanium Blue cover adds a premium touch feel and supplies more durability by enhancing shock resistance.
While the screen quality is not as good as the top 3 laptops' display in the list, the 17.3″ FHD IPS 144Hz Thin Bezel Display still ensures a smooth and immersive design experience. Furthermore, integrated Intel Iris Xe Graphics delivers high-quality visuals for graphic-intense software.
Eventually, MSI GE76 Raider Gaming Laptop offers the best performance for both architects and gaming enthusiasts. If your first criterion is performance rather than display, this laptop has got you covered.
Pros:
+ High RAM capacity
+ 2TB SSD storage
Cons:
– Relatively low display quality
Architects use two different types of software, graphics-intensive rendering software like Lumion and CPU-intensive modeling software like Revit and Autocad.
Read Also: Best Laptops for Revit 2024 | Buyer's Guide
Dell Alienware m15 R7 is a specially produced gaming laptop that can handle complex visualizations and design projects.
It has the 12th Gen Intel Core i9-12900H processor and 8GB NVIDIA GeForce RTX 3080 graphics to deliver the best rendering and modeling performance. It also has 32GB RAM, which is enough for an architect when work on different programs simultaneously.
The AI rendering feature, NVIDIA Deep Learning Super Sampling (DLSS), further improves performance and provides smart rendering during critical moments of your architectural work.
Whether you're working on photorealistic renderings, architectural animations or virtual reality projects, this laptop will deliver smooth and stunning visuals. Speaking of visuals, the 15.6″ QHD 240Hz display also ensures life-like visuals with soft graphics.
Even during the highest performance states, Alienware m15 R7 maintains system stability thanks to Alienware Cryo-tech cooling technology. This tech and updated cooling fans prevent your laptop from overheating so you can focus on your architectural work.
As an architect, you will love the industrial design of Alienware, its hexagonal-shaped vents that maximize air movement. Additionally, it allows you to customize the laptop's colors to match your style.
Pros:
+ Ultra-high graphics card for better renderings
+ Customizable design options
Cons:
– Relatively heavy
– Not the best display
Gaming laptops provide excellent graphics and MSI GL66 Gaming Laptop is a great device in this regard. Its cutting-edge NVIDIA RTX 3070 graphics card is one of the best GPUs in the industry.
Powered by the 12th Gen Intel Core i7-12700H processor, it delivers maximum productivity and efficiency in gameplay and video-based architectural jobs. The one downside is that this CPU has only one core.
This laptop comes with 16GB RAM and 512GB SSD storage. While we recommend at least 1TB SSD for more storage, 512GB is okay for those who don't save too many videos, program files, etc.
The 15.6″ 144Hz FHD display delivers smooth, vibrant and seamless visuals. This is not the best screen like UHD+ 4k resolution, but still good for architects seeking a mid-range laptop.
Additionally, its Cooler Boost 5 technology with 2 fans and 6 pipes ensures performance stability during complex tasks.
To summarize, MSI Pulse GL66 Gaming Laptop is more suitable for architecture students who want to play games and do architectural tasks on the same computer.
Pros:
+ High graphics card
+ Long battery life of up to 20 hours
Cons:
– Relatively slow processor and 1-Core
– Small storage capacity of 512GB SSD
Alternative laptop: ASUS TUF Dash 15
Best Laptop for Sketchers
Reasons to buy:
RAM: 16GB
CPU: Up to 5 GHz 10th Gen Intel i7-10750H 6-Core
GPU: NVIDIA GeForce GTX 1650 Max-Q
Disk space: 512GB SSD
Operating system: Windows 10 Home
Display: 14″ FHD, Gorilla Glass 5 anti-glare screen
Weight: 3.81 pounds (1.7 kg)
Other specifications: Wacom AES 1.0 Pen, Multi-touch Gesture
Alongside a laptop, many designers purchase tablets for architectural design tasks. However, Acer ConceptD 3 Ezel is a revolutionary laptop that can also be used as a tablet with a stylus pen.
If you're a creative designer seeking a mid-end laptop and a drawing tablet together, this product has covered you.
Providing you with precise colors and unmatched flexibility, its 14″ FHD Gorilla Glass 5 anti-glare screen comes with a Wacom AES 1.0 Pen. It also supports multi-touch gestures.
The 10th Gen Intel Core i7-10750H 6-Core processor delivers efficiency for your design tasks. While its performance capabilities are not the best on the list, it can still easily handle 3D modeling, architectural rendering, CAD drawing, animation and other graphics-intensive software.
Its NVIDIA GeForce GTX 1650 4GB GPU is a mid-range graphics card, which is sufficient for semi-professional works and student-project renderings.
Just like the CPU and GPU, its 16GB RAM capacity and 512GB SSD storage are enough for architectural students and graphic designers. If you need more storage and will save too many program files, you should think about improving the storage.
In general, the Acer ConceptD 3 Ezel is a versatile laptop that is suitable for creative architects and designers. It features a lightweight flexible design powered by relatively strong CPU and GPU hardware.
Pros:
+ Lightweight and sleek design
+ Tablet-like flexible screen with Gorilla Glass 5
Cons:
– Small storage capacity of 512GB SSD
The Acer Swift X Creator Laptop is the best budget-friendly laptop for architectural students on the list. Despite its low price, this product is designed to enhance your creative pursuits and provide innovative features with cutting-edge technology.
Read Also: Best Laptops for Architecture Students
It comes with the 12th Gen Intel Core i7-1260P 12-Core processor, optimized for multitasking and specially designed for ultrathin laptops. The NVIDIA GeForce RTX 3050 GPU provides high-quality visuals and rendering capabilities for your architectural projects.
It also features 16GB RAM and 512GB SSD storage, which is enough for seamless multitasking and rapid data transfers. However, as abovementioned, 512GB SSD may not be enough for those who run too much software and save too many image files on the computer.
Having a 14″ IPS widescreen display with 300 nits brightness and a 16:10 aspect ratio, it provides a true visual representation of your work.
Lastly, with its 3.09 pounds (1.4 kg) weight, Acer Swift X is the lightest laptop on the list. Its thin and lightweight metal design is supported with long-lasting battery power, ensuring you stay productive and creative on the go.
If you are an architect with a low budget as $900, the Acer Swift X is here with top-notch performance and portability. Despite the relatively low 16GB RAM and 512GB SSD storage capacity, it is still a high-quality laptop for architectural students and professional individuals.
Pros:
+ Lightest laptop on the list
+ High-capacity CPU and GPU for a cheap laptop
Cons:
– Small storage capacity of 512GB SSD
Buying Guide to Laptops for Architects
As an architect, having the right laptop will support your creative process and daily tasks to bring your design ideas to life. However, finding the right laptop suitable for your needs can be an overwhelming job.
Fortunately, we've put together some key factors to consider when selecting the best laptop for architects. Let's break them down:
1. CPU
The first thing that you should look at is the laptop's brainpower CPU. The CPU, which stands for Central Processing Unit, is like the engine of the laptop. A powerful processor is vital as it handles all the complex calculations and tasks.
If you're going to buy a Windows laptop, aim for at least an i7 with a new generation. While the 10th Gen i7 is enough for many architectural tasks, it's better to have the 12th Gen i9 for the best performance.
2. GPU
Another important hardware is GPU, Graphics Processing Unit. It helps render 3D models and graphics. A dedicated GPU is crucial for smooth and fast design work.
While NVIDIA GTX 1050 is recommended for the lowest render performance, we know that better GPUs like the RTX series are better for complex and heavy rendering tasks.
3. RAM
Random Access Memory is another performance-related hardware that affects architectural design jobs. It's like the laptop's short-term memory that allows you to work on large projects or multitasks without slowdowns.
For your architectural projects, we strongly recommend having at least 16GB of RAM for smooth multitasking.
4. Screen Size and Display Quality
Architecture is a visual art and architects work with intricate designs, so having a high-quality display is essential. You should look for a laptop with a high-resolution screen and accurate colors. Opt for a minimum of Full HD (1920 x 1080) or go for 4k UHD (3850 X 2160) for the greatest clarity.
Screen size matters as well. A larger screen lets you work on multiple windows side by side, especially on 3D modeling. A larger screen, around 15″ or more, will provide a better view of your projects.
5. Storage
Sufficient storage space is crucial for storing your design files and software. Consider a laptop with an SSD for faster file transfers, rapid data access and a more responsive experience.
You can also opt for a laptop with SSD and HDD storage together, SSD for important files and software and HDD for non-crucial image files.
We recommend at least having 1TB of storage, but 512GB will be enough for individuals who only use software and don't need hundreds of gigabytes for image files.
6. Mac vs Windows
While some people use nothing but Apple devices, the rest prefer using Windows. So this choice between macOS and Windows comes down to personal preference.
Although both platforms can handle architecture-related tasks well, there are more laptop and customization options for Windows laptops.
7. Portability and Battery Life
Architects are generally on the move due to site analysis, client meetings, conferences, etc. Therefore, a lightweight and slim laptop will be practical for effortless mobility. Archeetect.com recommends laptops under 5 pounds if mobility is a priority for you.
Also, ensure the laptop has a long battery life, lasting at least 8 hours to work on the go without recharging.
8. Durability and Heat Management
Since laptops are portable devices, durability is quite important to prevent the device from physical damage. A durable laptop can withstand bumps and scrapes, so it can keep your work safe.
Moreover, laptops overheat with prolonged use. Overheating can damage a laptop's hardware, thus a robust cooling system is critical.
9. Connectivity and Ports
External hardware like a flash drive, mouse, keyboard and connection between devices requires different connectivity options for your laptop.
You should be sure your laptop has a variety of ports, such as USB 3.0, HDMI and Thunderbolt 3, for connecting multiple monitors, external storage devices and other accessories.
10. Software Compatibility
A laptop's specifications must meet the requirements of the software that you'll use regularly. Check recommended RAM, graphics card and processor for optimal performance.
Considering these factors when buying a laptop for architectural design projects will help you select the most suitable product for you. While the most important considerations for a greater performance are CPU, GPU and RAM, you can prioritize some other factors personally.
Additionally, don't forget to consider your budget because more budget generally means better laptop performance.
Conclusion
In conclusion, a laptop is a must-have tool for architects and having the right device is a crucial thing that can significantly impact your workflow and creativity. As finding that proper laptop is a hard job, we've created a list of the best laptops for architects and designers.
We have searched the market and explored 8 laptops that can meet the demanding requirements of architectural work. From powerful processing capabilities to stunning displays, each laptop brings its strength to the table.
While our editor's choice is Apple 2023 MacBook Pro Laptop with M2 Max chip as the best Apple laptop for architects, Dell XPS 17 is the best overall laptop balancing performance and display quality.
If your first priority is a versatile screen, then go for ASUS ZenBook Pro Duo 15. Also, our performance pick is MSI GE76 Raider Gaming Laptop. On the other hand, Dell Alienware m15 R7 Gaming Laptop is the top laptop for architectural rendering.
Are you a sketch lover or an architect working on concept designs? If so, we recommend Acer ConceptD 3 Ezel, which can be used as both a laptop and a tablet. For those who have a lower budget, we have one mid-range, MSI Pulse GL66, and one budget-friendly option, Acer Swift X Creator Laptop.
Besides the list, we've prepared a laptop-buying guide for architects that includes the most important considerations, such as processing power, GPU, RAM, display quality and storage options. Keeping these in mind will help you make a well-informed decision that aligns with your budget and needs.
Ultimately, investing in a good laptop will enhance your productivity, efficiency and creativity as an architect. We hope this buyer's guide for laptops helps you find the best product. Thanks for reading!
Related Articles:
FAQ
Q: Which laptop is best for Autocad and Revit?
A: Laptops with powerful CPUs and dedicated GPUs are recommended for software like AutoCAD and Revit. Read our guide Best Laptops for Revit for more information.
Q: What are the essential factors to consider in a laptop for architects?
A: CPU, dedicated GPU, and RAM capacity are important for handling complex design tasks. Additionally, a high-resolution display, durability and sufficient SSD storage are also essential.
Q: Are gaming laptops suitable for architects?
A: Yes, gaming laptops generally have powerful CPUs, GPUs and high RAM that can offer the performance needed for rendering and 3D modeling tasks.
Q: What screen size is ideal for architects?
A: We recommend at least 15″, but 16″ or bigger screens are better for multitasking and complex projects.
Q: How much RAM is sufficient for architectural software and multitasking?
A: Having at least 16GB RAM will ensure smooth performance and seamless multitasking in architecture software.
Q: Is a touchscreen beneficial for architectural works?
A: Touchscreens are not necessary, but can be useful for certain tasks like concept drawing or sketching.
Q: How often should I upgrade my laptop as an architect?
A: Generally, upgrading every 3 to 5 years ensures you have access to the latest technology and improved performance for your architectural work.
Disclosure: This blog post contains some affiliate links. It means, at no additional cost to you, we may earn a commission if you click through and make a purchase. Please note that we only recommend products and services that we believe will be beneficial to our readers.