Birth date and location: 25 Jan 1944, Lausanne/Switzerland
Architectural style: Postmodernism, Deconstructivism
Famous works: Acropolis Museum, Parc de la Villette
Architectural firm: Bernard Tschumi Architects (BTA)
One of the pioneers of Deconstructivism in Architecture and among the greatest architects of postmodernist era. Having a unique architectural style, he has leaded to our today's architecture for almost half a century. Of course, we are talking about the Swiss architect Tschumi. In this article, we are going to examine the life and architectural understanding of famous architect Bernard Tschumi. Moreover, we will take a look at the most known projects and academic works of him.
Bernard Tschumi, born in 25th Jan 1944 in Lausanne, is an architect, author, theorician and academician. His parents are well-kwown Swiss architect Jean Tschumi and a French mother. Going to ETH Zurich School of Architecture, which is one of the best architecture schools in the world, he graduated from here in 1969 with the title of architect.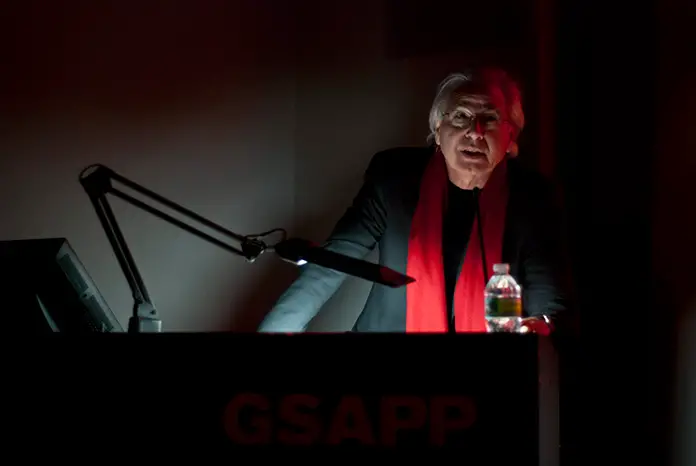 Career
As an architecture-academician, Tschumi has given lessons at the Portsmouth Polytechnic, Architectural Association, University of Princeton, Cooper Union and the University of Columbia. In between 1988-2003, he also carried out the deanship of the Columbia Graduate School of Architecture, Planning and Preservation (GSAAP).
Before being a world famous architect, Tschumi has won a name for himself in the academic neighbourhood with interesting researches and academic works. All those unique works contributed heavily to the formation of his architectural design philosophy.
Famous Academical Works
Architectural Manifestos, 1978
La Case Vide: La Villette, 1985
Practice
Establishing in 1988, the Bernard Tschumi Architects (BTA), the New York based architectural firm, produces innovative architectural and urbanism projects in various scales. Being an international design team, the BTA has completed more than 15 projects with over a billion $ worth in total.
Tschumi also established Bernard Tschumi urbanistes Architectes (BtuA) in Paris in 2002. Thus, both firm continue to produce great examples of his architectural philosophy for us.
His first distinguished work was Parc de la Villette, which he designed as the winner of a prestigious landscape design competition in 1983. After this first great job he done, Tschumi has kept designing valuable and impressive projects besides academic works for more than fourty years.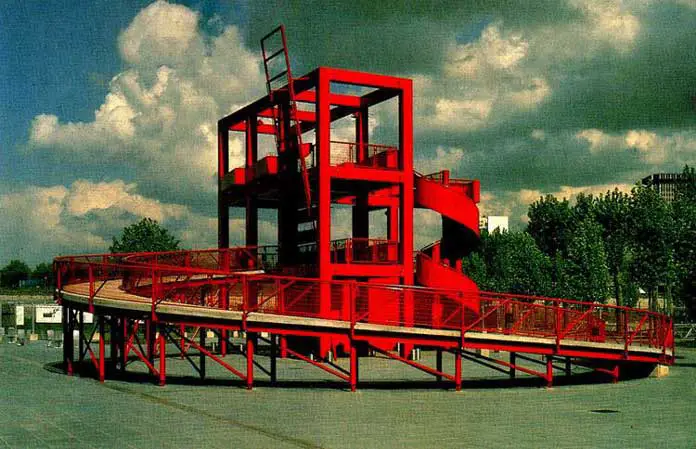 Design Philosophy of His Architecture
Since the early years of his career, Tschumi has asserted that there isn't any stable relationship between architectural form and events happened inside it. On the contrary, architects should leave the form free for the unexpected events so these events will re-interpret the meaning of the design every single time.
Moreover, he has thought that there is no need to establish a relationship between the form and the creatures living in it as well for designing a successful architectural piece. Because, both the human body and architectural forms represent two different special orders consisting of strict rules and a relationship between them means a violence one. In his philosophy, an architectural design is feeded on conditions and architecture is a form of knowledge.
He has used not only the academical career but also films and literature to spread his architectural design understanding. According to him, architecture must attempt to discuss public polemics and question the crucial issues of the current age to be a part of the solution.
While he is quite successful in the architecture field, most critics blame him as he prioritizes the intellectual side of architectural design more than the user requirements of a building.
Most Known Bernard Tschumi Buildings
| Project Name | Location | Construction Period |
| --- | --- | --- |
| Parc de la Villette | Paris, France | 1983-1998 |
| FIU School of Architecture | Miami, USA | 1999-2003 |
| Athletics Center, University of Cincinnati | Ohio, USA | 2001-2006 |
| Acropolis Museum | Athens, Greece | 2001-2009 |
| Alesia Museum and Archeological Park | Alise-Sainte-Reine, France | 2003-2012 |
| Blue Residential Tower | New York City, USA | 2004-2007 |
| Bridge | La Roche, France | 2008-2010 |
| Carnal Hall | Arkansas, USA | 2009-2014 |
| Paris Zoological Park | Paris, France | 2009-2014 |
| Vacheron Constantin 2 | Geneve, Switzerland | 2012-2014 |
| Grottammare Cultural Center | New York, USA | 2012-2015 |
| Binhai Science Museum | Tianjin, China | 2013-2019 |
| Biology-Pharmacy-Chemistry 'Metro' | Paris, France | 2015-2022 |