Famous Chinese American architect I. M. Pei, with the fully name Ieoh Ming Pei, borned in Guangzhou, city of China, in 1917. He moved to America for the purpose of education in 1935. Here firstly began to study at architectural engineering major of Pennsylvania University. Then, he moved in to MIT. After graduating in 1939, he wanted to go back his country, yet those years had fell upon the period when second World War has blew up. Thus, Pei could not return China and first years of I M Pei architecture has passed here.
Pei, who earned his master's degree in 1946, worked as a lecturer in the same unit, Harvard University's Department of Design, between 1945-48. He began his professional practice as an architect at Webb & Knapp in New York in 1948. He produced city planning projects in this office. In 1954, he became an American citizen and a year later he founded his own company, I. M. Pei & Associates.
Facts About I M Pei Architecture
In 1960, he was selected to do the architectural design of Kennedy International Airport in New York as a result of a competition. In 64, he designed the John F. Kennedy Memorial Library, which belongs to Harvard University, thanks to another competition. Besides public buildings, I. M. Pei was also very active in urban planning projects.
Pei's architectural office changed its name to I.M. Pei & Partners in 1966 and got award of the most successful Architectural Offices by the American Institute of Architects in 1968. In 1989, the company changed its name again and became Pei Cobb Freed and Partners. In 1990, he retired from professional practices and started to serve as a consultant in architectural projects.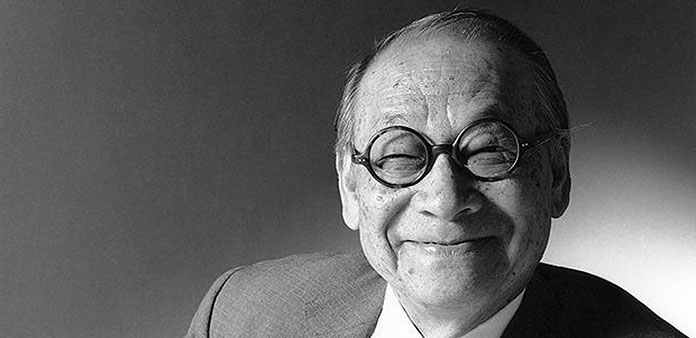 Making great contributions to world architecture, architect Pei won the Pritzker Prize in 1983. He was awarded to the Imperial Prize from the Japanese Art Society in 1989, the Presidential Medal of Freedom in 1993, and the British Crown Medal by the RIBA in 2010. Apart from these, I. M. Pei, who achieved many successes and was deemed worthy of awards throughout his professional life, passed away on May 16, 2019 in New York at the age of 102.
List of I. M. Pei Buildings
There are contrasts between masses, forms and materials in I. M. Pei structures. Known for using geometric forms radically in his buildings, Pei masterfully used them together and adorned his modern architectural structures with these geometric forms.
1. Grand Louvre Pyramid

The architecture of the Louvre Pyramid, which was built in the courtyard of the historical Louvre Museum in 1989, has caused severe discussions. This square-based modern pyramid building attracts all attention away from historic buildings around. With hundreds of glass pieces placed inside the delicate steel frames, the pyramid is one of the most modern structures of our time with its pure aesthetic design. Pei, architect of the Louvre Pyramid, provided to the underground galleries under the courtyard the opportunity for receiving light thanks to this transparent design. Each side of the square base of the main pyramid, which is 20.6 meters high, is 35 meters wide.
No matter how much it is discussed, the Louvre Museum architecture will take its place among the most famous pieces of I M Pei architecture works.
2. Museum of Islamic Art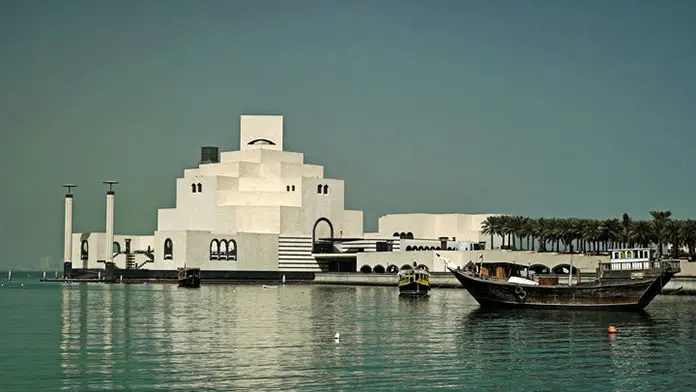 This museum in Doha, Qatar was opened to visitors in 2008. Although he retired from his practical architectural life, famous asian architect Ming Pei accepted to design this building as a result of intensive insistence. Due to his distance from Islamic structures and culture, he traveled to some Islamic countries in the Middle East for 6 months and accumulated important informations about this civilization from which he was distant. It was used a kind of limestone brought from France on both the interior and exterior facades of the I. M. Pei's Museum of Islamic Art.
3. Luce Memorial Chapel
Placed within the boundaries of Tunghai University, this Christian chapel is located in Taiwan. Luce Memorial Chapel, one of the early period buildings by I. M. Pei, was built between 1962 and 1963. The building, which has a hexagonal plan, is an important work of Taiwan architecture with its magnificent form. Reinforced concrete and steel carrier materials supporting the wooden structure were used in the building shaped by wood and glass.
4. Dallas City Hall
One of the development plans that newly elected President Kennedy wanted for Dallas in the 1960s was the renovation of the town hall. According to him, a town hall should reflect the culture and identity of the people living there. Pei's design has a desire to build a dialogue with the new high-rise office buildings in the city center to the north.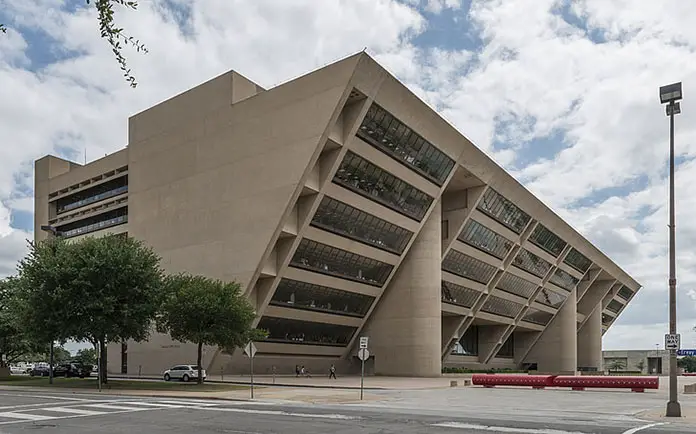 The architect established this dialogue with cantilevers. By further extending the consoles on the facade towards the top storey, he made the building appear quite inclined. The front facade, inclined at 34 degrees, protects the building from the harsh climatic conditions of the state of Texas.
5. Suzhou Museum
Pei designed this modern museum in 2006 by integrating his own architectural language with the local architecture in China. Today's architects, who try to blend historical knowledge and culture in a modern way, should definitely examine Suzhou Museum and other I. M. Pei works, thus they can take lessons in this respect. Shapes such as triangle, rectangle and pyramid, which reflect the design character of the Ieoh Ming Pei architecture in this work, have formed the identifier lines of the building mass.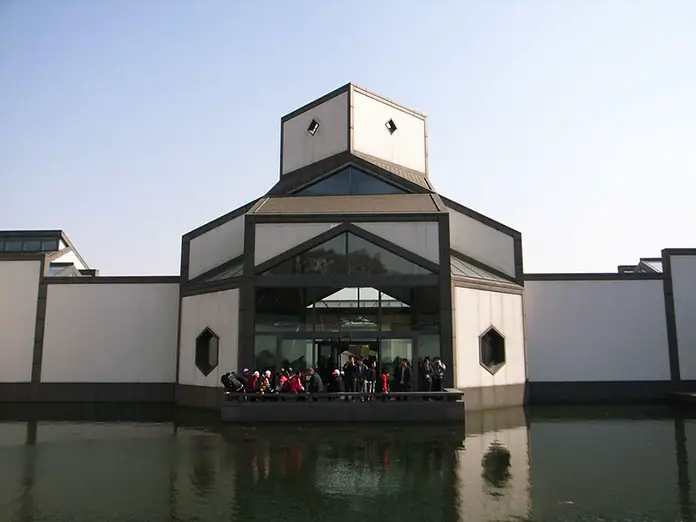 The building surrounds a lake in its backyard. Pei, Suzhou Museum architect, said that he considered garden and building design as a single design field. According to the chinese born architect, garden design and architectural design are two different majors in western architecture. In the Chinese tradition, they are part of a single design problem. Environmental design that Pei integrated with the musem building includes bridges, gardens and water elements.
6. Bank of China Tower
Lastly, there is Bank of China Tower in our list of I. M. Pei projects. Resembling a modern monument, this 367.5 meters high and 72 storey skyscraper is located in Hong Kong. Carrier steels seen on the exterior support the square form of the building. These carrier elements joined with each other to form triangular forms. The mass tapers upward in the form of triangular prisms. This decrease continues until only one triangular prism remains in the top block. With this uniqe form, design of Pei took a place among the Hong Kong iconic buildings.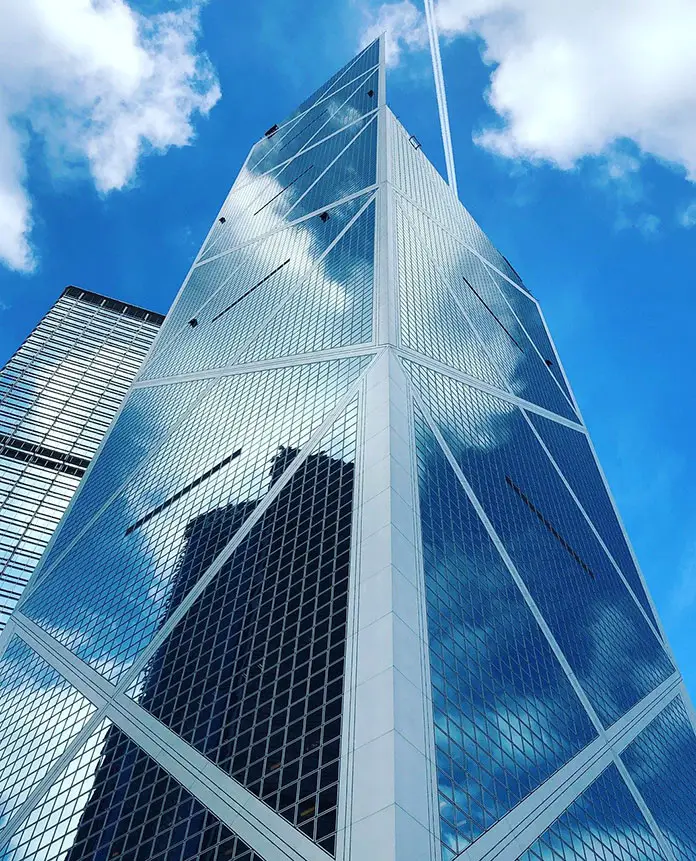 Consequently, in this article we wrote about I M Pei architecture style and legendary buildings designed by him. You can share your list containing what are best designs by the famous Asian American architect with us below.