Sancaklar Mosque is a modern prayer building that spatialize towards underground with unpretentiousness in its rural area and have a design related to terrain. Designed by Emre Arolat Architecture, Buyukcekmece Sancaklar Mosque, is located on the border of a crowded and complex plane of Istanbul. The structure is so close to site areas with low-rise villas. But at the same time, It's in the closest point to the urban of a wide rural area. In this urban interface, Arolat has review the concept of mosque architecture, which has been standardized wherefrom Ottoman, in accordance with today's building techniques.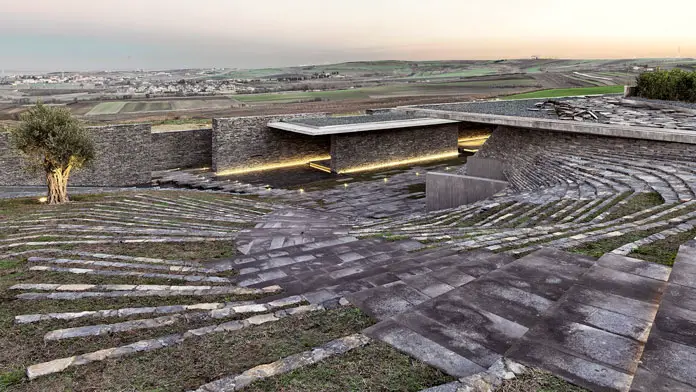 According to islamic belief, the earth surface has been made the prayer space, named masjid. The architect by looking at this basic knowledge designed the building based on the essential requirements of praying. Since there is no any stylistic rules to design prayer rooms, the aim is getting to the bottom of the pure and spirital basis of praying. By this way, Buyukcekmece Underground Mosque, with its design that is far from the norms of usual forms, obtained a free form.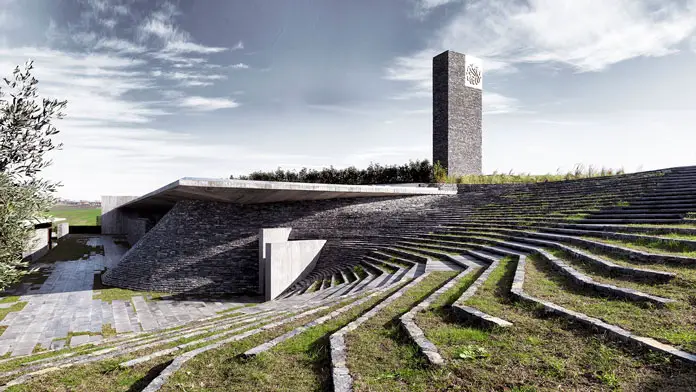 Sancaklar Mosque is located in a wide terrain surrounded by short walls. When you get past the walls, a rectangle minaret, which prominent much comparing with the main mass, stands out. This minaret is the clearest form of the building that can be read both from beyond the walls and from inside. In addition, the only element that evokes the idea that this structure may be a mosque when viewed from outside is also this minaret.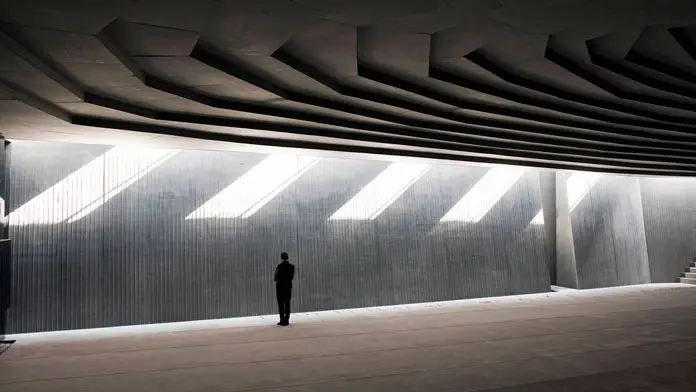 The exterior facade of the structure is covered with natural stones. Interior space is quite plain just like the exterior, too. Guests who want to enter inside should go down from the elevation they range. Inside, there is no any remarkable signatures or texts excepts of "Vav" facade. Such that, to emphasize the orientation towards the qibla wall, just natural light is used with the help of slits opened on the ceiling. This light is intended to increase the spiritual satisfaction of worship. In addition, the constant change in the intensity, height and orientation of the light on the qibla wall reminds us of the flow of time.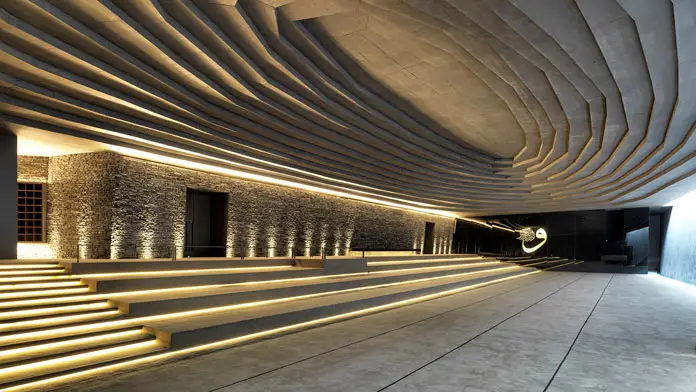 Opened in 2013, Sancaklar Underground Mosque, has a construction area of 1300 square-meter and the the praying room with the capacity of 650 person. As additional information, roof integrating with the the topography on the upper elevation was designed as a green roof. Thanks to this, it is contributing to the sustainability by providing a natural thermal insulation layer.
Sancaklar Mosque, which has been widely talked about both in Turkey and worldwide and be exposed to good or bad critics, has been granted many international architectural awards.