Architect: Tadao Ando
Location: Hyogo, Japan
Construction year: 1990-1991
Structure material: Reinforced Concrete
Architectural style: Minimalist architecture
Water Temple, designed by famous Japanese architect Tadao Ando in 1989, is an exceptional example of minimalistic and contemplative architecture. Located in Japan, the temple, also known as Honpukuji Temple, is an important place for the local community as it reflects their cultural and spiritual values.
The architectural value of this monumental concrete structure is also important for contemporary architecture history. In this article, we'll talk about the architectural design, function, landscape and impacts of Tadao Ando's Water Temple.
Architecture of the Water Temple
Having a pure and minimalist design, the Water Temple's architectural mass consists of simple geometric shapes such as circles, arcs, lines and rectangles. Tadao Ando used reinforced concrete as the main structural material and left both inner and external surfaces bare. This use of concrete in his minimalist buildings has become the signature of the Japanese architect in the passage of time.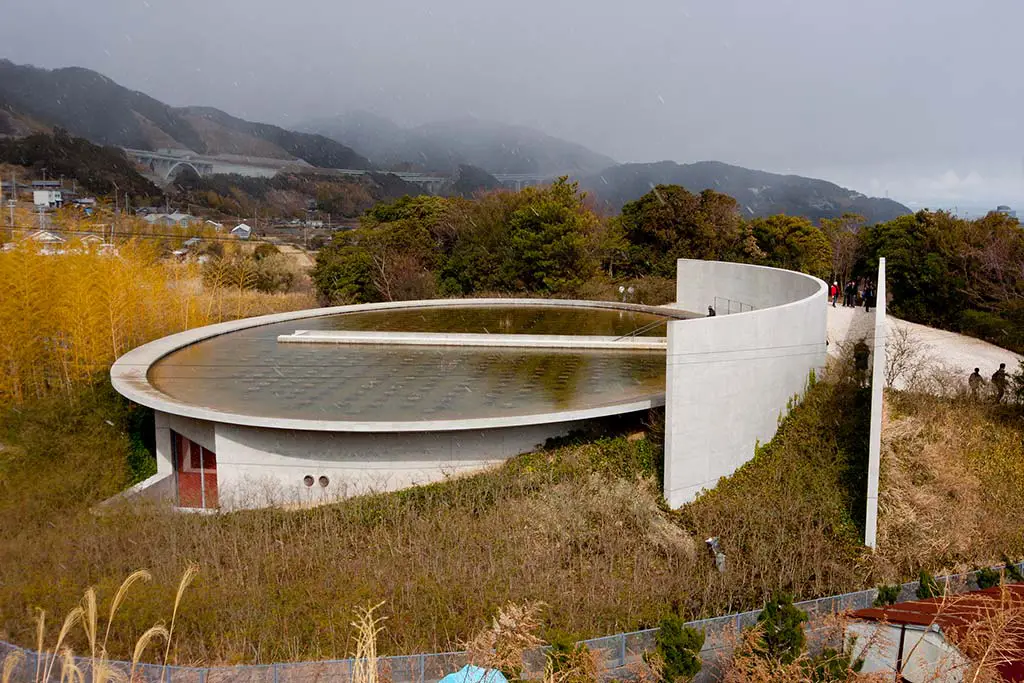 Just like in this building, Tadao Ando loves to see concrete in the form of smooth surfaces, curved walls, and geometric forms. However, this building doesn't seem too much solid and rigid. Because the architect has accomplished softening the rough appearance of concrete and created a perfect harmony between the temple and its surroundings by blending natural materials like wood, stone, and water with concrete.
Ambiance
There are two key elements that play a significant role in the design of Tadao Ando, light and shadow. He has founded a remarkable balance in the architecture of the Water Temple, using these two carefully, in the intersections of inner and outer spaces as well as properly placed openings.
Read Also: Balance in Architecture: Achieving Harmony
Natural light passes through these openings and tries to find its way inside the temple, just like a wise Buddhist monk. Water is also another main element that contributes to this coherence. It brings light and shadows together into one unlimited surface to add some dynamism.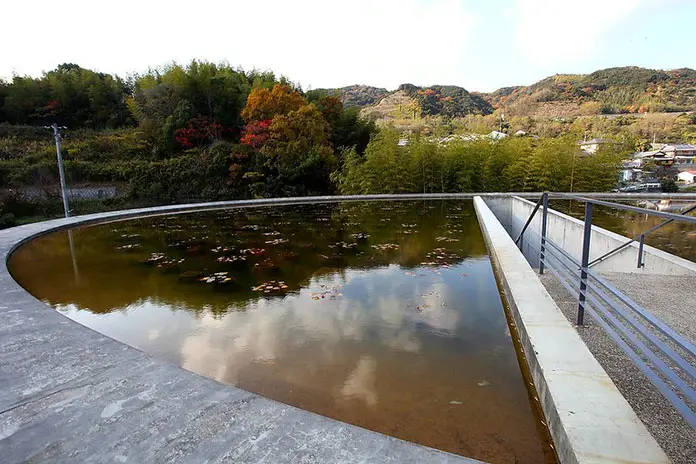 The Lotus Pool is an artificial pond that exhibits dozens of lotus flowers, which is an important symbol for Buddhism and gives its name to the pool.
The concrete staircase on the roof divides the water of Lotus Pool into two parts. Inside, there is a central courtyard with an open space plan setup. Surrounded by other rooms and spaces, the way to this central courtyard passes through narrow and winding corridors. This path to the main space creates a spiritual ambiance.
Another point that enhances the sense of this ambiance is the contrast between the pale surfaces of the concrete and the red-colored grid dividers inside. Besides, a small number of light sources placed indoors generate dark and red shades.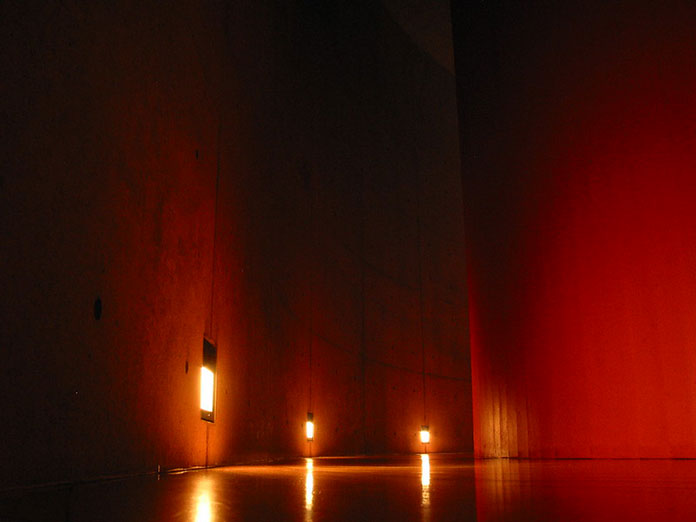 Shortly, Water Temple is an awe-inspiring structure that features opposite characteristics in one body, mundane but ethereal, staid yet dynamic, and rough but sincere.
Function
Honpukuji primarily functions as a Buddhist temple for the Shingon Buddhist Sect, but it also hosts some ceremonies and events occasionally. It can also be said that Water Temple is also a local attraction center for tourists thanks to its magnificent architectural concept and the viewpoints it provides.
The interior spaces, connected to each other with fluid routes, have various functions. For instance, the central courtyard serves as an event area, as well as holds ceremonies and religious rituals. Other rooms surrounding this main hall are used for worship and meditation purposes.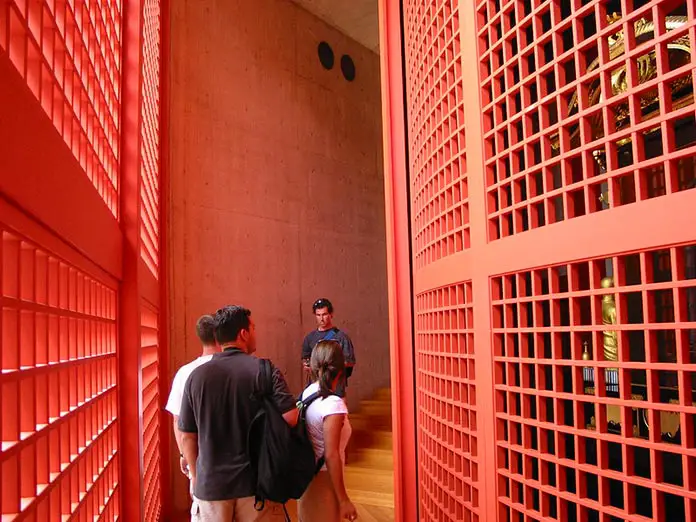 If you have a chance to travel to Hyogo Prefecture in Japan, do not forget to visit Water Temple by Tadao Ando and experience its peaceful atmosphere.
Landscape
The Water Temple can not be imagined without its surrounding landscape because the architect Tadao Ando thought of that natural context as an inseparable part of the design. Gardeners carefully maintain these nearby gardens and plants. Thus, a unique architectural masterpiece integrated with nature has been shaped in this green environment with small touches.
Read Also: Context in Architecture | Contextual Architecture Examples
Water is also a crucial part of the landscape and it plays a significant role in the design. Located near a lake on Awaji Island, the temple is surrounded by numerous water resources such as pools and fountains in the gardens. It contributes to the contemplative atmosphere of the temple with its meditative sound and cool climate.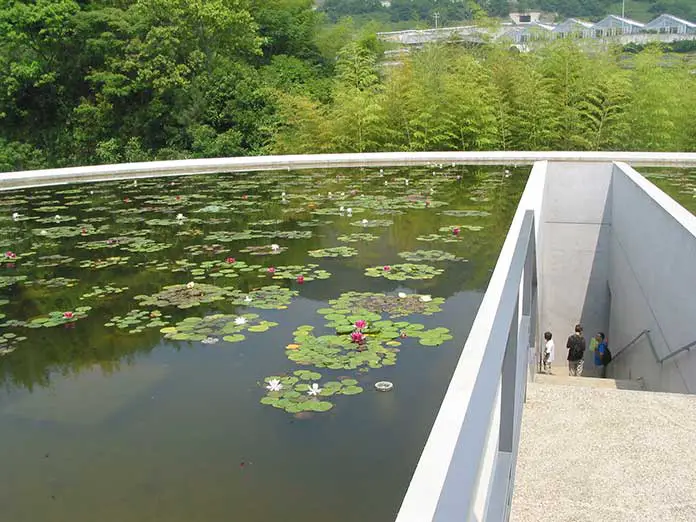 Moreover, the use of natural materials, pure forms of building elements, and the temple's humble stance are among the other factors that create a harmonical relationship between the Water Temple and its environment.
Impacts of the Water Temple by Tadao Ando
Since its inauguration, Water Temple has become a beloved place in Japan by receiving widespread acclaim. In addition, this crowd-pleaser structure gained many awards. One of the most prestigious awards that the Water Temple design brought to Tadao Ando is Pritzker Prize he received in 1995. While this is a lifetime achievement accolade, the Temple of Water has a critical importance in Ando's career.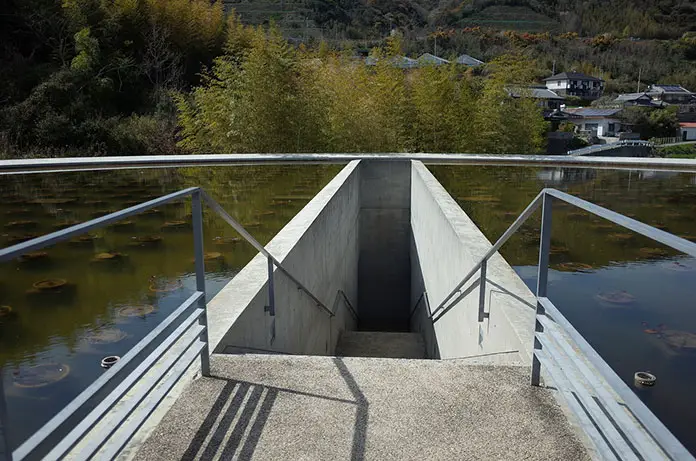 Moreover, the Water Temple had a significant impact on Tadao Ando's later work and the whole architectural field. Its clean and minimalist design and communication with the natural context have become hallmarks of Tadao Ando's style, as well as have inspired many architects all over the world.
Conclusion
Consequently, the Water Temple, designed by Tadao Ando in 1989, is a unique architectural example that combines natural materials with concrete and interplays between light and shadow. Providing a serene and peaceful atmosphere, the building, also known as Shingonshu Honpukuji colloquially, has a cultural and spiritual significance for the local people.
It continues to be a source of inspiration for architects for years, with its contemplative and meaningful concept alongside its incorporation of nature.
Please do not forget to share your thoughts about the building with us. Additionally, if you would love to explore more projects like this, you can sincerely support us by sharing articles with friends and on social media.