Building a house can be a daunting task, whether you're a professional builder or a DIY enthusiast. The house-building process requires knowledge, skill and patience. One of the best ways to acquire those is to read books on building a house.
In this article, we will discover the best house-building books, how to choose the right book (Buyer's guide), and why reading such books is important for your house-building journey.
These books are not only for beginners but also for experienced builders, as they offer valuable information that can help you build your dream house. From inspirational stories to practical and technical tips, books about house construction have it all.
In short, this post will be your ultimate guide to the best books on building houses. Let's start with the list.
List of 10 Books on Building a House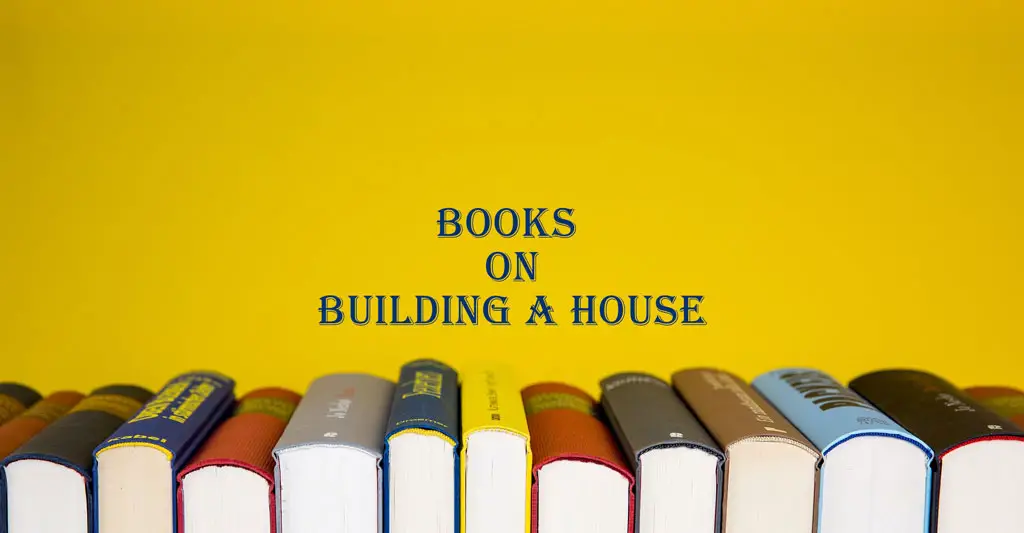 "The Complete Visual Guide to Building a House" is the ultimate resource for building a home. Written by builder-author John Carroll and illustrated by Chuck Lockhart, this exhaustive book includes everything about residential construction, from foundations to finishing.
The book provides step-by-step instructions, with over 1200 detailed illustrations. So there is no guesswork in house construction anymore. It has every information you need, including building the structure, finishing the house, etc.
It is a perfect source for builders, carpenters and homeowners. Because it helps you avoid costly missteps, and provides tricky techniques to make your building journey easy and successful.
As the authors John Carroll and Chuck Lockhart have over 65 years of building experience, the book's information is reliable. So acquire this comprehensive book today, and take the first step through building your dream home.
Reviews from readers:
"This book not only spells out each of the major steps in building a house but includes quite good illustrations." – Steve Thomas
If you're tired of commissioning a general contractor to manage your construction project, "Be Your Own House Contractor" by Carl Heldmann is an outstanding guide for you to build or renovate your own house. It both helps save you money and gives you the inspiration to fully customize your dream home.
Heldmann provides steps to acquire your own land, set a budget and schedule, as well as hire an architect and subcontractors. While doing these, the author uses really simple and daily language, not including technical jargon.
The book is a must-read for everyone about to build a home, and especially for those who want to act as their own general contractor.
In its newest edition, this book includes a glossary of building and business terms as well as sample construction contracts. It provides a vast variety of information, including selecting land, securing financing, developing house plans and estimating building costs.
Don't let the high cost of a new home discourage you from building your own. Reading "Be Your Own House Contractor", you'll have the courage to have your own house, for less. All you need is to interiorize recommendations on the book and team up with good builders.
So, order this book now and start building your dream home today!
Reviews from readers:
"Good guide for an amateur. That's me and in spite of lots of experience with home maintenance and building stuff. I really needed something like this to guide me in my plans to build my next home. I especially like how the format of the book makes it easy to refer back to specific areas of interest." – Ed Weldon
As its name suggests, "The Complete Guide to Building Your Own Home and Saving Thousands on Your New House" is a great book providing readers with all the information they need to know to make their dream of constructing their own home a reality.
From basic planning to construction techniques, the book covers everything. It also teaches you how to choose a proper site, create a construction timeline, apply for construction loans and financing, as well as comply with building codes.
You'll learn about building materials, foundations, floors, walls, windows, decks, plumbing, railings, ceilings, chimneys, and more. Additionally, it provides information about common construction problems.
Another great point is the book tells detailed money-saving options and environmentally friendly techniques. At the same time, you'll acquire abilities to monitor the quality of the materials and the workmanship, as well as make sure the results exactly meet your expectations thanks to the techniques it provides.
While you can order this book in printed format, it's also possible to purchase an e-book version of it.
Reviews from readers:
"I am still reading this book in preparation for building our retirement house in a few years, it has been very informative and has several websites to visit which have provided even more good information." – Michael Bilbrey
Focusing on residential construction framing, "The Very Efficient Carpenter: Basic Framing for Residential Construction" was written by experienced carpenter Larry Haun in 1998. The author provides readers with step-by-step guides to residential construction.
You'll learn everything, including cutting and installing posts and girders, raising walls, framing gable roofs, building various types of stairs, and more.
Besides detailed instructions on specific techniques, Haun also mentions tools, plans, codes, permits, lumber, materials and additional information that you may encounter throughout the book, in the opening chapter.
Before going to a course in basic framing, you should check this book out. Because it is no less than a complete course in this field.
We recommend carpentry and DIY enthusiasts have this easy-to-read book.
Reviews from readers:
"Excellent book whether you're a beginner or an expert." – Luke Wampler
Written by Kent Lester, "The Complete Guide to Contracting Your Home" is a must-read for anyone seeking to save money on home construction by managing the project themselves.
As a comprehensive guide to understanding the legal and financial details of building a home, the book helps readers overcome the complexities of dealing with builders and architects.
With its straightforward and easy-to-understand language, the book guides readers through every phase of home construction, from foundations to framing, roofing, plumbing, flooring and painting.
There are also additional topics in the book, including building codes, inspections and communication tips with builders.
If you want to be the contractor of your own house construction, "The Complete Guide to Contracting Your Home" will be an amazing resource to help you save money and successfully manage the project.
Reviews from readers:
"This book will give you the confidence to build and manage your own build while saving lots of money." – Matt K.
"Housebuilding: A Do-It-Yourself Guide" is one of the most extensive books in this compilation. This updated edition features over 800 new full-color illustrations and over 50 color photographs. These images make it further easier to follow guides and instructions.
Alongside its updated design, this edition provides new information on environmentally friendly building alternatives, more safety guidelines, modern cordless tools, advanced techniques, materials, standards and energy-efficient options like insulated panels and floor heating.
The book also provides information about major manufacturers, resources and websites. So, you can get additional information from these sources.
According to the Publishers Weekly and Washington Post, "Housebuilding: A Do-It-Yourself Guide" is an essential book for anyone who wants to build a home. It provides everything DIY enthusiasts need to know to complete their own house in the easiest way.
Reviews from readers:
"Very well written and organized with excellent diagrams. I will be using this book as a reference for renovations, additions, and repair work." – John Hibberd
Do you have a dream of building your own tiny house on wheels that seems like an RV house, but don't know how to complete the whole process? If so, you should read this excellent guide "How to Build a Tiny House on Wheels Step by Step".
This extensive guide includes detailed, step-by-step instructions for constructing a portable tiny house. Reading this book, you can overcome building issues by yourself even if you don't have construction experience.
The contents of the book consist of preparation, structure and walls, power, plumbing, air control and interior. There are also additional topics like choosing the best options for your needs, understanding construction fundamentals, identifying what tasks you can do and what tasks you should delegate to professionals.
Moreover, it offers a comprehensive tool material list as well as tips for avoiding common construction mistakes. The author Jordan Liberata has created a great and easy-to-follow guide with a combination of expert advice, research and stories from tiny house builders.
Have a copy of "How to Build a Tiny House on Wheels Step by Step" today, and take the first step towards an adventurous and environmentally-friendly life on the road.
Reviews from readers:
"Great book with lots of helpful and insightful information!" – Susan Schmidt
Another amazing book about building a tiny house is "Tiny House Designing, Building, & Living". We recommend this extensive guide to anyone who wants to simplify their life and experience the tiny house lifestyle.
The expert authors Gabriella and Andrew Morrison wrote the book in the most informative way, and they also included practical advice to it.
It features plenty of helpful images and a full-color insert with various types of tiny houses. Plus, there are three-floor plan examples, complete with detailed illustrations, to help you get started. These visuals make it quite easy to plan your dream house.
That's not all. The book also covers design and advanced building techniques for your dream tiny house, foundation types, financing, insurance, legal standards, and much more things.
Additionally, you'll learn must-have utilities, information about off-grid living and home placement as well as inspiration for functional decor and storage.
Consequently, the "Tiny House Designing, Building, & Living" is a great starting point for anyone looking to design, build, and live in a tiny house.
Reviews from readers:
"This book has everything you need to know to build a tiny house." – Juanita
"The Visual Handbook of Building and Remodeling" is another must-have resource to keep your project on track. Written by Charlie Wing, it's a reference guide for homeowners, builders and remodelers.
Be sure to buy the newest edition because it includes chapters on solar power and best-practice insulation besides 48 pages of new material. It also includes the latest code information and updated sections on framing, air sealing, heating and cooling.
In total, it has 25 chapters, 688 pages, 1700 full-color illustrations and 300 quick-reference charts, making it a comprehensive handbook for every aspect of home design and construction.
This book for beginners is also suitable for professional DIY lovers. It provides detailed guides and clear diagrams that explain every step of the construction and remodeling process. Thanks to its full-color drawings, it will help you to understand the technical details of construction.
Lastly, it is written with clear and straightforward language to make it easier to understand even for beginners. Therefore, whatever level you are, you can buy this book mind at peace.
Reviews from readers:
"Anyone looking for an easy-to-read and understand book on building and remodeling, this is it. The pictures are top-notch and there is a lot of thorough information. Excellently organized and beautifully designed page layouts." – Dominika K. Pinkowski
The last book on our list is "Essential Sustainable Home Design" by Chris Magwood. It's a perfect guide for builders who want to build an eco-friendly and beautiful home. The book systematically teaches you the entire building process, including planning, designing and constructing.
It provides a criteria matrix to help you make rational decisions about design, materials and systems. This ensures you think of sustainability in every scale of the structure.
The book offers detailed information about building logistics, material sourcing and protocols. It also includes one-page summaries and ratings of well-known sustainable building materials and system options.
As a renowned sustainable builder, the author Chris Magwood's expertise further enriches this must-read book. He has simplified complex subjects and provided clear explanations so that everyone can easily understand the content.
It has received high praise from professionals in the field, including architects, contractors, builders and other experts.
Consequently "Essential Sustainable Home Design" is a must-read for readers interested in building a sustainable home. With its step-by-step guidance, practical advice and useful information, it encourages people to build their dream home while minimizing their environmental impact.
Reviews from readers:
"This is a fantastic rabbit hole into sustainable building. Whether you are self-building or a hiring a contractor – it will give you enough of an overview for you to go out and start asking the right questions for off-grid/sustainable/passive building design." – Mike
How to choose the right book?
Although there are so many books about house building on the market, it can be difficult for you to choose the right one that fits your needs. Below, there are some tips on how to choose the best book for your needs:
1. Consider your skill level
It's important to look for books that include detailed visuals and clear instructions alongside simple and straightforward language. These books should also provide basic explanations of building concepts and terminology.
Experienced builders can look for more extensive books with advanced techniques and strategies to enhance their information and experience.
2. Think about your goal
What goal do you want to reach by using the information from house construction books? Think about your dream house. Do you want to build a specific project like a tiny house or a cabin? Then, find a book that focuses on that specific topic.
On the other hand, someone seeking inspiration and ideas should consider books including more design and style with high-quality visuals.
3. Author's experience
When you buy a book, you should always check the author's credibility and experience in which field the book was written. Generally, authors who are experienced builders, architects, engineers and designers write better books thanks to their fund of knowledge.
We also recommend checking the reviews and ratings of the book and its author.
4. Book format
Home-building Books on Amazon have different formats at different prices. If you prefer to read books in digital format, you can purchase an e-book or a pdf version of the guide.
If you're a reader that likes print format books, make sure you check the size, layout and print quality, also the illustrations should be clear and descriptive.
5. Scope of the book
Some comprehensive books on building houses provide additional resources like checklists, templates and online tutorials. These additional sources can really be helpful throughout your building process.
Considering these tips, you'll be sure to find the book that perfectly fits your needs, skill level and project goals.
Why read books for building a house?
Reading books for building a house is an important way of starting to construct your own residence. Both professionals and amateur builders can benefit from these books, as they provide valuable knowledge, inspiration and guidance that can help you build your dream house.
Some key benefits of reading these books on the list include:
New skills: These books often provide detailed instructions and illustrations that can help you learn new advanced building techniques and improve your building skills.
Inspiration: Reading books can present you with ideas and inspiration for your own project. Furthermore, they also help you to think outside the box and create a unique and beautiful home.
Avoiding mistakes: They can also help you avoid common mistakes that people make when building a house. Don't forget that making fewer mistakes results in saving you time and money in the long run.
Up-to-date sources: Books and other informational sources keep you up to date on new building codes and regulations.
In addition to these benefits of reading books on building a house, you will also understand the building process better. Because it gives you the confidence and knowledge, which you need to tackle your project with success.
Conclusion
House construction is a complex process, especially for beginners. However, even professional builders need to enhance their knowledge and learn new techniques and materials. For this reason, we've made some research and created a list of the must-read books on building a house.
Besides the list, we have also provided some tips on how to choose the right book. Moreover, we've talked about the benefits of reading these books.
In conclusion, house-building books are essential for anyone that is dreaming to build their own home. The right book can provide you with crucial information, inspiration and guidance to start your own house construction.
Hope this guide helps you explore the best books about the house building. Don't hesitate to share this article with other DIY lovers.
Frequently Asked Questions
Q: How long does it take to build a house?
A: It depends on many criteria like your budget and the capacity of team members. It can take from 6 to 10 months with small teams. But if you speed up all the processes and have a bigger professional team, you can build your home in 3 or 4 months.

Surely, there are other crucial criteria like climate, material accessibility, project scale and type, etc. So, you better make your schedule by considering more factors.