Frank Lloyd Wright is undoubtedly one of the most important architects of modern architecture history and the 20th century. The spread of modernity accelerated in the 20th century, with increasing urbanization, the development of technology and industry. The geography Wright was born in, the environment he grew up in, and the people he worked with have influenced upon that he became a modernist architect. However, Wright stood out from other modernists. His growing up with nature and his love for nature have been very effective in Wright's understanding of architecture. While he was designing his buildings, he was not solving only the material and rational needs of people. On the contrary, he thought that a person's spiritual needs as well as material requirements were a problem of architectural design.
As a result, this mindset has produced one of the most influential and successful architects in history. In this article, we will talk about the Frank Lloyd Wright's architecture, buildings and life.
Life of Frank Lloyd Wright
Wright was born on June 8, 1967 in Wisconsin, USA. His mother was so oppressive and authoritative that Frank decided to become an architect before he was born (Bridge 2015). Since his family moved several times when he was young, he lived in different environments for a long time. Because of their immigration to Wisconsin in 1878, Wright continued his high school education at Madison High School there. He dropped out of high school due to his family's financial difficulties. Then, he started working part-time at the University of Wisconsin Engineering School. With this job, he had the opportunity to take technical drawing and engineering courses as a special student.
He went to Chicago in 1887 and worked as a technical architect there. He gained experience in residential architecture while working with Joseph Lyman Silsbee (Korkmaz 2008). In 1888, he had the opportunity to work with important architects such as Sullivan and Dankmar Adler. He worked alongside Sullivan until 1893. By the way, we have to say that Luis Sullivan is an extremely important architect for modern architecture. Sullivan is cited by the authorities as one of the most important architects in US history. Wright's experience with such a great architect has had a huge impact on his architectural development. In 1893, he had a controversial business separation with Sullivan and established his own office in Oak Park.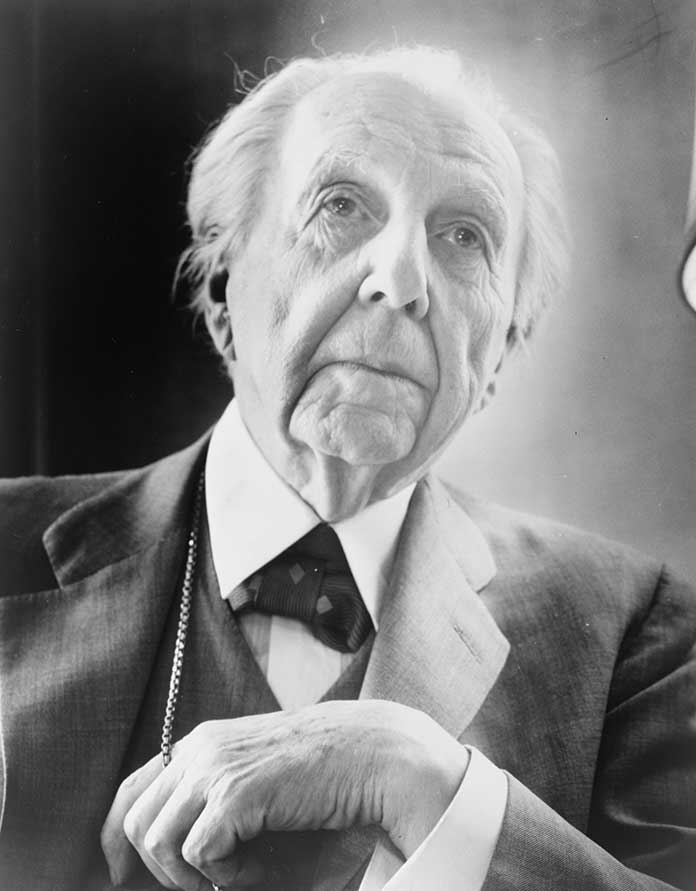 In 1932, he founded Taliesin architecture studio with his wife Olga Ivanovna. Here, he trained students to transfer his experiences in architecture. Wright, who provided scholarships to students, was staying at the Taliesin Foundation with his students. Taliesin Studio enabled students to learn by living the architectural practice. In this way, students had the opportunity to work with Wright on most of his important projects. So they learned by doing.
Frank Lloyd Wright, who had 3 marriages and 7 children throughout his life, died in Arizona in 1959. After his death, the students he raised at the Taliesin Foundation founded the Frank Lloyd Wright Foundation on his behalf.
Architectural Understanding of Frank Lloyd Wright
Unlike other modernist architects, Wright was concerned with the spiritual needs of man as well as being rational. When we look at the architectural character, there are elements that emphasize horizontality, away from symmetrical lines, in communication with natural elements. He loved nature and spending time in nature. Perhaps this feature has made him one of the leading architects in organic architecture. The buildings he designed with his organic architectural understanding were integrated with the natural environment.
Wright's natural architecture has also been decisive in the materials he uses in his buildings. Wood, stone or brick are among the most frequently used structure and coating materials in their buildings. In addition to these, Frank Lloyd Wright pushed the boundaries of reinforced concrete in its buildings and created different usage areas.
Wright mostly worked on single-family homes. He had an enormous reputation for home design. Sullivan and Adler must have a big share in this. Because the two wanted Frank Lloyd Wright to design small projects such as a family house. They were working on much bigger jobs like skyscraper design. Thanks to this, Wright had an incredible home design experience. The houses he designed would later go down in the history of architecture.
It has often been compared to Le Corbusier. Because both architects are great actors who designed the most valuable buildings of modern architecture. But Le Corbusier, a rational modernist, created structures where natural elements are considered as landscapes. In other words, it has put nature at its disposal for the benefit of man. Wright, on the other hand, designed structures that integrate with the environment and consider the flow between indoor and outdoor spaces (Sızak, 2007).
The Principle of Fragmentation of the Box in Architecture
Frank Lloyd Wright described his architectural understanding as the smashing of the box (Sezgin, 2005). The missing parts from the whole cause the box to be destroyed. The box mentioned here is the raw mass of the structure in the early stages of design. As the design progresses, this mass gains an architectural language thanks to the parts that are missing from the whole and added. The buildings he designed in line with this architectural style were dynamic structures, regardless of function and scale. These interior spaces intertwined with each other as the box (structure) crumbles and forms interior spaces. Thus, Wright was strengthening the flow between the interior and exterior through the free plan created by the shattering of the box.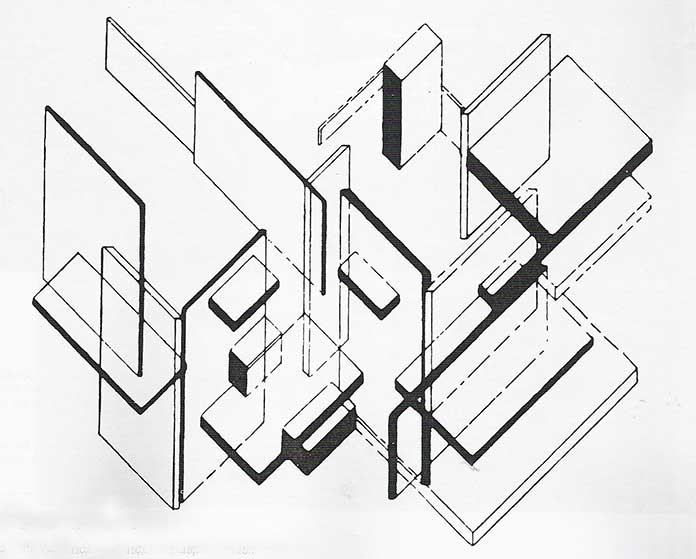 Works of Frank Lloyd Wright
Prairie Houses – 1901-1911
Frank Lloyd Wright presented the Prairie Houses project to the public in 1901. This project was loved thanks to Wright's knowledge and experience in home design. Wright designed a series of small family houses between 1901 and 1911 and named them Prairie Houses. These houses seemed to herald Wright's future architectural language. The houses, dynamically balanced by horizontal lines, had wide eaves and large terraces. The most successful example in Frank Lloyd Wright's Prairie Houses series is the Robie House, built in 1909.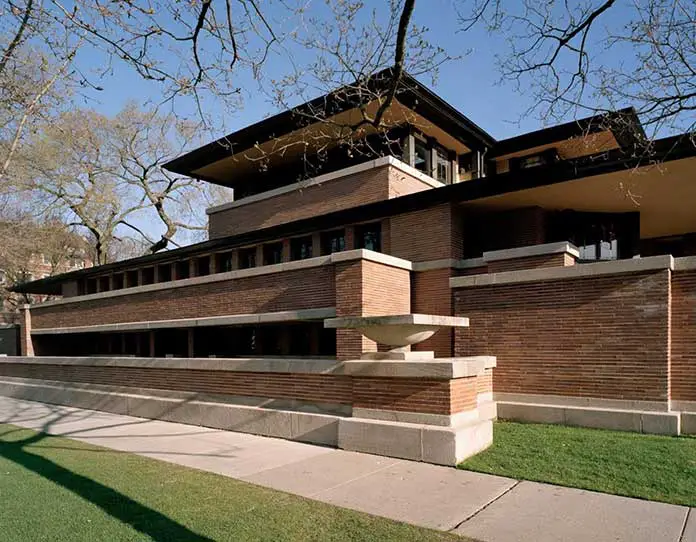 Tokio Imperial Hotel – 1923
Built for the Japanese Empire in 1915, this hotel is famous for its robustness. The emperor allegedly asked Frank Lloyd Wright to design a robust hotel against the devastating Japanese earthquakes. Because Japan is one of the countries that experience severe and frequent earthquakes.
On September 1, 1923, one of the most severe and devastating earthquakes in history occurred in Japan. While most buildings in Tokyo were destroyed, one of the rare structures that survived was the Tokyo Imperial Hotel. The most interesting part of the incident was that this hotel was opened on September 1, 1923.
Fallingwater House – 1936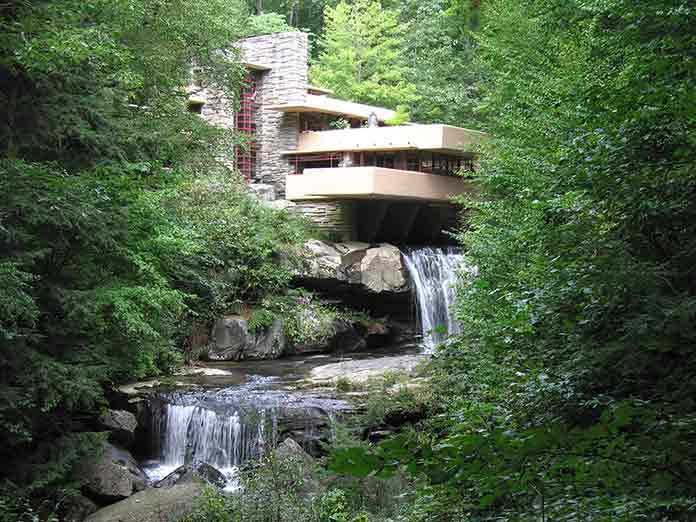 This house is perhaps the most special among the structures designed with organic architectural thinking. Wright designed the house on top of a waterfall in wooded land. In Fallingwater House, there are solid consoles made of reinforced concrete, which seemed very brave for that period. It seems to be integrated with the natural elements in the environment. You should definitely read our article about Fallingwater House, one of the most special and successful houses in the history of architecture.
New York Guggenheim Museum – 1959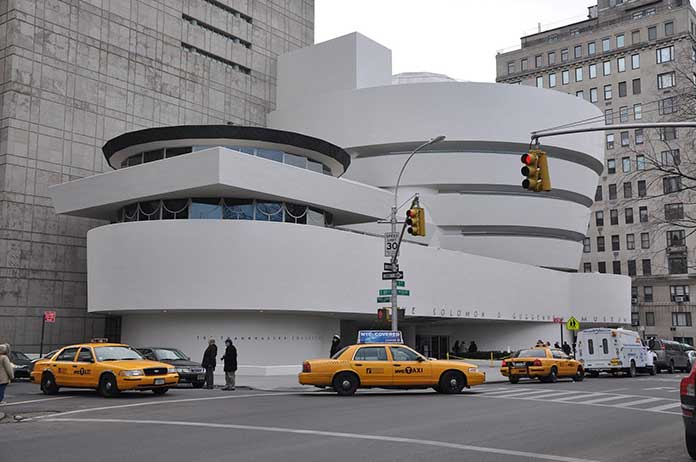 This museum designed for American businessman Solomon Guggenheim is one of its most important buildings. It is one of the iconic designs that attract attention with its spiral structure. The Guggenheim, which he designed with reinforced concrete, preserves its modern identity both for the time it was built and today. Although the construction of the museum started in 1955, it was unfortunately opened 6 months after Wright's death in 1959.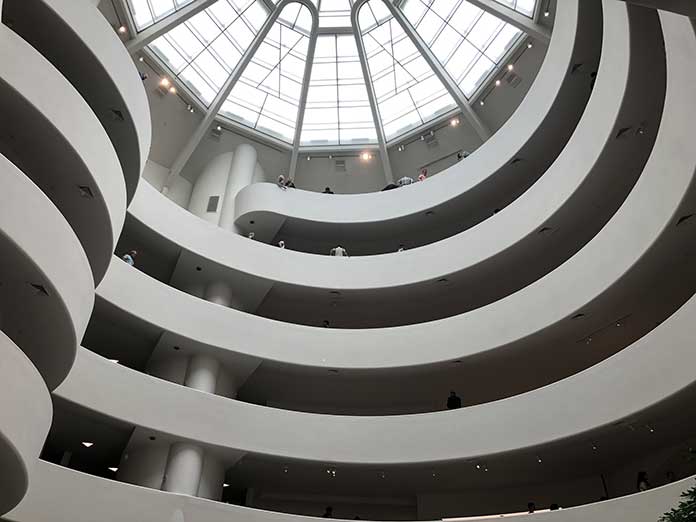 His Other Important Works
Winslow House – 1893
Larkin Administration Building – 1904
Oak Park Church – 1906
Coonler House – 1908
Robie House – 1909
Taliesin I – 1911
Taliesin West – 1937
Johnson Wax Apartment – 1939