If you're an architect, professional artist, engineer, or designer, having a high-quality drafting mechanical pencil is essential for your work. Not only do they provide more accuracy and precision compared to wooden pencils but they're also more durable. Furthermore, there is no need to sharpen the lead in mechanical pencils.
In this article, we'll review the best drafting mechanical pencils on the market for every budget. We will also discuss the factors that you should consider when choosing the best mechanical drafting pencil for your needs, such as lead size and strength, eraser quality, grip design, construction quality and durability.
From budget-friendly options to high-end choices, we will cover it all. Whether you are a student or a professional, this article will help you find the perfect mechanical pencil to suit your needs.
Without further ado, let's get into our list of the top 6 drafting mechanical pencils.
List of Best Drafting Mechanical Pencils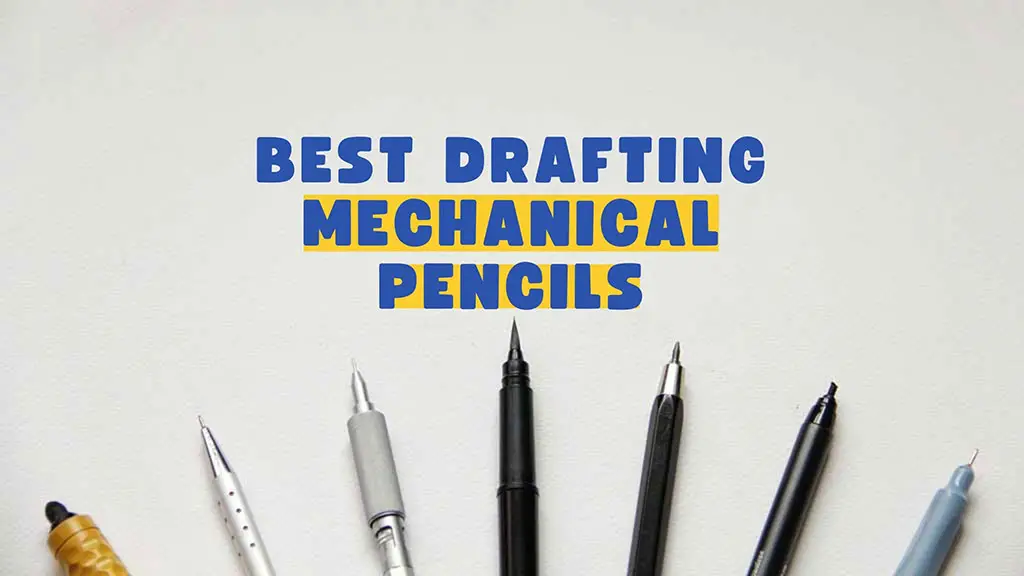 The rOtring 800 Retractable Mechanical Pencil is an excellent tool designed for a lifetime of use. This high-end drafting mechanical pencil offers precision, accuracy and durability for architects, designers, engineers, and other professionals who need a reliable writing instrument.
This one is an upgraded version of the rOtring 600, another cool drafting pencil. rOtring 800 has more advanced features, and it is suitable for technical drawings, sketches and writing.
One of the most striking things about the rOtring 800 is its unique "Twist and Click" mechanism. This allows retracting the entire lead and sleeve, ensuring durability and pocket safety. By doing this, you can protect the pencil from damage when not in use, and keep the lead from breaking.
Its hexagonal-shaped metal body offers a comfortable writing experience while it also prevents the tool from sliding on a table. The grip has a non-slip metal knurled feature, making it comfortable to hold and easy to control.
The rOtring 800 has a fixed lead guidance sleeve that prevents breakage. Moreover, it provides a clear page view for ruler-based technical drawing. There are two variants of this drafting pencil, one that accepts 0.5mm lead and another that accepts 0.7mm lead.
Lastly, the pencil comes with a two-year limited warranty, against defects in materials and workmanship. rOtring 800 is a perfect option for those who are serious about their drafting, drawing and writing.
rOtring 800 Retractable Mechanical Pencil at a glance:
Retractable lead sleeve
Perfect for sketches and technical drawings
Hexagonal ergonomic metal body
Non-slip metal knurled grip
Available in 0.5mm and 0.7mm in black or silver finishes
Another one of the top-notch mechanical pencils for drafting is Pentel GraphGear 1000 Mechanical Pencil. Architects, draftsmen, artists, and graphic designers mostly prefer it.
The first notable feature of the pencil is its metal grip, including many small soft peds. The grip provides comfortable drawing without hand fatigue. Its 4mm tip design makes it suitable for use with rulers and drawing templates.
The other handy feature of Pentel GraphGear 100 is its dual-action retractor, which protects the lead from breaking when not in use. This lead doesn't need to be sharpened and ensures a precise and dark line for drawings.
There are four options with different lead sizes, 0.3mm, 0.5mm, 0.7mm and 0.9mm. Thus, it's possible to choose the right product according to your drawings' precision level. Its click mechanism is also satisfying, ensuring easy deploying and retracting.
If you're a beginner-level designer, you'll like its solid metal body, springy clip, and soft dotted grip that makes it easy for you to hold and use for a long time.
Whether you are working on detailed architectural drawings or sketching your next design, the Pentel GraphGear 1000 Mechanical Pencil promises to help you achieve the precision and accuracy you need.
Pentel GraphGear 1000 Mechanical Pencil at a glance:
Dual-action retractable lead sleeve
Suitable for architects, draftsmen and designers
Budget-friendly option
Metal body and metal grip
Available in 0.3mm, 0.5mm, 0.7mm and 0.9mm
Another high-quality drafting pencil is Uni Kuru Toga Roulette Mechanical Pencil. It's a perfect tool for writing long-form articles and sketching.
It will be a good choice for those who want sharp lines. Because it has a rotation mechanism that automatically rotates the pencil's lead as you draw or write something.
Whenever you stop writing and lift the pencil, this core rotation mechanism twists the lead to make the tip pointed. And this ensures the tip always remains sharp.
You may think this auto-sharpening feature is unnecessary but what if we say it solves the common problem of using traditional wooden pencils? In traditional wooden and mechanical pencils, the lead changes form with every scribble. This causes imprecise and inconsistent drawing.
However, Uni Kuru Toga Roulette stays sharp and offers a comfortable drawing without facing such challenges.
The pencil also has a knurled grip giving slip-free holds. This grip also reduces fatigue during extended use.
The body includes different color options. Furthermore, it is lightweight and easy to use. The main materials of the pencil are stainless steel and plastic.
While its knurled stainless steel grip and rotation mechanism make it a top-notch mechanical pencil for drawing, the only downside is its small eraser. However, you can replace it with another eraser later.
There are two color options for the body, silver and gun metallic. So you can personalize your drawing pencil according to your taste.
uni Kuru Toga Roulette Mechanical Pencil at a glance:
Retractable lead sleeve
Core rotation mechanism for sharpening the tip
Stainless steel and plastic materials
Available in 0.3mm and 0.5mm
Silver and gun metallic color options
Staedtler Mars 780 Technical Mechanical Pencil is a must-have for professionals looking for a high-quality mechanical pencil for precision drawings. It uses 2mm lead and there is an integrated lead pointer in the push button to ensure the lead is always sharp.
The Mars 780 Technico has been a preferred pen among architects and professional artists for years. Its adjustable hardness degree indicator, push button and grip design are some of the outstanding reasons why this is a popular technical drawing mechanical pencil.
Thanks to the built-in sharpener, you don't need to sharpen your pencil constantly. This is a really big convenience for extended use. Moreover, it has a durable metal barrel and drop-clutch mechanism.
Made in Germany, this pencil is a product of the highly experienced company Staedtler, which is a 180 years old pencil manufacturer.
If you want to purchase a drawing mechanical pencil with a thicker lead, Staedtler 780 Technical Mechanical Pencil will be a great option for you. This pencil is perfect for especially shading and versatile linework.
Staedtler Mars 780 Technical Mechanical Pencil at a glance:
Retractable lead sleeve
Perfect for shading and versatile linework
Reliable brand
Metal barrel and knurled grip
Hardness degree indicator
2mm lead holder (#2 in USA)
This mechanical pencil has a 0.7mm medium point tip and a stainless steel barrel that resists corrosion. The knurled metal grip provides a stable and comfortable writing experience.
Its metal clip lets you attach it to your sketchbook, papers, bag or pocket, making it an easy-to-carry option.
Zebra Pen is a well-known brand in the writing utensils industry. Thus, M-701 is not an exception to their top-notch products. It offers a premium writing experience, as well as precision and stability.
According to some reviewers, the pen is a bit heavy at 1.12 ounces (32 gr), which can cause your hand to tire over time. However, some customers prefer this product for its comparatively high weight.
Overall, the Zebra Pen M-701 Mechanical Pencil is a stylish, durable and functional option that is suitable for architects, designers and technical drafters.
Zebra Pen M-701 Mechanical Pencil at a glance:
Retractable
Stainless steel metal barrel
Knurled metal grip
0.7mm point
Last but not least, Koh-I-Noor Mechanical Hardtmuth Lead Holder with 5.6mm is a lead holder more than a regular mechanical pencil. Holding 5.6mm x 80mm leads, the pencil has min 2mm line size.
While it comes with a loaded 5.6mm lead, you may need to purchase a 5.6mm Koh-I-Noor lead box including 6 leads.
This pencil is produced to draw thick lines, charcoal drawings, and make shadowing. But you can change its line size by sharpening it. The screwed knob has a built-in sharpener so you can sharpen thick tips.
You can also adjust the tension of the clip by spinning the screw on it. This mechanism gives the pencil a mechanical feel. It is durable and sturdy, thus you can use it for years.
Although there are many wide lead holders, Koh-I-Noor is one step ahead in this category. If you're a sketcher or want to add shadows to your technical drawings, this tool will match your needs exceedingly.
Koh-I-Noor Mechanical Hardtmuth Lead Holder at a glance:
Fixed lead sleeve
Useful for shading and thick lines
Ergonomic grip
Metal body material
Mechanical premium look
Holds 5.2mm lead
Adjustable clip tension
Includes an integrated sharpener
Factors to Consider When Choosing a Mechanical Pencil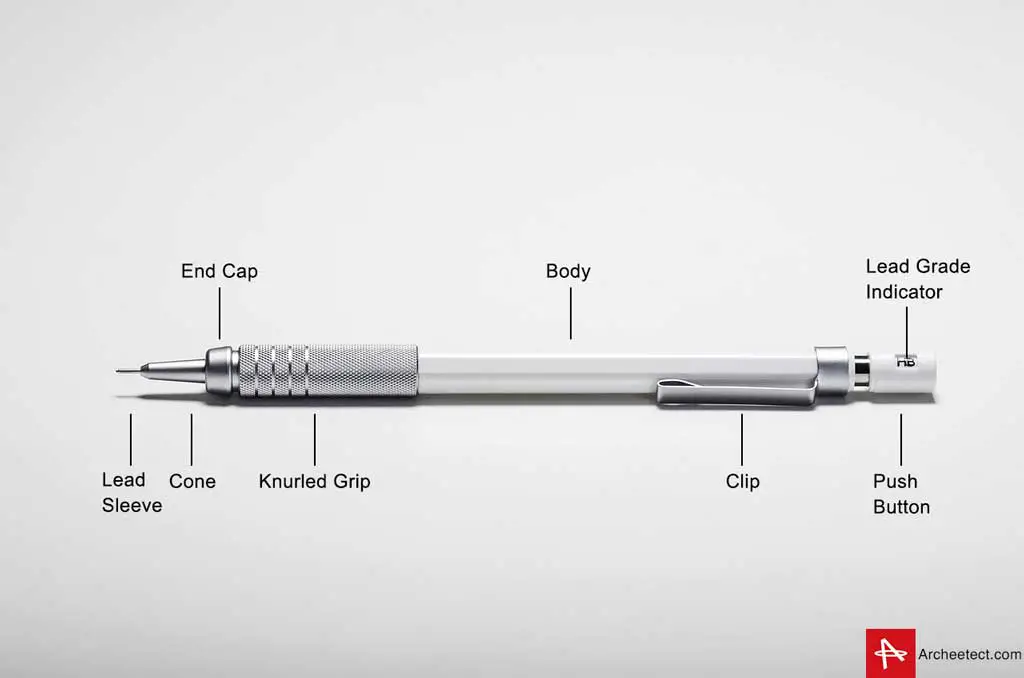 Choosing a mechanical pencil for drawing, you should consider a lot of factors to ensure that you have the right tool for your needs. Some of these factors are:
Lead size
Degree of hardness
Eraser quality
Grip design
Construction quality
Durability
All these primary considerations can impact the quality and precision of your drawings. Now, let's take a detailed look at each subject.
#1 Lead Size
The lead size is one of the most important factors you may want to consider when choosing a mechanical pencil. Because it directly affects line size. Architects and designers typically prefer a 0.5mm or 0.7mm lead size, as they provide a fine point that is ideal for precision drawings.
0.3mm and 0.9mm are also the other most used options for lead size. But these sizes are not for typical writing and basic drawing jobs.
The small lead sizes are used for the sharper lines that are perfect for the most precise drawings and the smallest details, while the bigger lead sizes are useful for shadowing and wide lines.
The degree of hardness is another subject that may affect your pencil choice. It determines the darkness of the lines produced by the pencil. The higher the degree, the darker the lines will be.
You should have a pencil with the proper degree of hardness depending on your jobs, such as shadowing, precise technical drawings or sketching.
#2 Eraser
The other important thing that you may check out when buying a mechanical pencil is its eraser quality and the size of this integrated eraser.
Having an easily accessible and adequately sized eraser to erase mistakes without smudging or damaging the paper will be a lot helpful. Many mechanical pencils come with a built-in and removable eraser that can be replaced when worn out.
Additionally, some pencils don't have an eraser at all, which may not be useful when you don't have an external eraser nearby.
Consequently, the eraser is a small but important factor even if it doesn't affect the drawing and line quality.
#3 Grip Design
Although whole parts of a pencil are important, the grip design has a more impact on comfort. A comfortable grip can reduce hand fatigue, especially in extended use, and make it easier for you to draw precisely.
A design that is easy to hold and control can also improve the overall accuracy of drawings. While a knurled grip provides a secure and comfortable writing experience, textured or non-slip grip designs also help prevent slipping.
As a result, you should look for a pencil that has a grip with a high-quality, non-slip, ergonomic and comfortable design.
#4 Construction Quality
Just like the grip design, the construction quality of a pencil is so important for a mechanical pen. Weight, barrel design, lead sleeve type (retractable or fixed), wideness and ergonomics will all affect fatigue grade in prolonged use.
Apart from these features, the materials and colors of the construction might impact your final choice.
#5 Durability
Finally, durability is the last important factor that you may want to check before buying a mechanical pencil. Architects, engineers and designers typically use their pencils daily. Therefore these tools need to be able to withstand frequent use without breaking or malfunctioning.
To ensure a pencil is durable, you should check out if it is made with enduring materials such as metal or plastic. For example, a mechanical pencil made with stainless steel can withstand heavy use without breaking.
In summary, when you want to purchase a mechanical pencil for technical drawings, sketching or writing, it's important to consider the lead size, the degree of hardness, eraser quality, grip design, construction quality, durability and materials.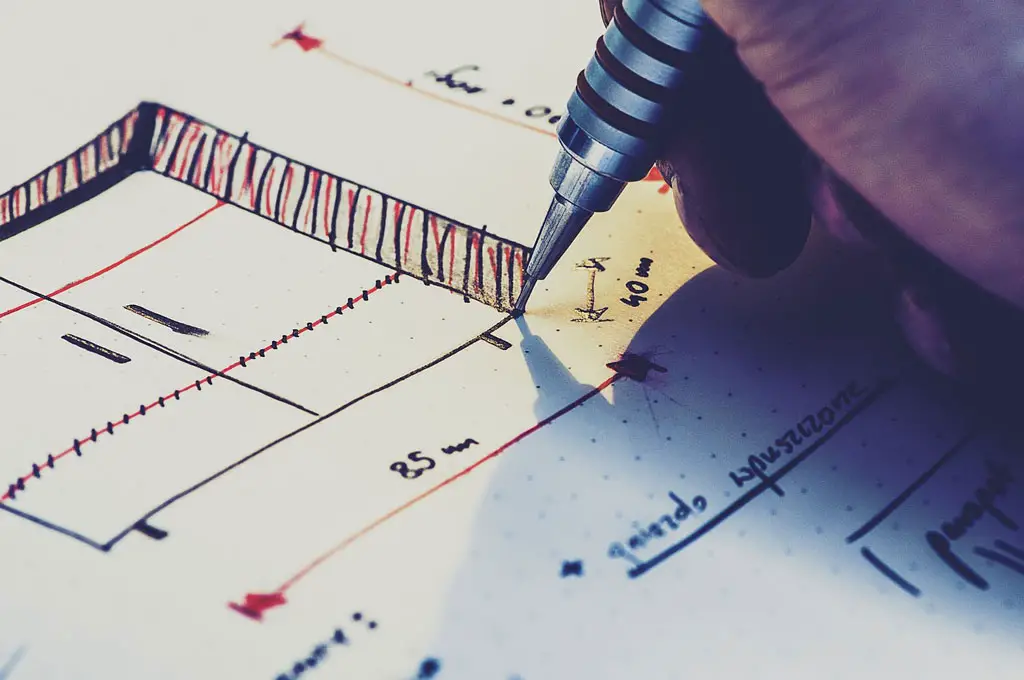 Taking these factors into consideration, you can be sure to find the perfect mechanical pencil that will suit your needs and help you produce precise and accurate drawings.
Bear in mind that high-end mechanical pencils will have all of these features, but they can be a bit expensive. On the other hand, budget-friendly options may lack some of the aforementioned features.
Conclusion
In conclusion, when it comes to finding the best drafting mechanical pencils for architects, designers and artists, there are many options available for every budget. From budget-friendly options such as Zebra Pen M-701 to premium high-end options like the rOtring 800, there is something for everyone.
We've created a list of the best mechanical drafting pencils for you, but you should still consider some factors when choosing the right one out of these special products. These factors are lead size, hardness degree, eraser, grip design, durability and construction quality.
Considering these factors, you'll be sure to choose the best option that will suit your needs. You should keep in mind that the premium and high-end options have all these features, while budget-friendly pencils may lack some of them.
In summary, whether you're a student or a professional, the right mechanical pencil can make a significant difference in the quality of your work and drawings.
Thanks for reading this article. We hope this list of the best drafting mechanical pencils helps you find the best product that meets your needs.
FAQ
Q: What is a mechanical pencil?
A: It's a pencil that uses thin, replaceable lead. The lead is advanced by clicking a button or knob at the end of the pencil. It's more steady, durable and precise.
Q: What are the benefits of using a mechanical drawing pencil?
A: A mechanical pencil offers precision and accuracy in drawings. It also eliminates the need for sharpening the lead, and it provides the option of adjusting the lead size and strength.
Q: How do I choose the right mechanical pencil for drawings?
A: When choosing a mechanical pencil for drawings, it's important to consider the lead size, degree of hardness, eraser, grip design, construction quality and durability.
Q: What is the lifespan of a mechanical pencil?
A: The lifespan of a mechanical pencil will depend on the brand, quality of the pencil and the frequency of use. Generally, a high-quality mechanical pencil can last for several years with proper care and maintenance.
Q: Is 0.5mm or 0.7mm better for drawing?
A: If you want a more precise drawing and thinner lines, 0.5mm or 0.3mm will be a better choice for you. On the other hand, 0.7mm has a bigger dot and a thicker line size.
Disclosure: This blog post contains some affiliate links. It means, at no additional cost to you, we may earn a commission if you click through and make a purchase. Please note that we only recommend products and services that we believe will be beneficial to our readers.