Is drawing ability required in architecture? Can anyone become an architect without drawing skills? If you are on the bottom rung, it is normal to ask questions like these. It is extremely important to remove the question marks in your mind so that you do not have any regrets due to your future job.
Architecture is simply meaning that designing structures which the life within. And housing is one of our basic needs. This has never changed and seems to be unchanged in the future.
Architecture is also a profession as old as human history. As knowledge in architecture increased as in every field, the need for specialization emerged. Many branch were constituted such as architectural history, restoration, building construction and management, and architectural design. So why am I telling you all this?
It is necessary to have a common drawing language in such a comprehensive and world-wide profession. If the common drawing standards were not set, good architects drawing badly could not explain their projects. If architecture had necessitate drawing ability, perhaps we could never hear the name of some of architects who made history.
Is Drawing Ability Necessary in Architecture?
Producing architectural designs requires thinking. One of the thinking methods most used by architects is to think by drawing. In just the same way as we write the ideas that come to our mind on paper, architects take notes by drawing their thoughts on sketchbooks.
But you don't have to show these drawings to people. People don't have to understand anything from these drawings also. Because technical drawings and visualizations are enough to present your ideas and design to other people.
Technical Drawing Abilty in Architecture
Technical drawing is a drawing method that is applied based on rules with tools such as ruler and miter. So do you need talent for this? Of course no. All kinds of technical drawing rules, from the way the ruler grips to the type of pencil to be used, will be taught you.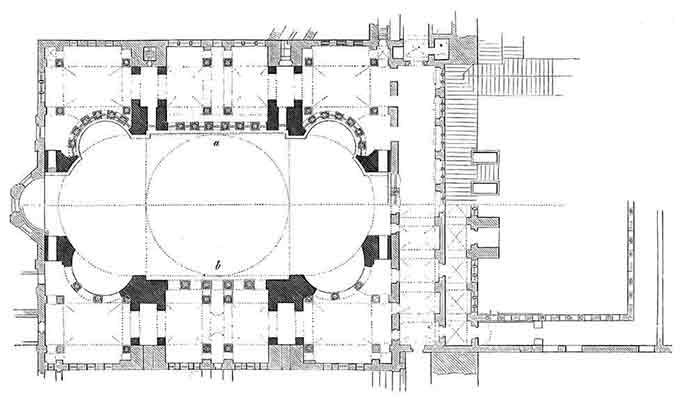 Above, there is an example of a technical drawing showing the plan of the Hagia Sophia Museum. As yo have see, even if it is free-hand drawing, it consists entirely of geometric shapes. This is a form of expression that is valid all over the world. Wherever you go in the world, the technical drawing rules are the same.
In the first year of education, hand drawing can be done depending on your school. This method is done to use tools like T-square and to improve your hand skill. But don't be afraid of that either. Almost none of architects drawing by hand anymore. There are architectural computer programs that make drawing easier for you nowadays. You can read our article about best architectural programs and get information about them.
Consequently, the ability to draw is not absolutely necessary to become an architect. They will teach you the drawings called technical drawing and which should be done according to certain rules. Apart from that, making freehand drawings is entirely optional. You don't have to draw well.But my advice is to get used to drawing all kinds of objects and buildings you see around, whether you draw good or bad.