Building a city and developing it generally takes decades in the real world. But imagine that you are the mayor, city planner and architect of that city and you have enough money as well as power to develop your town. Wouldn't it be fun? The list of best city building games which we have compiled for the Archeetect.com readers includes great apps to give that experience.
1. SimCity 4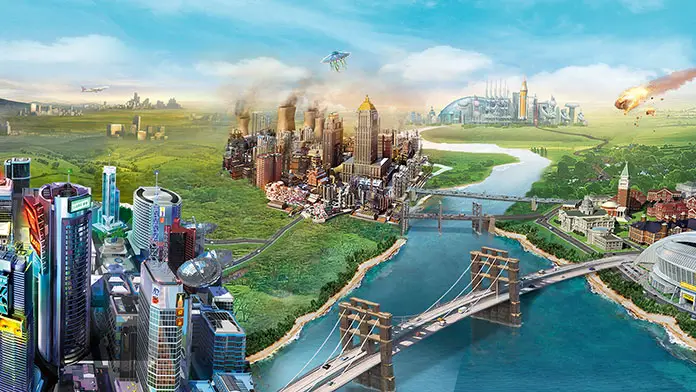 | | |
| --- | --- |
| Game's Name: | SimCity 4 |
| Developer: | Maxis |
| Release Date: | January 2003 |
| Platforms: | Windows, Mac |
Although SimCity 4 was first released in 2003, it is still a top-notch city-building game and continues to compete with other games in this genre. While playing SimCity 4, your main motivation will be to develop the city in line with the needs of folk and your dreams.
This city building game is packed with excellent architecture works. You can place buildings, including some of the most famous buildings in the world, create a city plan, design transportation systems and do much more things for your city. The game has a real-time notification system that informs you about newly unlocked features and citizens' needs.
SimCity 4 offers different playing modes like God Mode, Mayor Mode and MySims mode. You should increase the financial sources of the city with taxes and spend this money for the social wealth.
You can enjoy the game in 10 languages including English, German, Danish, Spanish and French. If you want to feel like an urbanist and play a detailed city building game, SimCity is for you.
2. Cities: Skylines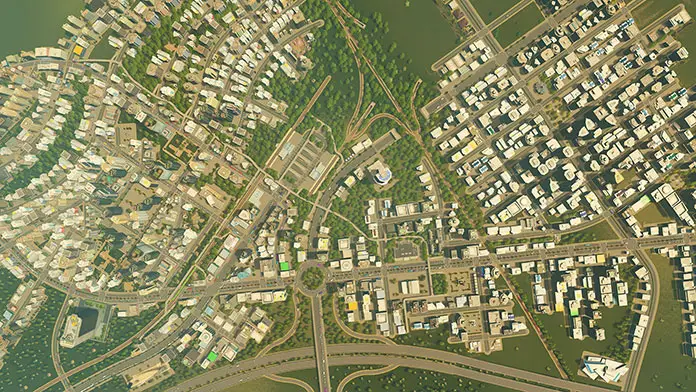 | | |
| --- | --- |
| Game's Name: | Cities: Skylines |
| Developer: | Colossal Order |
| Release Date: | March 2015 |
| Platforms: | Windows, Mac, Linux, Xbox, PS4, Nintendo Switch |
Considered by many to be the best city building game, Cities: Skylines offers you plenty of tools to experience real world city-planning scenarios. No city design game has ever had such detailed features, which Cities: Skylines has.
The game fundamentally requires your capability of city management to be successful. This means you should have a balance and satisfy citizens when develop transportation systems, divide city into different zones, place essential buildings, set the level of taxes and do other jobs for this city.
Building your dream city, you'll come across many situations like car accidents, natural disasters, economic problems and public protests. For this reason, you should work hard to fix these problems while developing your city. Although the game looks very detailed and has a steep learning curve, you will soon grasp everything easily.
3. Frostpunk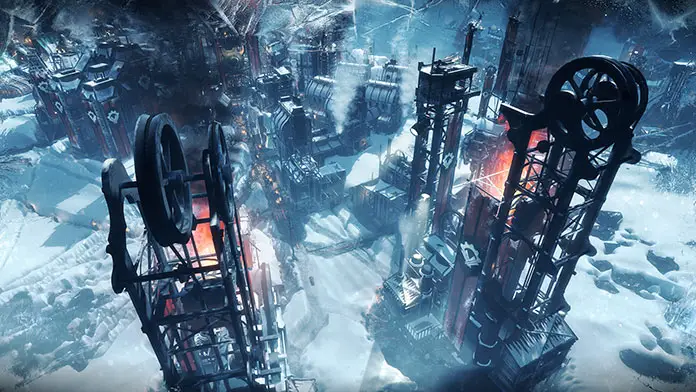 | | |
| --- | --- |
| Game's Name: | Frostpunk |
| Developer: | 11 Bit Studios |
| Release Date: | April 2018 |
| Platforms: | Windows, Mac, PS4, PS5, Xbox, iOS, Android |
Frostpunk distinguishes from other games in the list with its gloomy atmosphere and main story. In this survival game you should work hard to stay alive in an alternative ice age.
Frostpunk assigns you to lead the survivors to rebuild the city. Your priority is to keep the heat center in the middle of the town warm because it's the only way to survive in this deathly cold weather.
Other structures develop around this heat core. However, you should use your resources in a balanced way while growing the city. The most different aspect of this game is hidden in the main idea. You won't have to worry about how designs of the city and structures look because you'll face more serious problems such as death.
While other city building games require you to show your management skills as a mayor, in this game you have to focus on surviving together with your friends. You can send your citizens to gather materials from out of the city, assign them to different tasks and make laws. This post-apocalyptic world will question your strategic intelligence, risk management and ethical standards for your success.
4. Surviving Mars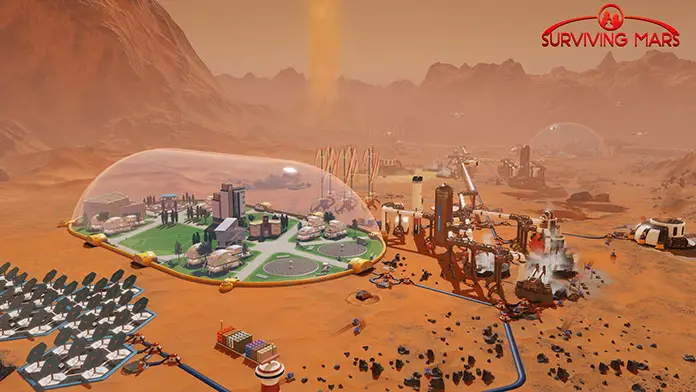 | | |
| --- | --- |
| Game's Name: | Surviving Mars |
| Developer: | Haemimont Games |
| Release Date: | March 2018 |
| Platforms: | Windows, Mac, Linux, PS4, Xbox, PS5 |
Surviving Mars is both a survival and city-building game, just like Frostpunk. You have to explore the red planet Mars, examine the land surface and find suitable terrains for construction to keep colonist citizens alive. But be careful because this is not an ordinary structure placement game.
You will have to contend with many challenging situations such as meeting oxygen needs of people and protecting them against the harsh weather conditions of Mars. Your job is to build livable places for colonies and make sure your citizens survive despite the brutal circumstances on the red planet.
Instead of building structures, you will need to create domes for residential, storage and production purposes. Your essential needs are water, oxygen and power. As soon as you develop the Mars as a habitat, your city will be ready to accommodate colonists from Earth.
5. Townscaper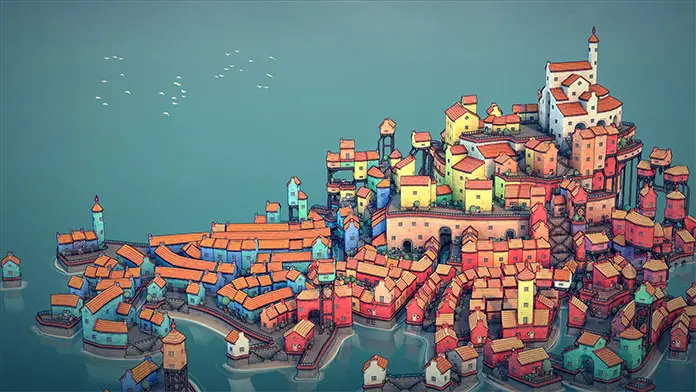 | | |
| --- | --- |
| Game's Name: | Townscaper |
| Developer: | Oskar Stålberg |
| Release Date: | August 2021 |
| Platforms: | Android, iOS, Web browser, Windows, Mac, Xbox, Nintendo Switch |
Townscaper is not a city building game where you are responsible for public issues such as economy, transportation and education. Instead, you put your energy into building an epic settlement just like the towns in fairy tales. This approach makes the game a relaxing activity.
It offers you many style tools like different colors, size and building options. Providing these tools, Townscaper lets you to reveal your creativity. You can design cute buildings, castles, bridges, parks, city walls, lighthouses and push the limits of your imagination in Townscaper, where everything is just about building structures.
6. Megapolis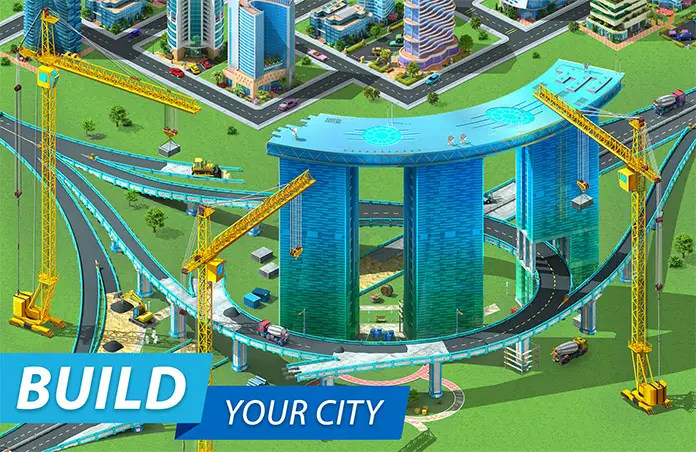 | | |
| --- | --- |
| Game's Name: | Megapolis |
| Developer: | Social Quantum |
| Release Date: | November 2012 |
| Platforms: | iOS, Android |
Another one of the best city-building games in the list is Megapolis developed by Social Quantum in 2012. It features more than 700 different buildings, and high quality 3D graphics. The game allows you to develop a city from the ground up.
As mayor of the city, you are responsible for many jobs such as energy production, city design as well as building constructions including airports and research centers.
7. Banished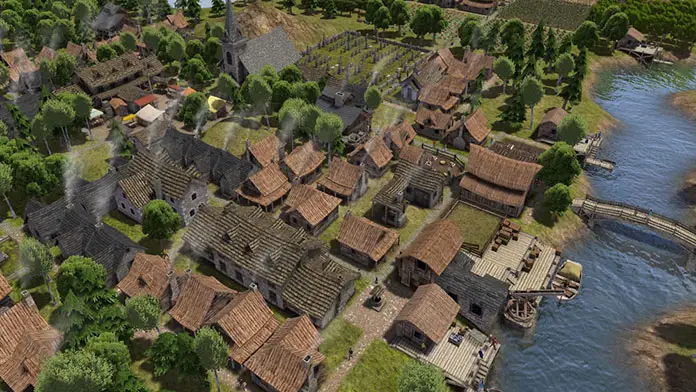 | | |
| --- | --- |
| Game's Name: | Banished |
| Developer: | Shining Rock Software |
| Release Date: | February 2014 |
| Platforms: | Windows |
Providing extensive in-game options, it's one of the best city building games. Banished, which has a medieval theme, will take you away with its detailed features. Since the fellows you have in the game had been expelled by a powerful lord, you should manage them to build a new town.
The fact that your people get sick, get older and die makes taking care of them the highest priority for you. In this regard, the game can be said a survival game as well as a city building game. Once you have enough resources and make sure everyone is safe, you can develop your village and turn it into a large-scale city.
In Banished, Dark times of medieval era bring many obstacles to overcome, such as different seasons, harsh weather condition and deaths. Your task is to battle with these issues and create a liveable place for citizens to help them live healthy, grow up safely, start a family and die in peace.
8. Anno 1800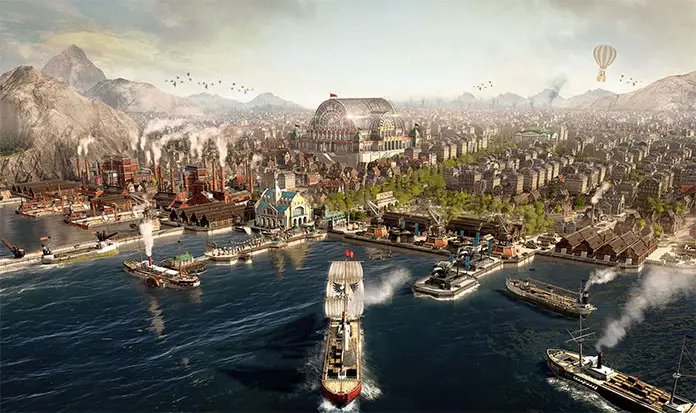 | | |
| --- | --- |
| Game's Name: | Anno 1800 |
| Developer: | Blue Byte |
| Release Date: | April 2019 |
| Platforms: | Windows |
Anno 1800 offers you an immersive experience where you build a city in the heart of the industrial revolution in the 1800s. This is the historical journey of a landowner leading an industrial company, starting from small warehouses to building a large industrial empire.
You can have not only industrial structures but also different types of buildings like houses, zoos, museums and more. The good thing is you'll earn money from these businesses in various ways, such as attracting visitors and get investors. Furthermore, you can discover new trade routes, make research and find new resources for your industries.
Managing your modern empire, you should consider the possibilities of the peripheral lands being hostile or friendly to you. You can be enemy to them, trade important resources or make diplomatic connections.
The key to growing your company safely is to keep eyes on both neighbours and your workers. Because you have to satisfy everyone or rule them to be successful.
The game provides different modes such as campaign, multiplayer and sandbox. It allows up to 4 players to play together in a single map or you can play against AI.
9. Civilization VI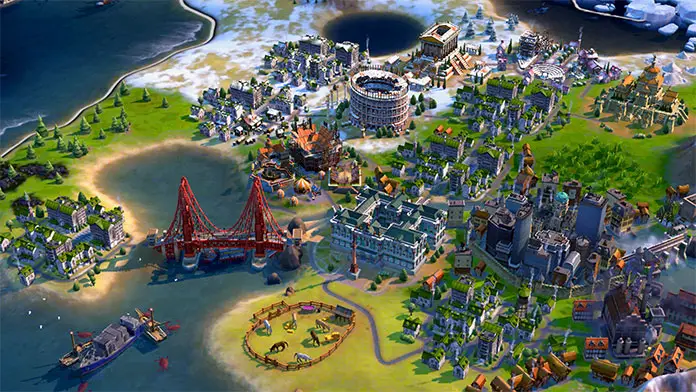 | | |
| --- | --- |
| Game's Name: | Civilization VI |
| Developer: | Firaxis Games |
| Release Date: | October 2016 |
| Platforms: | Windows, Mac, Linux, iOS, Android, PS4, Xbox, Nintendo Switch |
In Civilization VI, starting from a small town, you must grow your civilization through research, strong economy, exploration and conquest. Before expanding your lands around the world, you should also acquire resources, build structures, improve your revenue, make critical researches and develop new technologies. Moreover, since the map is initially foggy, it would be wise to send explorers to uncharted territories of the world.
When you explore other nations, you can establish diplomatic relations, declare a war or give a friendly hand. Civilization VI also offers a number of world famous buildings. Join the party now and enjoy growing your civilization.
10. Tropico 6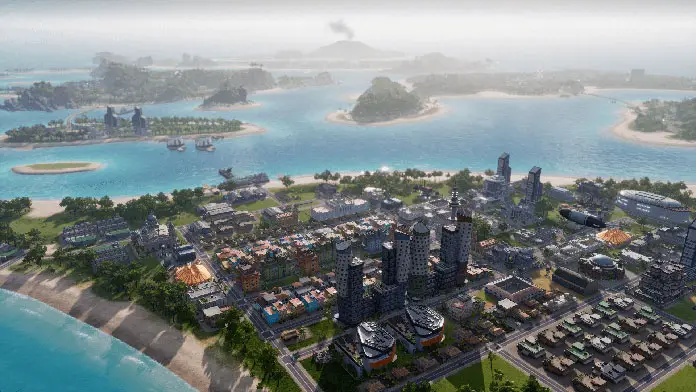 | | |
| --- | --- |
| Game's Name: | Tropico 6 |
| Developer: | Limbic Entertainment |
| Release Date: | March 2019 |
| Platforms: | Windows, Mac, Linux, PS4, PS5, Xbox, Nintendo Switch, |
This time you are play as "El Presidente", the president of Tropico archipelago in Caribean Sea. You must rule, develop and expand your civilization throughout the history, starting from Colonial Era to the modern era. Gather resources, build structures and bridges, make research and turn your small islands into a great nation.
You will be faced with many different situations and each will bring you a variety of choices. For instance, you can be a clean president or decide to rig elections. As you set rules to make citizens happy and grow your country, you should also hold your presidentship seat. However, bear in mind that every decision you make will have consequences.
The game is compatible with more than 10 languages including English, German, Spanish, Italian and has both multiplayer and singleplayer modes.