Le Corbusier, with his original name as Charles Edouard Jeanneret, was born on October 6, 1887 in a small town in Switzerland. Although we know him with his architecture, he is also a urbanist, furniture designer, sculptor, painter and writer.
Leaving school at an early age, Corbusier enrolled in an art school after he started working with his father. While at school he started to be interested in the "Arts and Crafts" movement. He won a watch design competition that he participated in with his cubist design, thus he achieved his first significant success. This experience is a proof that the success of Corbusier, who will shape modern architecture in the future, is not a coincidence.
Calm Attraction of Reinforced Concrete
In 1908, he started working with Auguste Perret, one of the pioneers of the use of reinforced concrete in architecture. Perret, the designer of the first reinforced concrete temple built in the world, taught Corbusier the intricacies of using reinforced concrete in architecture. While Corbusier gained this experience in Paris, he also had the opportunity to get to know the city's culture and architecture better.
Affected by the natural and sculptural appeal of concrete on the facades, Corbusier had close contacts with the "Deutscher Werkbund" in Germany to understand reinforced concrete better. (Footnote: Deutsche Werkbund is an association of artists, craftsmen, designers and industrialists who came together in Germany in 1907.The Union has contributed to establishment of Bauhaus, the development and standardization of modern architecture.)
An architect should travel, explore and analyze different environments and structures for his vocational development. Corbusier with this consciousness, went on an east tour in 1907 which would last for 4 years. He have visited the Mediterranean and Greek Islands, the Balkans and the lands adorned with Ottoman architecture and took notes. According to Corbusier, this trip was one of the most important stages of his architecture life.
Dom-ino House
Le Corbusier predicted that the First World War would end one day and there would be an urgent need for housing when the cities were reconstructed after the war. He searched for a solution to solve this housing need in the most economical and rational way. Corbusier conducting experimental studies on this problem designed his first important building known as the Dom-ino House In 1915. The structure, rising on an open plan and 6 thin reinforced concrete columns, generated one of the fundamentals of Le Corbusier style. Thanks to the structures with open plan, the location of the walls and partitions could be changed. This feature of the building coincided with the principles of flexibility and pragmatism in modern architecture. The structure, which was rationalized in production and quickly assembled on site thanks to the prefabricated elements, contained minimum building components.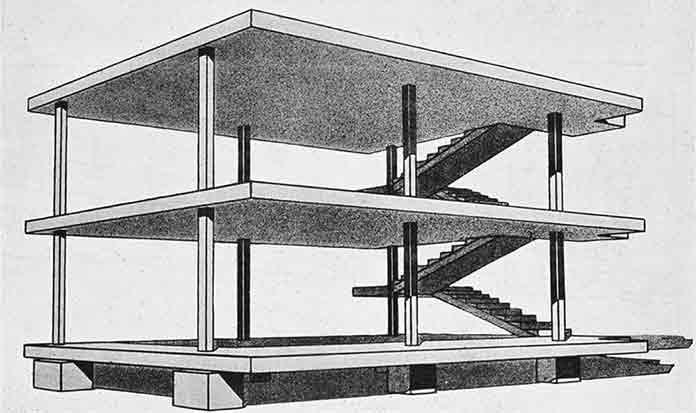 Returning to Paris in 1917, Corbusier started painting next to Amédée Ozenfant, a painter. He defended his ideas with the articles they wrote in the magazine "L 'Esprit Nouveau" (New Spirit in French) together with Ozenfant. Jeanneret wrote his writings under the pseudonym "Le Corbusier" and became famous under this name.
He opened an architecture studio with his cousin in 1922. With the participation of Charlotte Perriand in the studio, they started to design furniture.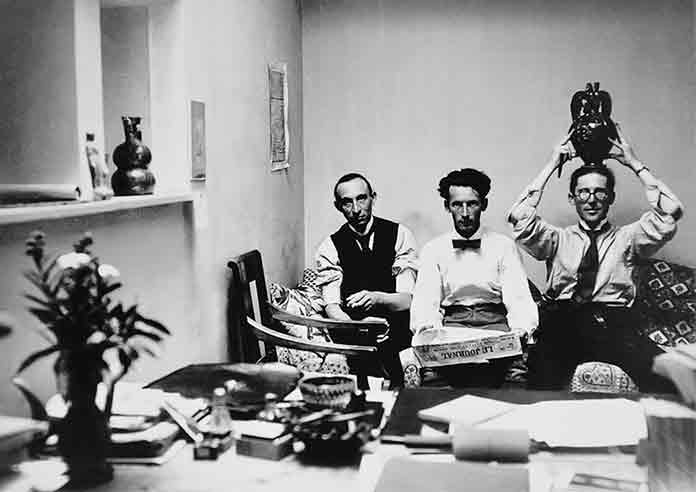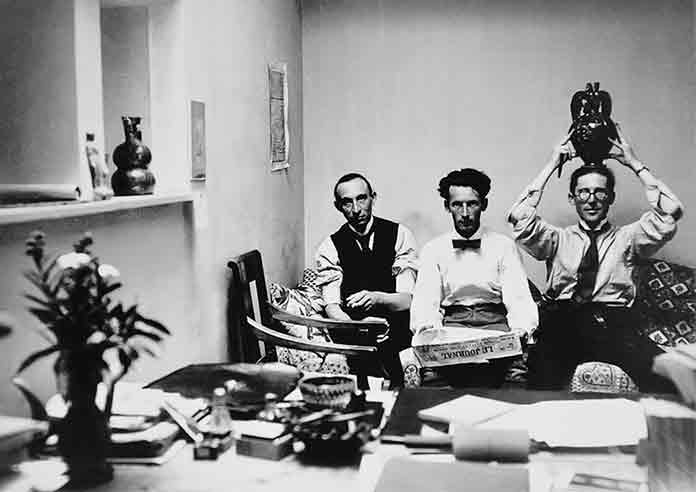 In 1923, he published his book "Toward a New Architecture", which have characteristic of architectural manifesto. In this book, he emphasized the beauty of mass production and machine houses, the importance of functionality. Instead of traditional decoration and adornment, he defended simple and white facades. Le Corbusier had published 5 points of architecture in the book:
5 Points of Architecture
Rising structure on pilotis
Ribbon window
Free plan
Free facade
Roof garden
Villa Savoye the Modernism of Le Corbusier
Designed in 1929, Villa Savoye is one of the most beautiful Le Corbusier Works where these 5 principles of architecture are clearly seen. The structure rising over the pilotis was designed with a wide ribbon window and free plan setup. Inside, there is a ramp that continues uninterrupted from the ground floor to the terrace roof. Villa Savoye is a house identified with Le Corbusier's life machine concept. The building, which is open to visitors today, was included in the UNESCO World Heritage List in 2016.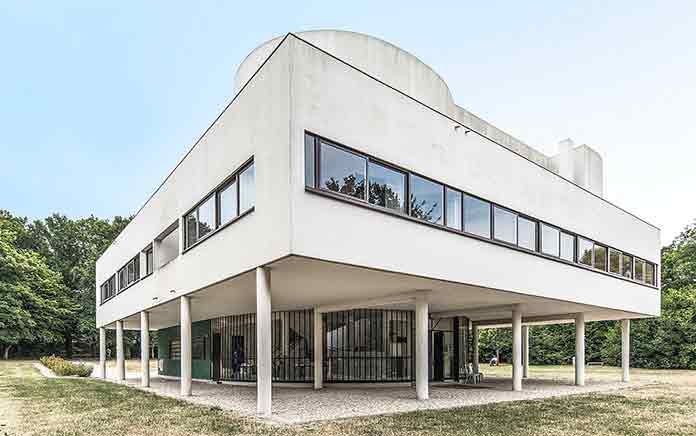 Corbusier published his design of the Radiant City (La Ville Radieuse) in 1935. According to his ideal city understanding, Corbusier divided the residential areas base on the size of the families. In his opinion, crowded families, not the wealthy, should live in big houses. A clean city could create clean societies. The concept city, which he designed in the light of these ideas, was a project that Corbusier created by cranking his design approach up an higher scale. There were standardized production systems and building types, functional urban areas, living spaces interwoven with green. The business and commercial area, consisting of high skyscrapers in the center, was connected with transportation networks to other zones such as entertainment and housing. Although this project remained in theory, many modern cities designed were fed by the idea of the Radiant City.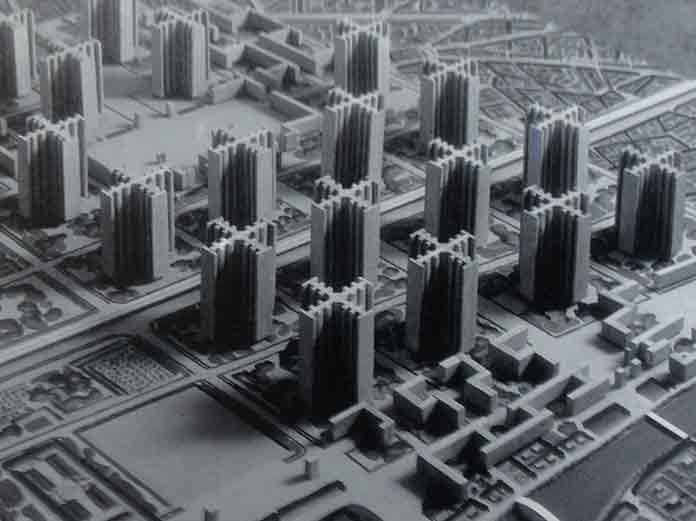 When World War 2 ended, Corbusier produced social housing projects. The most famous of these was Unite d'Habitation. He designed the structure as a solution to the lack of housing and economic problems which occurred after the war. In the mass housing project, which is one of the most important examples of the Brutalist architecture, there are rich spaces where people can satisfy their daily social requirements. Its total capacity is 1600 people and it is produced for the working class.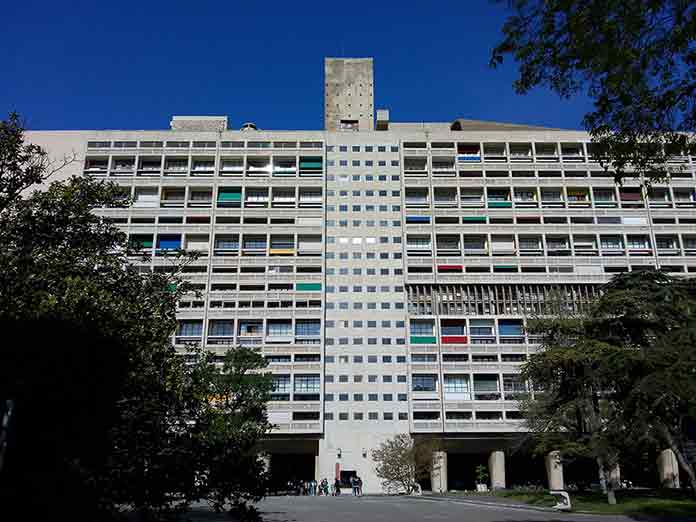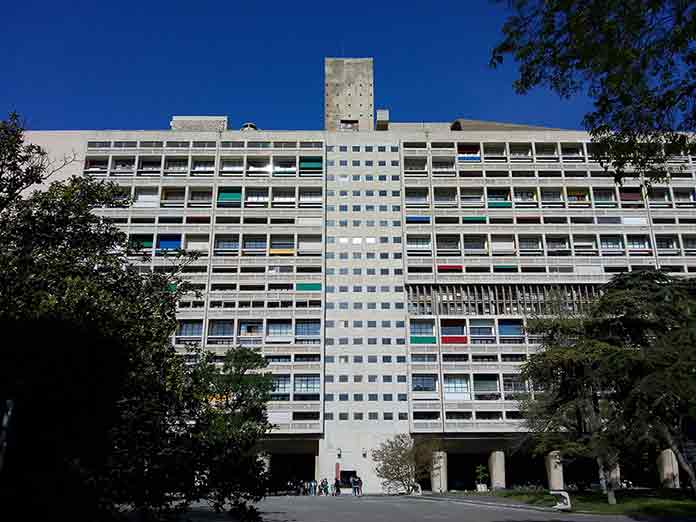 Le Corbusier, one of the most important architects of modern architecture, died in 1965. He also founded the Le Corbusier Foundation before his death to donate his drawings and library. We remember him with respect and longing.
Most Important Le Corbusier Works
Unite d'Habitation
Villa Savoye
Weissenhof House
Ronchamp Chapel (Notre Dame du Haut)
Pencap Palace of Assambly
Villa La Roche
Dom-ino House
National Western Arts Museum
Philips Pavillion
Firminy Saint-Pierre Church